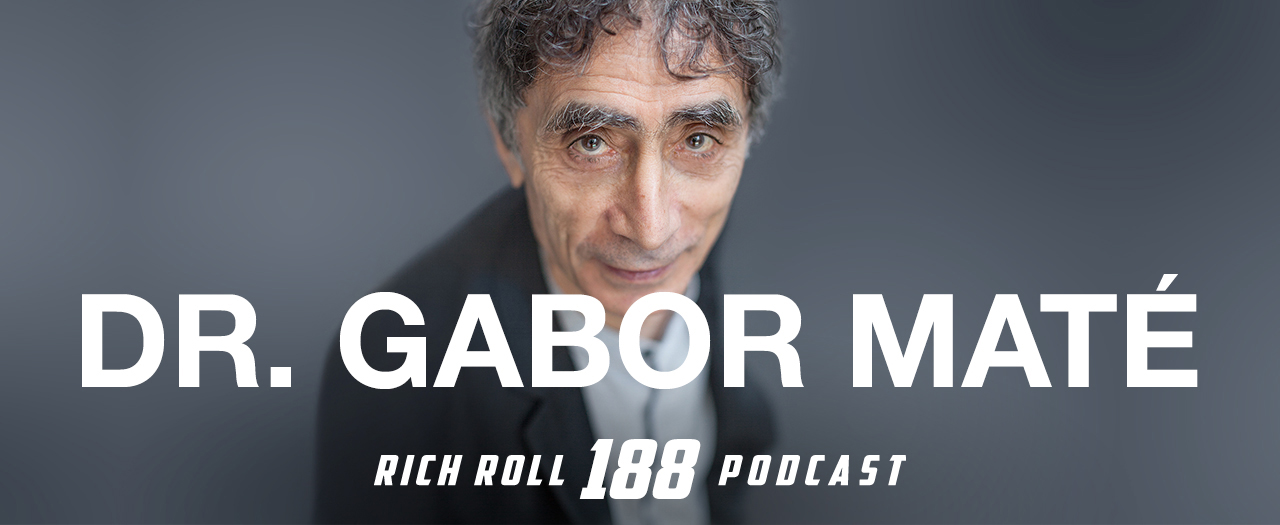 ---
"The difference between passion and addiction is that between a divine spark and a flame that incinerates."

Gabor Maté
---
What if everything you presuppose about addiction is wrong?
Enter Gabor Maté.
World renowned lecturer, physician and bestselling author, today's guest is a highly distinguished, in demand and at times controversial authority with a wealth of expertise on a range of topics that span addiction, stress and childhood development.
With over twelve years of first hand experience working up close and personal on Vancouver's skid row with patients severely challenged by hard core drug addictions, mental illness and HIV, Dr. Maté has cultivated a powerful yet eminently commonsensical perspective on this devastating affliction that contravenes conventional medical dogma. A perspective that begins with a single edict:
Addiction is not a choice.
Moreover, addiction has little to do with illicit substances. It's just not about drugs. Or gambling, or shopping, or porn or whatever behavior happens to, in the words of Dr. Maté, incinerate the lives of millions.
Instead, addiction is about the emotional pain behind the behavior. And healing is about confronting the past and untangling the circumstances that drive the individual to self-medicate in maddening defiance of all reason and logic.
Based on cutting edge science, case studies and a wealth of personal experience, Dr. Maté concludes that addiction is a predisposition programmed in early years — an infestation that lurks miles beyond choice. A disease rooted neither in genetics nor free will but rather in environmental factors that hard wire brain neurochemistry during formative childhood development. Accordingly, those that suffer should not be shamed or criminalized, but instead treated in the same way we approach anyone suffering from cancer or an autoimmune disease — not with blame but rather with compassion, sympathy and medical intervention.
As an author, Dr. Maté has written extensively on the subjects of addiction, early childhood development & trauma, attention deficit disorder, and the relationship between stress and disease. His most recent award-winning book, In the Realm of Hungry Ghosts: Close Encounters with Addiction* (a #1 bestseller in Canada) mixes personal stories with science to present a radical re-envisioning of addiction not as a discrete phenomenon confined to an unfortunate or weak-willed few, but as a continuum that runs throughout (and perhaps underpins) our society at large; not a medical "condition" distinct from the lives it affects, but rather the result of a complex interplay among personal history, emotional, and neurological development, brain chemistry, and the drugs (and behaviors) of addiction.
In other words, it's complicated. There is no miracle cure. There is no quick fix. But hope breathes in compassion and self-understanding — the first key to promoting healing and wellness,
Dr. Maté's work — and this book in particular — have been absolutely revelatory in helping me better understand myself, my personal history with addiction, and my ever evolving quest for greater well being. He changed my life. And I truly believe his message holds the power to improve the lives of anyone personally or tangentially impacted by addiction. And let's face it — in this day and age that includes almost everyone.
It was a unique honor to hold space with this compelling, paradigm breaking man. A conversation that begins with a survey of his life and labors but then subtly shifts — the verbal fulcrum slowly sliding until his focused insight was quite unsuspectedly yet keenly turned on me. The interviewer as patient; my own private session writ large.
Topics covered include:
the misplaced criminalization of addiction
the denial of trauma in addiction
addiction as a social issue
the shame & stigma that drives addiction
chemical effects & psychological defenses
early adaptations & sources of pathology/dysfunction
the impact of childhood experiences on behavior
commitment to the process & the inevitable payoff
self-knowledge vs. experiential knowledge
acknowledgment of suffering
the true nature of the human condition
Question: How can you treat those who suffer from addiction with more compassion?
I look forward to hearing all about it in the comments section below.
I love this conversation and hope it leaves you rethinking assumptions about human behavior and perhaps even your own behavioral compulsions.
Peace + Plants,

Listen & Subscribe on iTunes | Soundcloud | Stitcher
Thanks to this week's sponsors:
SCOTTeVEST: With clothes designed to keep all of your gear organized and secure, you can focus on more important things—like your life. Go to SCOTTeVEST.com/richroll and get 20% off with the coupon code "RICHROLL".
23andMe: A personalized genetic service that helps you understand what your DNA says about you. Visit 23andMe.com and order your kit today
10% Happier App: Remember RRP 97 with ABC News' Dan Harris? Well now he has a simple, straightforward intro to meditation designed for skeptics. Download the app and start your free trial today. If you decide to buy the full course, enter offer code "ROLL" at checkout for 20% off.
SHOW NOTES
Connect With Dr. Maté: Website | Twitter | Facebook
Background, Context & Reference:
Notable People Discussed in today's podcast:
Books You Really Should Read:
Production & sound design by Dean Menta. Music by Tyler Piatt. Additional production by Chris Swan. Graphic art by Shawn Patterson.
*Disclosure:Books and products denoted with an asterisk are hyperlinked to an affiliate program. We are a participant in the Amazon Services LLC Associates Program, an affiliate advertising program designed to provide a means for us to earn fees by linking to Amazon.com and affiliated sites.
The Plantpower Way  is now available at these fine retailers!
Amazon*  |  Barnes & Noble  |  IndieBound  |  Penguin
Are you a company interested in sponsoring the podcast? Click here to learn more & take our sponsor survey.
HOW CAN I SUPPORT THE PODCAST?
Tell Your Friends & Share Online!
Subscribe & Review:  iTunes | Stitcher | Soundcloud | TuneIn
Donate: Check out the DONATE button on the podcast homepage or click HERE to learn more.
Download Our Free App! Now you can access, stream, download and share the entire RRP catalog in the palm of your hand on any iOS mobile device (iPhone, iPad and iPod Touch) with our new mobile app. Never miss an episode, plus special announcements, discounts, giveaways. Already downloaded? Awesome. When you have a minute, and it feels right to you, do us a solid and give the app a review in the iTunes Store.
---