Podcast: Play in new window | Download | Embed
---
"Awareness is peace."

 Pete Holmes
---
Comedian! Writer! Author! Spiritual seeker!
One of my favorite people, Pete Holmes needs no introduction. But I'm going to give it to you anyway.
A stand up veteran with a cornucopia of comedy specials, television shows and late night appearances to his name, Pete is best known as the creator and star of the semi-autobiographical HBO show Crashing, a riotous and touching series he executive produced alongside Judd Apatow loosely based on Pete's life in the early days of his comedy career.
In addition, Pete hosts You Made It Weird — hands down one of my absolute favorite podcasts (I was honored to be a guest) — and is the author of the brilliant and just released Comedy Sex God*. Part autobiography, part philosophical inquiry, part sacred quest, I can't recommend this book more highly. Equally hilarious and profound, it hits bookstores everywhere this week. Pick it up immediately*. Read. Ponder. Thank me later.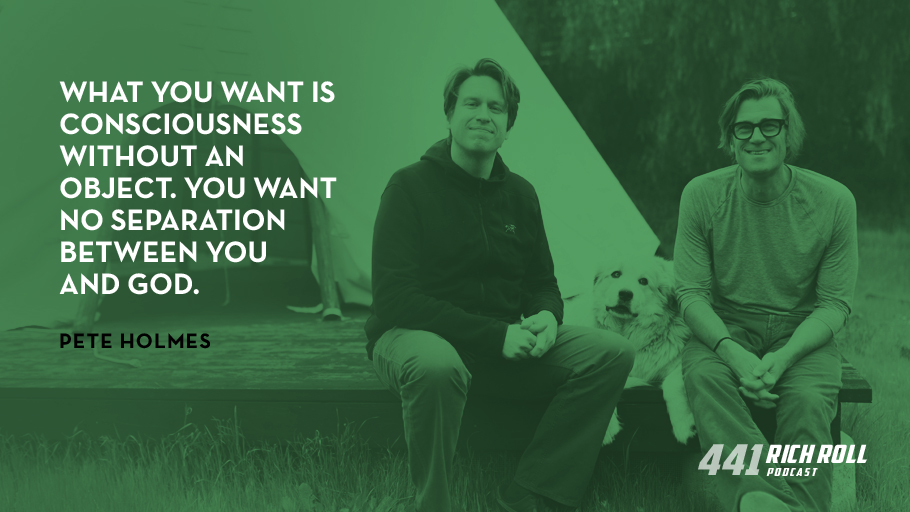 A long-time fan of Pete's, we were first introduced by our mutual friend (and former podcast guest) Rob Bell. From that moment forward I have yearned to get this fellow traveler on the show. It finally happened. And the experience is everything I hoped it would be.
Comedy. Sex. God. And everything in between. We cover it all.
We discuss his evangelical upbringing and how his failed attempt to live up to picture perfect standards forced him to question his faith and re-examine long-held beliefs, catalyzing the soul-seeking journey he has pursued ever since.
We talk comedy and creativity. How he squares Christianity with alternative faith modalities. And what he has learned spending time with spiritual savants like Ram Dass and experimenting with psychedelics.
We explore how fatherhood has impacted his spiritual and professional perspective. What it's like working with Judd Apatow. The experience of being a celebrity with a big show on HBO. And, more importantly, what happens when that show suddenly goes away.
But mostly, this is a beautiful exploration of the messy, confusing, wonderful, mysterious, disorienting thing we call life.
You can watch the entire conversation on YouTube at bit.ly/peteholmes441 (please subscribe!) and the podcast is of course available on Apple Podcasts and Spotify.
As Pete would say, GET INTO IT!
Peace + Plants,

Photos courtesy of Ali Rogers
Listen, Watch & Subscribe
Apple Podcasts | YouTube | Spotify | Stitcher | Google Podcasts
Thanks to this week's sponsors
On Running: Born in the Swiss Alps, On Running shoes feature the first patented cushioning system which is activated only when you need it – during the landing. To learn more about On go to on-running.com/richroll, pick your favorite shoe or apparel piece, and run in it for 30 days after which you can keep 'em or return 'em for a full refund no questions asked.
Audible: With more than 180,000 audiobooks and spoken-word audio products, you'll find what you're looking for. Rich Roll listeners are entitled to a FREE audiobook and 30-day trial today by signing up at audible.com/richroll or text RICHROLL to 500-500
Squarespace: The easiest way to create a beautiful website, blog, or online store for you and your ideas. Save 10% at checkout when visit squarespace.com/richroll and use the coupon code "RICHROLL" at checkout.
SHOW NOTES
Pick up Sex Comedy God* by Pete Holmes
Background, Context & Reference:
Notable Books Discussed
Notable People Discussed
Related Podcasts You Might Enjoy:
Thanks to Jason Camiolo for production, audio engineering and show notes. Video, editing and graphics by Blake Curtis and Margo Lubin. Theme and interstitial "Be Still" music by Ana Leimma.
*Disclosure: Books and products denoted with an asterisk are hyperlinked to an affiliate program. We are a participant in the Amazon Services LLC Associates Program, an affiliate advertising program designed to provide a means for us to earn fees by linking to Amazon.com and affiliated sites.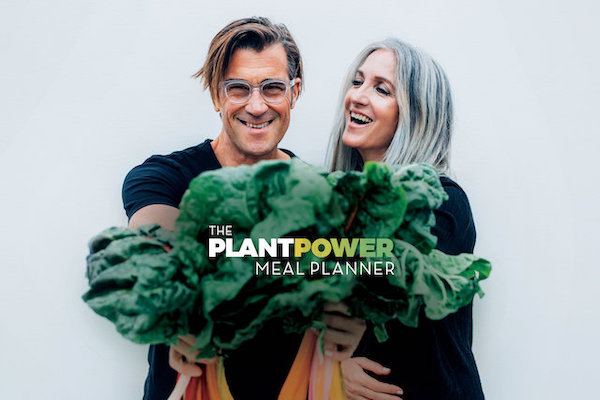 for 1000s of delicious, customized plant-based recipes & so much more, check out our Plantpower Meal Planner
 HOW CAN I SUPPORT THE PODCAST?
Tell Your Friends & Share Online!
Subscribe & Review:  iTunes | Spotify | Stitcher | Soundcloud | Google Podcasts
Donate: Check out our Patreon account
Download Our Free App: Now you can access, stream, download and share the entire RRP catalog in the palm of your hand on any iOS mobile device (iPhone, iPad and iPod Touch) with our mobile app. Never miss an episode, plus special announcements.
Support The Sponsors: One of the best ways to support the podcast is to support our sponsors. For a complete list of all RRP sponsors and their respective vanity url's and discount codes, visit my Resources page and click "Sponsors".