Podcast: Play in new window | Download | Embed
---
"We all have the unlimited power to shift our perspective, and with that the unlimited power to change the way we feel about life."

 Humble The Poet
---
We craft our identity around story. And that story is comprised of beliefs. But you are not your beliefs. And that story isn't just incomplete, it's generally wrong.
The path to self-actualization requires deconstructing that story. And disentangling your beliefs from the truth of your highest self.
To do this we must unlearn much of what we reflexively accept as truth. And open ourselves to a more expansive perspective.
My guest for this exploration is the Toronto-based, rapper, author and spoken word artist, Kanwer Singh, known broadly as Humble The Poet.
Covered in tattoos, a thick beard, and Sikh head wrap, Humble commands attention with his silly smile and warm, inviting presence. A former school teacher turned artist, he challenges conventional wisdom with dynamic live sets that simultaneously entertain while questioning the status quo.
Humble shares his distinctive style and point of view on his wildly popular blog. He's been featured on a multitude of media outlets, including CBC's Canada Reads, as well as on Apple's first Canadian ad spot for their #ShotOnIphone campaign. He's the author of Unlearn: 101 Simple Truths for A Better Life* and the upcoming book, Things No One Else Can Teach Us*, hitting bookstores everywhere October 15, 2019 and available for pre-order now.
Flipping the script for happiness, Humble's point is simple — our hardest moments are our greatest teachers, because they invite us to change our perspectives. We can't control the setbacks in life but we do have the power to control how we react to them.
It's a process that begins with unlearning what we think we know. And being open to a new story — about ourselves, others and the world we share.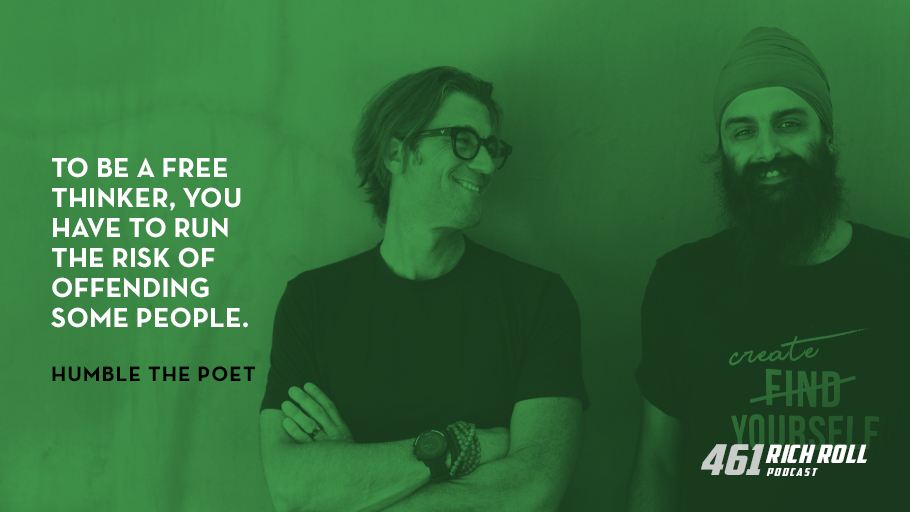 This is a fun and wide-ranging conversation about that very shift. Sharing raw and honest stories from his own life — from his rocky start to becoming a rapper to nearly going broke to his worst breakups — it's an exploration of how a change in mindset can radically alter our outlook.
It's about arresting our negative impulses to see the positive opportunity in everything.
It's about the power of gratitude and mindfulness.
It's about art, creativity, and authenticity.
It's about the difference between paying attention and getting attention.
But mostly, it's about the power of story. How you are not your beliefs. What we all may need to unlearn. And how a change in perspective about one's own story can transform everything.
The visually inclined can watch our entire conversation on YouTube here: bit.ly/humblethepoet461 (please subscribe!) and the podcast is of course available on Apple Podcasts and Spotify.
Humble brings great energy. I loved learning about his life and experience. And I sincerely hope you enjoy the listen.
Peace + Plants,

Photos courtesy of Ali Rogers
Listen, Watch & Subscribe
Apple Podcasts | YouTube | Spotify | Stitcher | Google Podcasts
Thanks to this week's sponsors
Calm: The #1 App for Meditation and Sleep with 100+ guided meditations covering anxiety, focus, stress, sleep, relationships and more. Plus 7-day and 21-day programs for both beginner and advanced users. For a limited time, my listeners can get 25% off a Calm Premium subscription at Calm.com/richroll. It includes unlimited access to ALL of Calm's amazing content. Get started today.
Squarespace: The easiest way to create a beautiful website, blog, or online store for you and your ideas. Save 10% at checkout when visit squarespace.com/richroll and use the offer code "RICHROLL" at checkout.
Ten Thousand: The World's Most Durable Training Shorts. Built for Your Needs. Designed for Performance. Exclusive for Rich Roll listeners – try a pair for free to see what makes these training shorts better than any others at tenthousand.cc/richroll. Every order gets free shipping, free exchanges and free returns.
Note: One of the best ways to support the podcast is to support the sponsors. For a complete list of all RRP sponsors and their respective vanity url's and discount codes, visit my Resources page and click "Sponsors".
Notable People Discussed:
Utkarsh Ambudkar: actor, musicain and podcast guest
James Altucher: Author of Choose Yourself* and host of  The James Altucher Show (Podcast) and podcast guest
Jack Dorsey: co-founder and CEO of Twitter, founder and CEO of Square and podcast guest
Lily Singh: Canadian YouTuber, comedian, television host and actress, widely known as IISuperwomanII. In 2017, she was ranked tenth on the Forbes list of the world's highest paid YouTube stars, earning a reported $10.5 million

Neil Pasricha

: Canadian author, entrepreneur, podcaster, and public speaker; best known for his The Book of Awesome series, and

The Happiness Equation*

which are international bestsellers

Jay Shetty

: internet personality whose stated goal is to make wisdom go viral as he spreads his message of motivation and positivity

Mos Def: rapper, singer, actor and activist

Jus Reign

: Canadian comedian of Indian Sikh descent. He is most prominently known as a YouTube personality, and one of Much Digital Studios' original creators

J Cole: rapper, singer, songwriter, and record producer
Ras Kass: rapper, member of the hip hop supergroup The HRSMN along with Canibus, Killah Priest, and Kurupt and a member of the group Golden State Warriors with Xzibit and Saafir

Nipsey Hussle

: Ermias Joseph Asghedom, known professionally as Nipsey Hussle, was an American rapper, entrepreneur, and community activist
Related Podcasts You Might Enjoy:
*Disclosure: Books and products denoted with an asterisk are hyperlinked to an affiliate program. We are a participant in the Amazon Services LLC Associates Program, an affiliate advertising program designed to provide a means for us to earn fees by linking to Amazon.com and affiliated sites.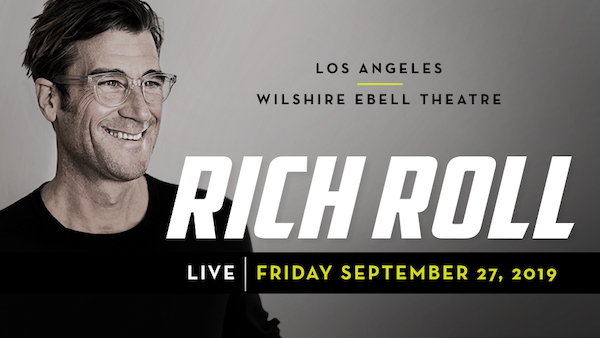 Thrilled to announce my first live show + podcast! Click here for tickets
 HOW CAN I SUPPORT THE PODCAST?
Tell Your Friends & Share Online!
Subscribe & Review:  iTunes | Spotify | Stitcher | Soundcloud | Google Podcasts
Donate: Check out our Patreon account
Download Our Free App: Now you can access, stream, download and share the entire RRP catalog in the palm of your hand on any iOS mobile device (iPhone, iPad and iPod Touch) with our mobile app. Never miss an episode, plus special announcements.
Support The Sponsors: One of the best ways to support the podcast is to support our sponsors. For a complete list of all RRP sponsors and their respective vanity url's and discount codes, visit my Resources page and click "Sponsors".