Podcast: Play in new window | Download | Embed
---
"There's no path towards evolution and making something better unless we can talk about it."

Jack Dorsey 
---
Imagine shouldering responsibility of one of the planet's largest social networks. Now imagine that's just one of your jobs, the second focused on reinventing the world's relationship with money.
This is Jack Dorsey's life.
The co-founder and CEO of both Twitter and Square, today's guest is one of the most influential figures of the modern age — a man who has made an indelible impact on our cultural landscape by quite literally shaping how society communicates in the emergent digital era.
What started as a simple means to share personal status updates, Twitter has swelled into arguably the most important social media platform for breaking news, journalism, and political discourse. A powerful tool for speaking truth to power, it's put wind in the sails of important social movements. Provided safe haven for whistle blowers. And given marginalized groups and dissidents a voice that can be heard across the globe.
But Twitter must also account for the noxious devolution of civil discourse —  a behemoth apparatus easily weaponized for motives nefarious.
Twitter is nothing if not controversial. And Jack is the face of such controversy — a polarizing figure in the crosshairs of Twitter critics across all sides of the social and political spectrum.
Recognizing the need to more thoroughly address Twitter's role and responsibility in the growing toxicity of public conversation, Jack has spent the last month publicly addressing the platform's missteps, challenges and aspirations on a wide variety of media platforms and podcasts that include two appearances on The Joe Rogan Experience, Sam Harris' podcast Making Sense, and many others.
My sense is that critics were left unsatisfied with Jack's answers to the many hard questions posed.
I understand and appreciate the criticism. Just how exactly can Twitter successfully promote healthy conversation, eliminate toxicity and fairly police bad actors across 500 million daily tweets? I don't know the answer. But I do know that I heard an intelligent, empathetic and well intentioned man in an almost impossible situation — someone owning his failures and transparently endeavoring with great equanimity to solve these herculean problems in both good faith and real time.
In approaching this conversation, I made the choice not to retread territory explored at great length on Rogan. Instead, my interest is to better understand the human behind the curtain.
What does it actually feel like to be at the helm of one of the largest and most powerful social media platforms in the world? What is a day in the life of Jack Dorsey like? What daily self-care practices does he employ to mitigate the stress of his gargantuan responsibilities? And just how did this young man blaze such an extraordinary entrepreneurial path?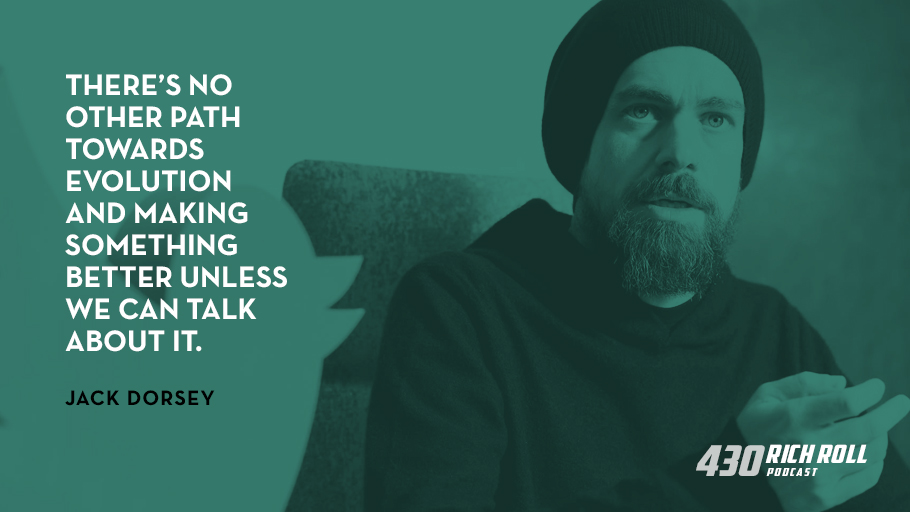 I first met Jack about two years ago during a visit to San Francisco. A fan of the podcast, he invited me up to the Square offices. Although our encounter was brief, I liked him immediately. Soft spoken, kind and curious, I left our meeting wanting to better understand what makes him tick.
Open to sharing his story on the podcast, I visited his San Francisco home on a foggy Saturday morning a few weeks ago. Unsurprisingly, his home is beautiful and well appointed. But it's also strikingly modest given his stature. Minimal to the point of spartan, it's devoid of material excess. No entourage. No private chef. No crazy car collection. Not even an assistant. Just Jack, barefoot, unpretentious and excited to show me his infrared sauna, his cold plunge, and the kitchen counter where he works from home two days a week.
Struck by the serenity of Jack's environment, it was immediately clear that this is a man who has mindfully excised unnecessary distraction from his life — an introvert who prioritizes solitude to perform the deep thinking required to shepherd, to the best of his ability, two of the largest and most successful technology companies in the world.
This conversation is an exploration of that interior life.
Of course, we canvass all things Twitter, including the responsibilities, logistics and challenges posed in shaping, policing and reforming the platform's 260+ million users. We discuss the importance of civil discourse and his aspirations for Twitter's role in promoting healthier public conversation. And we close with Jack's take on disrupting and innovating the podcast space (hint: blockchain is involved).
But mostly this is my attempt to understand Jack and the habits, practices and strategies he employs — including Vipassana meditation and intermittent fasting — to navigate his most uncommon life as one of the most influential figures of our time.
Serendipitously, Twitter just happened to turn 13 years old today. To celebrate, here's my very first tweet, dated August 4, 2008:

My afternoon with Jack left me changed, thinking more deeply about the mindfulness and intentionality I bring to my daily life. My hope is that this conversation leaves you similarly impacted.
Peace + Plants,

Photo credits: Rolf Vennenbernd (large image); Toshiki Sasazu (quote image); and Newspix / Getty (name graphic image)
Listen, Watch & Subscribe
Apple Podcasts | YouTube | Spotify | Stitcher | Google Podcasts
Thanks to this week's sponsors
Stamps.com: No more visits to the post office! With Stamps.com you can buy USPS postage online and easily print postage stamps and shipping labels for all USPS mail classes. Get a special offer that includes a 4-week trial PLUS free postage AND a digital scale without any long-term commitment. Just go to Stamps.com, click on the Microphone at the TOP of the homepage and type in RICHROLL.
Jaybird: Premium sound Bluetooth headphones, perfect for athletes, runners, & fitness fanatics! Go to jaybirdSPORT.com and use the promo code RICHROLL to receive 20% off of a pair of the just released RUN XT true wireless headphones (limit one pair per customer) and free shipping through the end of March.
Zip Recruiter: Search for jobs hiring in your area using ZipRecruiter's job search engine – the best way to find a job. To find jobs hiring near you and apply with just 1 click, visit: ziprecruiter.com/richroll
Note: One of the best ways to support the podcast is to support our sponsors. For a complete list of all RRP sponsors and their respective vanity url's and discount codes, visit my Resources page and click "Sponsors".
SHOW NOTES
Background, Context & Reference:
Notable Books Mentioned:
Notable People Discussed
 Related Podcasts You Might Enjoy
Thanks to Jason Camiolo for audio engineering, production, interstitial music and show notes. Video, editing by Blake Curtis and Margo Lubin. Graphics by Jessica Miranda.Theme music by Ana Leimma.