Podcast: Play in new window | Download | Embed
---
"If you're worried about life-work balance, something is probably wrong with your life or your work. Instead of agonizing over balance, get excited and create change."

 Chris Guillebeau 
---
Maybe you love your job. Perhaps you don't.
Either way, there's wisdom in cultivating a side hustle — not a second job, but a self-styled income-generating project you cultivate in your free time.
Why do I need this? Ask Choose Yourself!* author (and podcast guest) James Altucher and he'll wax rhapsodic about the precarious nature of conventional career paths and the misplaced trust we invest in their long-term security. Invest in ownership. For some, the thought of quitting their day job to pursue the entrepreneurial life is exhilarating. For most, however, this is a terrifying prospect. And not everyone has the means or the desire to take on the risks and responsibilities of working for themselves.
But Chris Guillebeau contends it's not an either or scenario. Not only can you have both, you should. As traditional career trajectories give way to the rise of our freelance economy, it's wise to diversify your income stream. But creating something on the side entirely your own isn't just about extra cash. And it's not really about becoming an entrepreneur (because most people aren't). It's also about cultivating purpose. It's about elevating your sense of direction. And imbuing your path with greater personal meaning.
A master of unconventional, purposeful living, Chris is a widely acclaimed author, blogger, entrepreneur and modern-day adventurer. Ripe with wanderlust after a 4-year stint as a NGO volunteer executive in West Africa, he embarked on a multi-year quest to travel to every country in the world, all 193, before his 35th birthday. Along the way, Chris began sharing his adventures on a newly hatched blog. What began as a rather ignored and somewhat turgid travelogue soon morphed into The Art of Non-Conformity, a globally revered portal that chronicles Chris' personal experiences and the wisdom of a dynamic multitude of unconventional people overcoming conventional social mores around work, life and travel to achieve personal goals and greater life satisfaction outside traditional paradigms.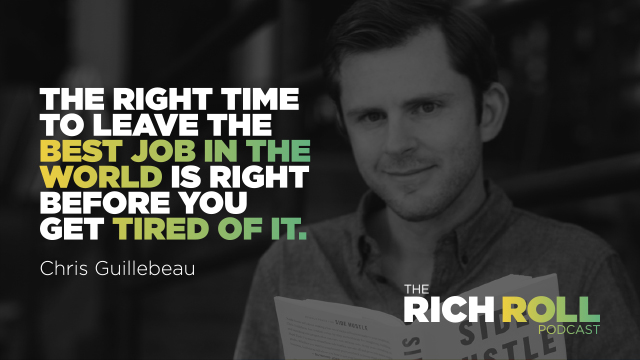 Books soon followed. The Art of Non-Conformity* was translated into more than twenty languages. His second book, The $100 Startup*, was a New York Times and Wall Street Journal bestseller, selling more than 500,000 copies worldwide. His third book, The Happiness of Pursuit*, was also a New York Times bestseller, followed by Born for This*, a primer to help you find the work you were meant to do.
Chris is also the founder and ringmaster of the World Domination Summit, a truly spectacular annual gathering he founded seven years ago that brings thousands of creative, remarkable people together in his hometown or Portland, Oregon. I had the honor of being a keynote speaker at WDS this past summer and I can honestly say, as someone who has spoken at a lot of events, it was one of the most impressive and moving experiences of my life.
This year, Chris launched Side Hustle School, a traveling workshop podcast series designed to help people create new sources of income without quitting your job. The kicker? He publishes new episodes every single day, seven days a week. Quick on the heels of the podcast is Chris' brand new book, Side Hustle: Idea To Income in 27 Days*. Together, the book and podcast astutely tackle how and why we can all benefit from cultivating our creative, entrepreneurial flair in our free time.
This is the subject of today's conversation with one of my very favorite people.
This is not about quitting your job to become a full-fledged entrepreneur. Instead, it's about figuring out what you love and developing a practical way to convert it into passive income. It's about why — even if you love your job — it's important to supplement and diversify how you earn a living. And it's about how this process can bring greater fulfillment into your every day life.
For those new to the show, I urge you to also listen to my first conversation with Chris (RRP #247), a raw and real recount of Chris' unique path and what it means to live an unconventional life and the power of divine moments.
Finally, go behind the scenes of my conversation with Chris in IT ALWAYS GETS DONE, a little day-in-the-life movie shot and edited by the talented David Zammit. If you enjoy it, it would mean a lot if you subscribed to my YouTube channel at youtube.com/richroll.
I sincerely hope you enjoy the conversation.
Peace + Plants,

Listen, Watch & Subscribe
Apple Podcasts | YouTube | Soundcloud | Stitcher | GooglePlay
charity: water
I want to personally thank everyone who responded to my podcast with Scott Harrison and donated to charity: water by joining The Spring. As of the date of this writing, the RRP community has collectively raised enough revenue to build 4 wells annually! Amazing. Inspired by your generosity, my company has decided to sponsor one well per year – so that makes 5 wells for 2017. But why not make it 10? For just $20-$40 in monthly donations (100% of which go directly to clean water projects), you can make an incalculable difference in countless lives by investing in a world where everyone has clean water. There is simply no better feeling than providing a basic, life-altering human right. To learn more and join, please visit The Spring at cwtr.org/richroll.com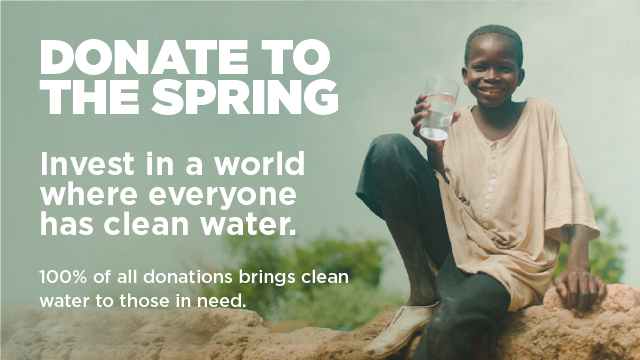 Thanks to this week's sponsors:
Harrys.com: A superior shave at an affordable price. Friends of the Rich Roll Podcast can visit Harrys.com/ROLL to redeem your Free Trial Set, which comes with a razor, five-blade cartridge, shaving gel, and post shave gel. All you pay is shipping.
MeUndies: The world's most comfortable underwear! Visit MeUndies.com/ROLL to get free shipping (in the U.S. & Canada) and 20% off your first pair.
Notable People Discussed In Today's Podcast
Related Podcasts You Might Enjoy
Thanks to Jason Camiolo for production, audio engineering, show notes and interstitial music; Shawn Patterson for graphics; and David Zammit for photography & videography. Theme music by Ana Leimma.
*Disclosure: Books and products denoted with an asterisk are hyperlinked to an affiliate program. We are a participant in the Amazon Services LLC Associates Program, an affiliate advertising program designed to provide a means for us to earn fees by linking to Amazon.com and affiliated sites.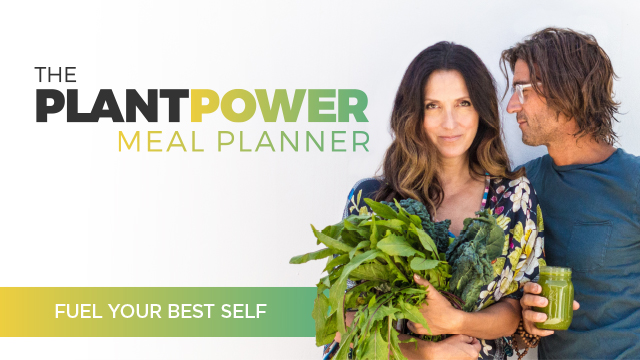 Check Out Our New Meal Planner!
Are you a company interested in sponsoring the podcast? Click here to learn more & take our sponsor survey.
HOW CAN I SUPPORT THE PODCAST?
Tell Your Friends & Share Online!
Subscribe & Review:  iTunes | Stitcher | Soundcloud | TuneIn
Donate: Check out our Patreon account!
Download Our Free App! Now you can access, stream, download and share the entire RRP catalog in the palm of your hand on any iOS mobile device (iPhone, iPad and iPod Touch) with our mobile app. Never miss an episode, plus special announcements, discounts, giveaways. Already downloaded? Awesome. When you have a minute, and it feels right to you, do us a solid and give the app a review in the iTunes Store.