Podcast: Play in new window | Download | Embed
---

"Many people don't change until the pain associated with change is less than the pain of staying the same."

Chef AJ
---
Let's be clear: just because you're vegan doesn't mean you're healthy.
To be sure, for so many reasons, eating animal free is awesome. But it's not a wellness panacea. Oreo cookies and Lay's potato chips are vegan. Unless your diet is liberated from the growing abundance of refined and highly processed processed foods, you're prone to confront the same weight management issues and chronic lifestyle illnesses that plague the average consumer subsisting on the standard American diet.
Just ask Chef AJ. A vegan chef for almost 40 years, she nonetheless struggled mightily with obesity for decades — prisoner to an addiction to processed snacks, refined sugar desserts, and an array of vegan junk foods that left her not only chronically overweight, but seriously unwell.
AJ's salvation came only when she finally became willing to confront her unhealthy relationship with food as a true addiction. It's a journey that required her to completely let go of habits that no longer served her, accept help, and embrace an entirely new relationship with food in the form of a whole foods, plant-based lifestyle.
This is her story — an inspiring tale of triumph and personal transformation that will leave you rethinking your own habits. Enabled with the tools required to achieve and maintain your optimal body weight. And empowered to live your best life.
A former comedian, today Chef AJ is a renown plant-based chef, culinary instructor, public speaker and member of the American College of Lifestyle Medicine with a certificate in Plant-Based Nutrition from Cornell University.
An expert in food addiction, emotional eating and creating meals to transform health, AJ is the host of the television series Healthy Living with Chef AJ and has appeared on The Tonight Show Starring Johnny Carson, The Tonight Show with Jay Leno, The Late Show with David Letterman and more. In addition, she is author of Unprocessed: How to Achieve Vibrant Health and Your Ideal Weight*. Her latest book, The Secrets To Ultimate Weight Loss* comes out soon (release date TBA).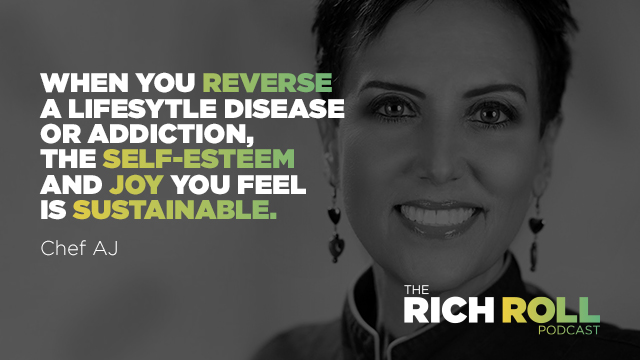 Full of life, AJ is one of my favorite health warriors, totally committed to serving others. Picking up where we left off in RRP #56 way back in 2013, this conversation is a must listen for anyone who struggles with food addiction, unhealthy cravings and a fluctuating waistline.
As impactful as it is entertaining, it's an exchange about the often under-addressed emotional aspects of eating. It's about the hows and whys behind empowering a new relationship with food. And it's about the joy, vitality and self-esteem that can be experienced by breaking the chains of food addiction.
I sincerely hope you enjoy this interaction as much as I enjoyed having it.
More importantly, my hope is that you put AJ's insights to work — because if she can do it, you can too.
A reminder that the podcast is also viewable on YouTube here: http://bit.ly/chefajrrp
If you are enjoying the videos, please subscribe!
Peace + Plants,

Listen, Watch & Subscribe
Apple Podcasts | YouTube | Soundcloud | Stitcher | GooglePlay
Thanks to this week's sponsors
Health IQ: The Rich Roll podcast is sponsored by Health IQ, an insurance company that helps health conscious people get special rates on term life insurance.  Go to healthiq.com/roll to support the show and learn more.
Four Sigmatic: A superfood company founded by a group of Finnish friends. They aim to popularize medicinal mushrooms by incorporating them in more mainstream products like coffee and hot cocoa. Visit www.foursigmatic.com/roll and enter the promo code ROLL at the checkout and save 15% on your order!
Peloton – Discover this cutting-edge indoor cycling bike that brings the studio experience to your home.  Get a great workout at home, anytime you want. Go to onepeloton.com, use the code RICHROLL and get $100 off accessories with your Peloton bike purchase.
Note: One of the best ways to support the podcast is to support the sponsors. For a complete list of all RRP sponsors and their respective vanity url's and discount codes, visit my Resources page and click "Sponsors".
Notable People Discussed In Today's Podcast
Related Podcasts You Might Enjoy
Thanks to Jason Camiolo for production, audio engineering, interstitial music and show notes and Blake Curtis for graphics. Theme music by Ana Leimma.
*Disclosure: Books and products denoted with an asterisk are hyperlinked to an affiliate program. We are a participant in the Amazon Services LLC Associates Program, an affiliate advertising program designed to provide a means for us to earn fees by linking to Amazon.com and affiliated sites.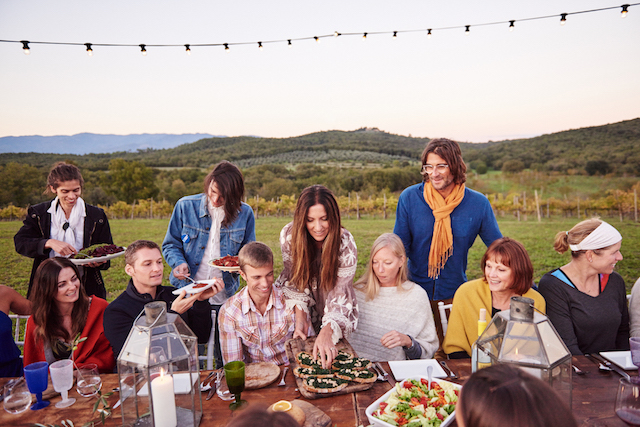 The Plantpower Way: Italia is now available — pick up your copy today!
HOW CAN I SUPPORT THE PODCAST?
Tell Your Friends & Share Online!
Subscribe & Review:  iTunes | Stitcher | Soundcloud | TuneIn
Donate: Check out our Patreon account!
Download Our Free App! Now you can access, stream, download and share the entire RRP catalog in the palm of your hand on any iOS mobile device (iPhone, iPad and iPod Touch) with our mobile app. Never miss an episode, plus special announcements, discounts, giveaways. Already downloaded? Awesome. When you have a minute, and it feels right to you, do us a solid and give the app a review in the iTunes Store.
Support The Sponsors: One of the best ways to support the podcast is to support our sponsors. For a complete list of all RRP sponsors and their respective vanity url's and discount codes, visit my Resources page and click "Sponsors".