Podcast: Play in new window | Download | Embed
---

"The more we understand the deadly impact of stress, the more we're looking at alternatives to just a pill."

Bob Roth
---
Long-time listeners know well that meditation is a recurring topic of exploration on this podcast. Today I continue this tradition with a man who has played a very large role in pioneering meditation, specifically the practice of Transcendental Meditation ("TM") throughout the West.
Meet meditation legend Bob Roth.
Bob first discovered meditation as a freshman at Berkeley during the height of the 1960's – ground-zero for the anti-war movement and the many cultural changes that were sweeping the country at that time. Once a skeptic, he was soon hooked, ultimately training under the tutelage of Maharishi Mahesh Yogi, the legendary albeit controversial meditation guru made globally famous by the Beatles. Every day since, he has meditated twice a day every day, devoting his life over the last 45 years to teaching what he has learned to millions of people across the world.
Today, Bob is one of the most experienced and sought after meditation teachers in America. A proper meditation teacher to the stars, his student roster includes such recognizable names as Oprah, Russell Brand, Jim Carrey, Jerry Seinfeld, Martin Scorcese, Ray Dalio, Howard Stern, Tom Hanks, Hugh Jackman, and countless other notables.
But Bob would much rather talk about his work as the executive director of The David Lynch Foundation, where he has helped bring TM to more than 500,000 inner-city youth in underserved schools in 35 countries, as well as to veterans and their families suffering from PTSD, and women and girls who are survivors of domestic violence.
Bob is also the national director of the Center For Leadership Performance, another non-profit which introduces meditation to Fortune 100 companies, government organizations and non-profit charities. And he has spoken about meditation to industry leaders at such gatherings as Google Zeitgeist, Aspen Ideas Festival, Wisdom2.0, and Summit.
In addition, Bob penned the authoritative text on the subject of TM, a book aptly titled Transcendental Meditation, and recently released his newest book, Strength in Stillness* – an accessible meditation primer that breaks down the science behind TM and provides a simple, straightforward roadmap for reducing stress, accessing inner power and building resilience.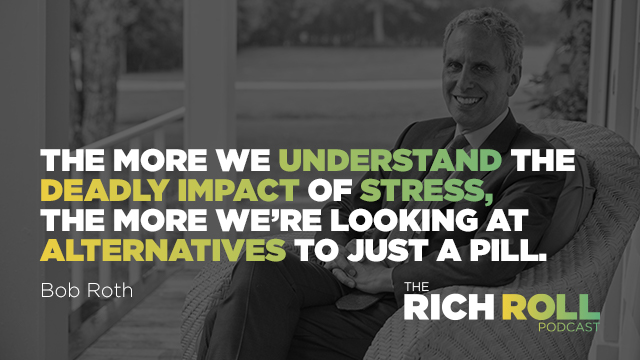 As you might expect, this conversation is a 360-degree primer on everything meditation.
We delve into Bob's introduction to meditation as a young Berkeley student as well as his experience training under Maharishi Mahesh Yogi.
We discuss how TM differs from other types of meditation.
We talk about his work with the David Lynch Foundation, as well as his personal experience with the quirky, brilliant film director himself.
And we cover the many scientific benefits of meditation, including how and why a consistent practice can transform your life by reducing stress and anxiety while simultaneously improving everything from focus, concentration, sleep, creativity, acuity, and productivity to emotional and physical resilience.
But most of all, this conversation redresses the excuses that prevent you from meditating while empowering you with the tools and inspiration to finally begin a practice and make it stick.
A bit briefer than my typical chats due to Bob's hectic schedule at the time (we recorded this some months back), don't be fooled by it's brevity — it's packed with gems.
It was a great honor to spend an hour with Bob. I hope you enjoy the exchange as much as I enjoyed having it.
Peace + Plants,

Listen, Watch & Subscribe
Apple Podcasts | YouTube | Soundcloud | Stitcher | GooglePlay
Thanks to this week's sponsors
22 Days Nutrition: the 100% plant-based, 100% USDA certified organic nutrition products and meal delivery platform designed to meet the needs of your healthy, active life. For 10% off all products (including the meal delivery) and free shipping, visit 22daysnutrition.com/richroll and use promo code RICHROLL at checkout.
Four Sigmatic: A superfood company popularizing medicinal mushrooms by incorporating them in delicious mainstream products like coffee and hot cocoa. Visit www.foursigmatic.com/roll and enter the promo code ROLL at the checkout and save 15% on your order!
DesignCrowd: Custom graphic, logo and web design from over 550,000 designers around the world! Get the perfect custom design, every time! Visit designcrowd.com/RICHROLL or enter promo code RICHROLL at checkout and receive up to $100 off your design project now!
Note: One of the best ways to support the podcast is to support the sponsors. For a complete list of all RRP sponsors and their respective vanity url's and discount codes, visit my Resources page and click "Sponsors".
*Disclosure: Books and products denoted with an asterisk are hyperlinked to an affiliate program. We are a participant in the Amazon Services LLC Associates Program, an affiliate advertising program designed to provide a means for us to earn fees by linking to Amazon.com and affiliated sites.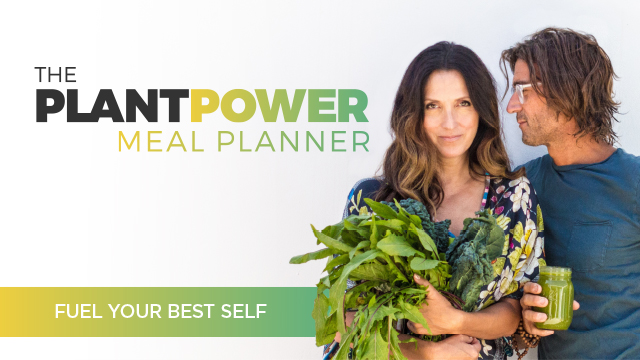 Check out The Plantpower Meal Planner — 1000's of recipes at your fingertips!
HOW CAN I SUPPORT THE PODCAST?
Tell Your Friends & Share Online!
Subscribe & Review:  iTunes | Stitcher | Soundcloud | TuneIn
Donate: Check out our Patreon account!
Download Our Free App! Now you can access, stream, download and share the entire RRP catalog in the palm of your hand on any iOS mobile device (iPhone, iPad and iPod Touch) with our mobile app. Never miss an episode, plus special announcements, discounts, giveaways. Already downloaded? Awesome. When you have a minute, and it feels right to you, do us a solid and give the app a review in the iTunes Store.
Support The Sponsors: One of the best ways to support the podcast is to support our sponsors. For a complete list of all RRP sponsors and their respective vanity url's and discount codes, visit my Resources page and click "Sponsors".