Podcast: Play in new window | Download | Embed
---

"Most people assume that meditation is all about stopping thoughts, getting rid of emotions, somehow controlling the mind. But actually it's … about stepping back, seeing the thought clearly, witnessing it coming and going."

Andy Puddicombe
---
I was first introduced to meditation and mindfulness principles 17 years ago during my 100-day voluntary incarceration in what is more amiably referred to as rehab.
Initially, I balked at the concept. How can stillness possibly improve my life?
Intellectually, I attributed every decent personal achievement not to innate talent, let alone some intangible force of the Universe. Instead I credited my prodigious work ethic — a huge capacity to grind harder and longer than my peers. Get up early. Stay late. Put in the extra mile. Repeat. Never stop.
Do more.
At best, stillness meant stasis. Mostly I wrote it off as regressive — wasted time lost. The purview of flaky, new-age hippies who couldn't begin to fathom my logic-based intellect, understand my terminally unique life problems, nor comprehend how I successfully navigated the world.
Always good for a solid re-sizing, my rehab counselor — let's call him Hugh because that's his name — reminded me of one simple, powerful fact:
My best thinking landed me in a mental institution.
That blast of truth and humility fell on my head like a ton of bricks. In recovery, they call it self-will run riot. And that was me, in a nutshell — a desperate hope to die alcoholic. A broken young man who had squandered promise and destroyed his life, literally tightrope walking the divide that separates life and death.
Hardly a vision for you, It was time to try something different.
Surrender.
At the time, I perceived this concept as synonymous with defeat. Anathema to my core idea of who I was. But Hugh was right. I was out of options, with only one saving grace — willingness. So I (quite reluctantly) released my resistance. I let go of logic. I opened myself to possibilities beyond the rational, to something perhaps entirely unknowable. And in so doing, my life didn't just change, it transformed wholesale — dramatically and irrevocably improving every aspect of my mental, emotional, physical and spiritual well being.
I wish I could tell you that from that day forward I devoted myself to a daily meditation practice.
That didn't happen.
Newly sober, life quickly got better. Priorities rearranged, and that willingness to surrender — the one character trait that had saved me — started to wane until the very thing that had been so indisputably beneficial to my overall sense of self had been relegated to back seat status — a convenient tool relied upon only when life got complicated, but hardly a consistent mainstay. Despite great appreciation for the benefits of meditation, consistency and momentum eluded me. For many years, I would practice only in spurts as a last ditch salve to alleviate some form of emotional pain.
Then about six months ago, I discovered Headspace— a mobile app and digital platform (boasting over 1 million users) pre-packaged with an endless rotation of very accessible, secular guided meditation programs all pleasantly voiced by the company's founder and today's guest, Andy Puddicombe.
Considered  "the international poster boy for the modern mindfulness movement,"  Andy is a meditation expert, accomplished presenter and author of two books —  Get Some Headspace* and The Headspace Diet*,  both of which have been translated into a zillion languages. An exceptional orator who has successfully popularized concepts traditionally erudite and ethereal, it's fair to say that he is doing for meditation what Jamie Oliver did for food:  democratizing it.
Andy has been featured widely in international press, appearing in Vogue, the New York Times, The Financial Times, Entrepreneur, Men's Health and Esquire, to name but a few. He's also no stranger to television and internet fame, having been featured on BBC, Dr Oz, Netflix and TED. In fact, Andy's TED Talk is a super entertaining must view with almost 5 million views to date.
I can't specify exactly why, but Headspace hit the spot for me. Maybe it's the ease of use. Maybe it's because it's always at my fingertips. Maybe it's Andy's soothing, accessible delivery. Then again, maybe the old adage is true:
When the student is ready, the teacher will appear.
All I can say for certain is that Headspace has helped me re-engage my practice with new enthusiasm, resulting in increased consistency, momentum and of course results. The last six months of my life have been my best — and that is not a coincidence.
Therefore, on a personal level, it was a thrill to connect with the man himself — a thoughtful conversation that delves deep into the power of these practices as well as Andy's quite fantastical personal story. A story that involves dropping out of university in his early twenties to study meditation in the Himalayas, followed by a ten year journey which took him around the world, culminating with ordination as a Tibetan Buddhist monk in Northern India. Prepared to live out the rest of his days in relative seclusion, one day Andy awoke with an epiphany: a yearning to return West and share his experience with the world.
Andy's transition back to lay life in 2004 was no less extraordinary. Training briefly at Moscow State Circus, he returned to London where he completed a degree in Circus Arts with the Conservatoire of Dance and Drama, whilst drawing up the early plans for what was later to become Headspace. The rest is history.
From monk to millionaire, Andy is indeed the post-modern mashup of Hesse's Siddhartha meets Paramahansa Yogananda — the man who first introduced yoga to the West in the 1920's.
I sincerely hope you enjoy the story of a most remarkable man and most unlikely entrepreneur.
Peace + Plants,

P.S. – For purposes of clarity, I have no business or contractual relationship with Headspace whatsoever and am not a paid endorser of the company. I simply love what they do and am proud to help spread the Headspace message and mission.
Listen & Subscribe on  iTunes  |  Soundcloud  |  Stitcher  |  TuneIn
Production, music & sound design by Tyler Piatt. Additional production by Chris Swan. Graphic art by Shawn Patterson. Thanks boys!
Connect With Andy: Twitter | Instagram | Headspace Website
Suggestions For Those New To Meditation:
Prioritize: Make Meditation Part Of Your Daily Routine
Start Off Realistic: 10 Minutes/Day
Commit: It Only Works If You Do It
If you enjoyed this podcast, I think you will also dig my similar conversations with:
*Disclosure: Books and products denoted with an asterisk are hyperlinked to an affiliate program. We are a participant in the Amazon Services LLC Associates Program, an affiliate advertising program designed to provide a means for us to earn fees by linking to Amazon.com and affiliated sites.
WIN GIFTS FROM VITAMIX AND HEADSPACE!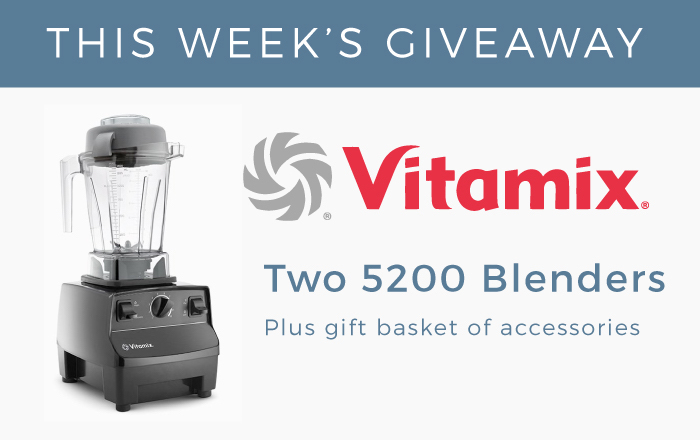 This week we are thrilled to raffle off some truly extraordinary gifts from our friends at Vitamix and Headspace— two companies I love and am proud to support.
Vitamix: The company that makes the absolute best high-powered blender on the market is graciously donating two  Vitamix 5200 blenders  with accompanying gift baskets packed with incredible accessories to two lucky listeners. Here's the breakdown:
Vitamix 5200 blender ($449 each)
Gift Basket Kit ($5.99)
Stainless Steel Smoothie Cup ($28.50)
Soft Red Measuring Cup ($10)
3 White Spatulas ($6.95)
Canvas Bag ($5.00)
101 Blender Drinks Book ($16.95)
The Art of Blending Book ($19.95)
Water Bottle ($22)
Vitamix Gift Card ($25)
TOTAL VALUE:

$589.34

 EACH- INSANE!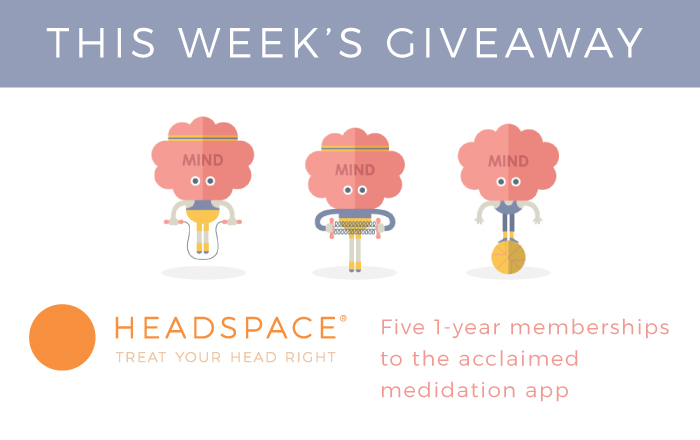 Headspace: In addition to learning about the benefits of the Headspace app in today's podcast, Andy and his team are graciously gifting 5 lucky listeners with annual memberships to this life-changing and award-winning app   — a $95.88 value per membership. Thanks guys!
HOW TO WIN**: All you have to do is join our  Thunderclap  — a totally free, simple to use crowdsourcing platform requiring only that you "pledge" a social media post in support of  The Plantpower Way  that will automatically post to your timeline on April 27. Our goal is to achieve a social reach of 1 million (we're close with almost 900K+!), so show your support for the movement and let all our voices be heard all at once! To join, just click on the below banner and follow the simple instructions. It only takes a minute tops (did I say it's free?). Thanks so much for the support – we will announce the Vitamix and Headspace winners on next week's podcast!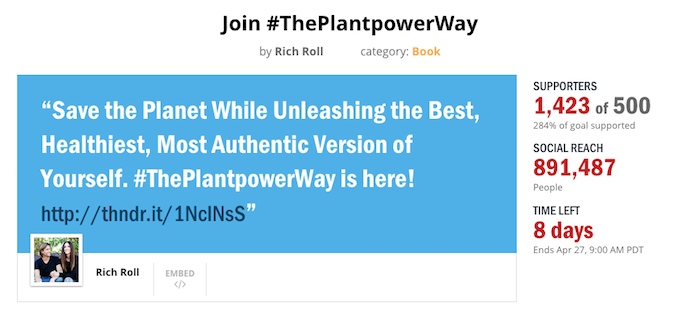 **No purchase necessary for eligibility. Shipping to Vitamix winners restricted to US & Canada. Even if you don't win this week's prize, and as a thank you for joining our cause, we will add your name to the future free weekly raffles we will be conducting up to the launch of our Thunderclap on April 27th, 2015. All winners will be randomly drawn weekly (every Sunday at 12:00PM PST), contacted through their social media account and announced on the following week's podcast.
Are you a company interested in sponsoring the podcast?  Click here  to learn more & take our sponsor survey.
HOW CAN I SUPPORT THE PODCAST?
Tell Your Friends & Share Online!
Subscribe & Review:  iTunes,  Stitcher,  Soundcloud  and  TuneIn.
Donate: Check out the   DONATE  button on the podcast homepage or click  HERE  to learn more.  We even accept Bitcoin!
Download Our Free App! Now you can access, stream, download and share the entire RRP catalog in the palm of your hand on any iOS mobile device (iPhone, iPad and iPod Touch) with our  new mobile app. Never miss an episode, plus special announcements, discounts, giveaways. Already downloaded? Awesome. When you have a minute, and it feels right to you, do us a solid and give the app a review in the  iTunes Store.