Podcast: Play in new window | Download | Embed
---

"Curiosity is one of the greatest drivers of change."

David de Rothschild
---
Two British ex-pats walk into a room. One, a writer and filmmaker. The other, a global adventurer and environmentalist. Upon cursory glance, it's an odd pairing — two exceedingly talented and accomplished yet very different people with little in common beyond their homeland of origin.
But peer just beneath the surface and you'll quickly discover certain common passions unite them. A zeal for chasing dreams. An appreciation for cultivating imagination. And a deep understanding that a story well told holds the potential energy to change the world.
My very good friend for over 16 years, Sacha Gervasi is the hyper-charismatic screenwriter behind the Steven Spielberg-Tom Hanks vehicle The Terminal and the director of 2012's Academy Award nominated Hitchcock, starring Anthony Hopkins, Helen Mirren and Scarlett Johannson.
But Sacha is perhaps best known for Anvil! The Story of Anvil — his critically acclaimed rockumentary about an also-ran Canadian heavy metal band. A true-to-life Spinal Tap the London Times dubbed possibly the greatest film ever made about rock and roll, it took independent cinema by storm at the Sundance Film Festival in 2008 and would go on to win both an Emmy and Independent Spirit Award. But behind the film's can you believe this is actually real? narrative and comedically endearing head-banger protagonists is a powerful, indelible dissection of what it truly means to never give up on your dream.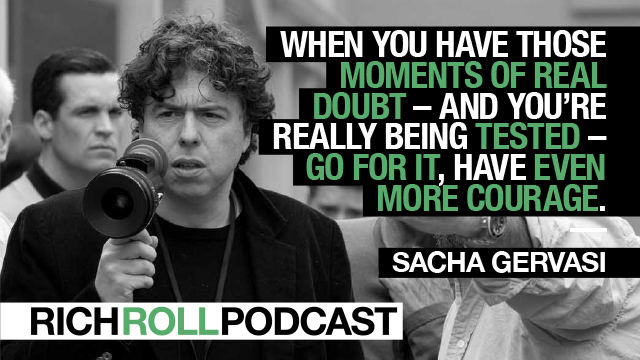 Equally charismatic is Sacha's brother-in-law, David de Rothschild. A world adventurer, passionate environmentalist, entrepreneur and provocative storyteller, David spearheads more conscious causes, mind-boggling expeditions and well deserving non-profits than you can possibly count.
In between writing books and graphic novels, David has traipsed the Arctic from Russia to Canada, is one of only 14 people to have traversed the continent of Antarctica and was part of the team that broke the world record for the fastest-ever crossing of the Greenland ice cap.
Named an Emerging Explorer by National Geographic, a Climate Hero by the United Nations and Man of the Year by GQ Magazine, David is perhaps best known for sailing from San Francisco to Sydney in a 60-foot catamaran forged from 125,000 intact, reclaimed plastic bottles. Dubbed Plastiki — an homage to Kon-Tiki, legendary explorer Thor Heyerdal's epic 4,300-mile crossing of the Pacific on a balsawood raft in 1947 — the hair-raising odyssey was a successful effort to captivate awareness around the 73.9 million pounds of plastic currently floating in our oceans.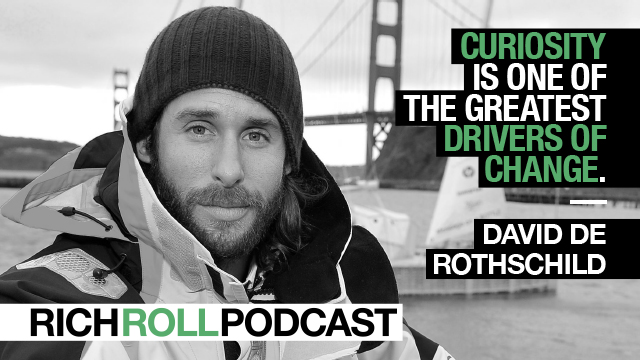 David's latest obsession? The Lost Explorer — his recently launched line of stylish, sustainably sourced and manufactured garments, grooming products and travel accessories.
The three of us convened in David's spectacular, airy Venice live-work loft for a proper chat and spot of tea. Between witty barbs, this conversation pivots on a central theme: the power of storytelling to lift the human spirit, speak truth to power, incite positive change and elicit indelible, eternal verities  about who we are. And how, together, we can leverage imagination to cultivate a better relationship with nature and a brighter future for ourselves, our children and the planet at large.
Specific topics explored include:
community and environmental storytelling
connected systems for living
educating people about ecosystems through the Plastiki
the evolution of storytelling
Sacha's creative projects
judgment and cynicism in journalism
stories about perseverance
being open to your path
living the adventurous lifestyle
unlocking human potential through cultural nuances
the power of adventure & imagination
having the courage to try
perspective through the prism of experience
I barely scratch the surface on what makes each of these remarkable humans tick. So I promise to soon bring both David and Sacha back individually for a more in-depth probing. That said, I adore both of these men and I love this conversation. I hope you do too.
Peace + Plants,

Listen & Subscribe on iTunes | Soundcloud | Stitcher | GooglePlay
Check out Julie's podcast divine throughline
Thanks to this week's sponsors:
Harrys.com: A superior shave at an affordable price. Friends of the Rich Roll Podcast can visit Harrys.com/ROLL to redeem your Free Trial Set, which comes with a razor, five-blade cartridge, shaving gel, and post shave gel. All you pay is just shipping. 
MeUndies: The worlds most comfortable underwear! Whether you want a subscription or a single pair, head to MeUndies.com/ROLL to get free shipping (in the U.S. & Canada) and 20% off your first order.
SHOW NOTES
The Plastiki vessel showcased how waste can be used as a valuable resource. To check out David's journey from San Francisco to Sydney visit theplastiki.com
Sculpt the Future Foundation's mission is to promote positive environmental change towards global sustainability by supporting creative, innovative and sustainable action. For more information visit sculptthefuturefoundation.org
Background, Context & Reference
Notable People Discussed In Today's Podcast
Related Podcasts You Might Enjoy
Thanks to Jason Camiolo for production, interstitial music and audio engineering; Chris Swan for production assistance & show notes; Shawn Patterson for graphics.
*Disclosure:Books and products denoted with an asterisk are hyperlinked to an affiliate program. We are a participant in the Amazon Services LLC Associates Program, an affiliate advertising program designed to provide a means for us to earn fees by linking to Amazon.com and affiliated sites.
The Plantpower Way  is available at these fine retailers!
Amazon  |  Barnes & Noble  |  IndieBound  |  Penguin
Are you a company interested in sponsoring the podcast? Click here to learn more & take our sponsor survey.
HOW CAN I SUPPORT THE PODCAST?
Tell Your Friends & Share Online!
Subscribe & Review:  iTunes | Stitcher | Soundcloud | TuneIn
Donate: Check out our brand new  Patreon account!
Download Our Free App! Now you can access, stream, download and share the entire RRP catalog in the palm of your hand on any iOS mobile device (iPhone, iPad and iPod Touch) with our mobile app. Never miss an episode, plus special announcements, discounts, giveaways. Already downloaded? Awesome. When you have a minute, and it feels right to you, do us a solid and give the app a review in the iTunes Store.