Podcast: Play in new window | Download | Embed
---
"Just because something is hard in the beginning doesn't mean it's always going to be."

Robbie Balenger
---
Imagine running an ultramarathon. It's a huge undertaking for anyone. And a bucket list dream for many.
Now imagine running an ultramarathon every day. A minimum of 40 miles, 75 days in a row. Starting in Los Angeles. Finishing in New York. A 3,200 mile transcontinental run.
This is the story of Robbie Balenger.
Just 6 years ago, Robbie laced up his first pair of running shoes to alleviate the stress he was experiencing managing a restaurant. A small act, that first run set in motion a chain of events that led to a passion for running long distances, followed by a purpose-driven mission promote a message — the power of a plant-based diet to fuel athletic performance. Prevent and reverse certain lifestyle maladies. Ameliorate suffering. And redress climate change.
What Robbie didn't expect? The many extraordinary ways running creates community. Unites people across the economic divide. And bridges the political differences that drive us apart.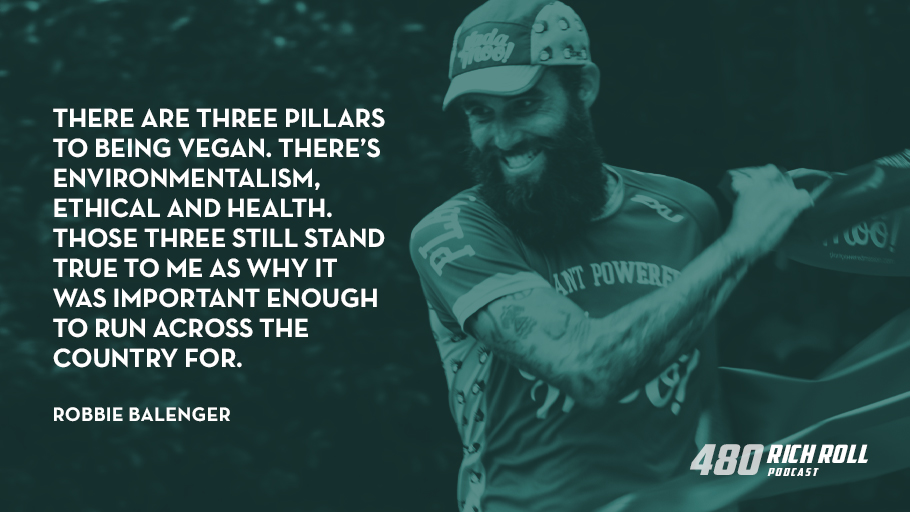 I was unfamiliar with Robbie until an e-mail hit my inbox courtesy of my friend and former podcast guest, Olympic cyclist Dotsie Bausch (RRP 355). Her non-profit Switch4Good was sponsoring Robbie's attempt to cross the United States by foot. Would I be interested in helping to support their efforts? I jumped at the opportunity.
On March 16, I showed up at dawn in Huntington Beach to meet Robbie for the first time and help kick off his momentous attempt.
Running the first several miles alongside Robbie and a small crew of supporters, I immediately took to his earnest yet humble disposition. His passion for promoting the benefits of a plant-based lifestyle. And his determination to reach New York a mere 75 days later.
We struck up a friendship that day. I kept keen tabs on his progress over the following months. And made him a promise:
Finish the run and you earn a seat at the podcast table.
All heart, he indeed finished it. Today I honor that promise. And it's a great story, well told.
You can watch it all go down on YouTube. And as always, the conversation streams wild and free on Apple Podcasts and Spotify.
I sincerely hope you enjoy the exchange as much as I relished having it.
Peace + Plants,

Listen, Watch & Subscribe
Apple Podcasts | YouTube | Spotify | Stitcher | Google Podcasts
Thanks to this week's sponsors
Caldera Lab: Premium non-toxic skincare for men didn't exist – so we created it! Clinically- proven & wild-harvested in Jackson Wyoming.  Go to: calderalab.com/richroll to get 20% off their first purchase of 'The Good' or use discount code RICHROLL at checkout.
ROKA Eyewear: Cutting-Edge Eyewear & Apparel Built For Top Performance. We Don't Cut Corners. Ultralight Construction. Arms-Up® Design. Official USAT Partner. Ultimate Triathlon Gear. To save 20% on a new pair of killer sunglasses or prescription eyewear, go to ROKA.com/RICHROLL
Fully: From the popular Jarvis adjustable standing desks to their every-which-way active office chairs, to their many movement supporting accessories — anti-fatigue mats, treadmill desks and more — Fully is all about helping you bring more movement, energy and joy to your work and life. To get your body moving in your workspace, visit: fully.com/RICHROLL.
Note: One of the best ways to support the podcast is to support the sponsors. For a complete list of all RRP sponsors and their respective vanity url's and discount codes, visit my Resources page and click "Sponsors".
Related Podcasts You Might Enjoy:
Thanks to Jason Camiolo for production, audio engineering, interstitial music and show notes; Margo Lubin and Blake Curtis for video, editing and graphics.  Theme music by Ana Leimma.
*Disclosure: Books and products denoted with an asterisk are hyperlinked to an affiliate program. We are a participant in the Amazon Services LLC Associates Program, an affiliate advertising program designed to provide a means for us to earn fees by linking to Amazon.com and affiliated sites.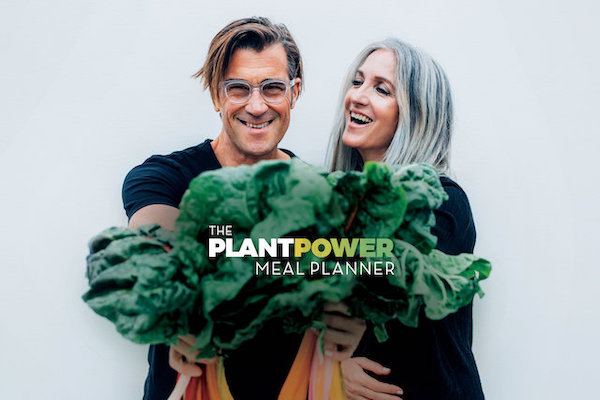 for 1000s of delicious, customized plant-based recipes & so much more, check out our Plantpower Meal Planner
 HOW CAN I SUPPORT THE PODCAST?
Tell Your Friends & Share Online!
Subscribe & Review:  iTunes | Spotify | Stitcher | Soundcloud | Google Podcasts
Donate: Check out our Patreon account
Support The Sponsors: One of the best ways to support the podcast is to support our sponsors. For a complete list of all RRP sponsors and their respective vanity url's and discount codes, visit my Resources page and click "Sponsors".