Podcast: Play in new window | Download | Embed
---
"Yoga is not an Olympic contest—we're not here to prove what we can do, we're here to improve what we can't do."

Guru Singh
---
Inspiration. We crave it. We need it. We love it.
But inspiration alone is a salve that does not cure. Because it rarely translates into positive lifestyle adaptations sustained over time.
For that you need something called purpose.
Purpose derives from a keen awareness of self. An awareness that cannot be found in externalities but instead emanates from the deep recesses of your soul — a place far removed from the dopamine-inducing inspiration hits we restlessly seek outside ourselves.
Indeed, purpose is an inside job.
So this week, we turn inward. A conversation designed to cultivate that awareness, amplify intuition, and enliven the soul so that we can more deeply connect with our unique purpose and awaken to our highest, most authentic selves.
I can think of no better steward to ignite this process than master spiritual teacher and celebrated Kundalini yoga wizard Guru Singh (@gurusinghyogi).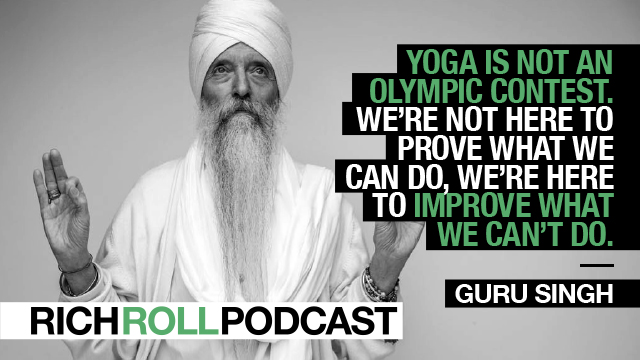 Imagine a modern-day rock star Gandalf dropping mad guitar licks between pearls of timeless wisdom that beautifully fuse of Eastern mysticism with Western pragmatism and you start to get the picture.
Named "Best Guru in LA" by Los Angeles magazine, for the last 40 years Guru Singh has been studying and teaching Kundalini Yoga – a 5,000 year old ancient science and school of yoga focused on awakening the primal energy known as shakti for the purpose of spiritual enlightenment. He is the author of several books (enumerated below) and a powerful lecturer uplifting thousands worldwide. An extraordinary teacher, he also serves as a behind-the-scenes guide to many a luminary, including Fortune 500 CEOs, athletes, artists and even Tony Robbins.
A peer of rock legends like Janis Joplin, Jimi Hendrix and the Grateful Dead, Guru Singh is also a supremely talented musician who began his recording career on Warner Bros' Sire label in the 1960s. When he isn't recording tracks with people like Seal, he's bringing down the house on the daily at Yoga West, his Los Angeles home base.
Simply put, Guru Singh is one of the coolest people I have ever met — a huge, beautiful consciousness I'm proud to call friend.
It's an honor to share his story and wisdom with you today.
My hope is that that this conversation will catalyze your desire to peer more deeply inward. That it will spark a yearning to more thoroughly cultivate your latent intuition. And ultimately that it helps set a trajectory for your journey towards the ultimate superpower — unlimited awareness.
To rise up, you gotta lay down. It is there that you will find purpose.
Peace + Plants,

Listen & Subscribe on iTunes | Soundcloud | Stitcher | GooglePlay
Check out Julie's podcast divine throughline
Thanks to this week's sponsors:
Boll & Branch: The first honest and transparent bedding company that only uses sustainable and responsible methods of sourcing and manufacturing. Go to BollandBranch.com today for $50 off your first set of sheets by typing in promo code "RICHROLL".
StrideHealth: The first health insurance recommendation engine tuned & tailored to the life of the individual. Find the perfect health plan for you—go to www.stridehealth.com/roll and save over $400 for the year. It's easy coverage in 10 minutes or less, built just for people like us.
SHOW NOTES
Miri Piri Academy's mission is to train the future leaders, teachers and healers of the world through rigorous discipline, quality academics and a strong sense of self—learn more by visiting miripiriacademy.org.
Background, Context & Reference
Books By Guru Singh
Notable People Discussed
Related Podcasts You Might Enjoy
Thanks to Jason Camiolo for production, interstitial music and audio engineering; Chris Swan for production assistance & show notes; Shawn Patterson for graphics. Theme music by Ana Leimma.
*Disclosure:Books and products denoted with an asterisk are hyperlinked to an affiliate program. We are a participant in the Amazon Services LLC Associates Program, an affiliate advertising program designed to provide a means for us to earn fees by linking to Amazon.com and affiliated sites.
The Plantpower Way  is available at these fine retailers!
Amazon  |  Barnes & Noble  |  IndieBound  |  Penguin
Are you a company interested in sponsoring the podcast? Click here to learn more & take our sponsor survey.
HOW CAN I SUPPORT THE PODCAST?
Tell Your Friends & Share Online!
Subscribe & Review:  iTunes | Stitcher | Soundcloud | TuneIn
Donate: Check out our Patreon account!
Download Our Free App! Now you can access, stream, download and share the entire RRP catalog in the palm of your hand on any iOS mobile device (iPhone, iPad and iPod Touch) with our mobile app. Never miss an episode, plus special announcements, discounts, giveaways. Already downloaded? Awesome. When you have a minute, and it feels right to you, do us a solid and give the app a review in the iTunes Store.