Podcast: Play in new window | Download | Embed
---
"Being your true self is the most effective formula for success there is."

Danielle LaPorte
---
From fire walks to ice baths and juice cleanses to intermittent fasting, silent retreats, talk therapy and everything in between, the world of personal development is limitless. And that's not counting all the podcasts, audiobooks, online courses, weekend seminars, weeklong symposiums, webinar tutorials and mastermind intensives that can occupy a well-intentioned seeker dawn to dusk for the next 10,000 years.
Beyond the overwhelm, the self-help universe is fraught with snake oil slinging charlatans obfuscating truth from fiction — and all too often salvation from predation.
Efforts to divine truth from bullshit render imperfect results. Anxiety ensues. To cope, we double down on improving upon our self-improvement until we wake up one day and realize what began as a laudable quest for growth has suddenly become an obsessive malignancy — a sort of spiritual eating disorder gnawing away on our very soul.
Danielle LaPorte has been there. And she's got a message for you:
You're the answer to your question.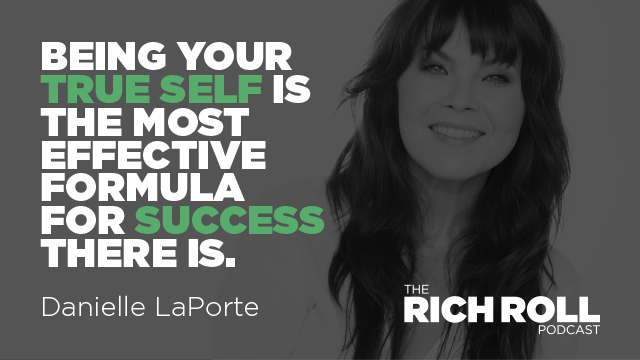 Named to Oprah's inaugural SuperSoul 100, Entrepreneur magazine calls Danielle equal parts poet and entrepreneurial badass. I call her a powerful force of nature — a teacher, a leader and a mom who also happens to be a lauded public speaker, multiple bestselling author and doyenne of blogging for millions at DanielleLaPorte.com, which Forbes calls the best place online for kickass spirituality.
Honest, accessible and authentic to the core, Danielle's books include The Fire Starter Sessions: A Soulful + Practical Guide to Creating Success on Your Own Terms* and The Desire Map: A Guide to Creating Goals with Soul*. Her newest book, which hits shelves everywhere May 16 and is available for pre-order now, is entitled White Hot Truth: Clarity for Keeping It Real on Your Spiritual Path from One Seeker to Another*. A high recommend, it's a fun and accessible rollercoaster ride through the machinations of personal growth, the pitfalls of spiritual glamour and the self-criticism that too often accompanies self-help to deliver a powerful edict: you are your own guru.
A beacon of compassion, Danielle is an extraordinary human. A woman devoted to helping people transcend their limitations, access their potential, and truly self-actualize. It was an honor to finally sit down with her and talk it all out.
This is a fun, deep and deeply fun dive into Danielle's divine path. It's an exploration of self-help adventures gone wrong and the breakthroughs that make it all worth it. It's about what happens when spirituality becomes a to do list. And why sometimes we have to fall for lies in order to discover  our truth.
Ultimately, it's not how you seek spiritual growth, it's why you seek it. Answer this, and you are on the path to becoming your own guru.
I sincerely hope you enjoy this conversation as much as I enjoyed having it.
Peace + Plants,

Listen & Subscribe on iTunes | Soundcloud | Stitcher
Thanks to this week's sponsor:
Health IQ: life insurance designed for the active & health conscious — never overpay again! To learn more and get a free quote, visit healthiq.com/roll
*Disclosure:Books and products denoted with an asterisk are hyperlinked to an affiliate program. We are a participant in the Amazon Services LLC Associates Program, an affiliate advertising program designed to provide a means for us to earn fees by linking to Amazon.com and affiliated sites.
The Plantpower Way  is available at these fine retailers!
Amazon  |  Barnes & Noble  |  IndieBound  |  Penguin
Are you a company interested in sponsoring the podcast? Click here to learn more & take our sponsor survey.
HOW CAN I SUPPORT THE PODCAST?
Tell Your Friends & Share Online!
Subscribe & Review:  iTunes | Stitcher | Soundcloud | TuneIn
Donate: Check out our Patreon account!
Download Our Free App! Now you can access, stream, download and share the entire RRP catalog in the palm of your hand on any iOS mobile device (iPhone, iPad and iPod Touch) with our mobile app. Never miss an episode, plus special announcements, discounts, giveaways. Already downloaded? Awesome. When you have a minute, and it feels right to you, do us a solid and give the app a review in the iTunes Store.