Podcast: Play in new window | Download | Embed
---
"The body is no match for the power of the mind."

JD Roth   
---
Despite our cultural obsession with weight loss, we've never been fatter.
Right now, one out of every three U.S. adults are obese. Another third are overweight. Even worse? 18% of our children are morbidly obese with rates continuing to soar. In lockstep with our obesity epidemic is a shocking escalation of chronic lifestyle illness, including high blood pressure, Type 2 diabetes, heart disease, liver disease, and stroke. One out of every three Americans will die of heart disease. Close to 30% of the adult population is diabetic or pre-diabetic. The problem is so bad, 75% of all U.S. healthcare costs are attributable to these conditions — illnesses that quite ironically are avoidable and often reversible through some fairly simple diet and lifestyle changes.
So why can't we lose the weight and keep it off?
This is the question JD Roth has devoted his life to answering.
The man behind a television empire built on the shoulders of a prime-time juggernaut called The Biggest Loser — which aired for an astonishing 17 seasons — JD is the award-winning producer and reality-TV pioneer behind some of the most successful and prolific television programs of our era. More than a decade ago, JD first introduced viewers to the weight-loss TV arena with The Biggest Loser on NBC – now a worldwide, half-billion-dollar brand – and expanded upon it with Extreme Weight Loss on ABC, which ran for five seasons and airs as Obese in more than 130 countries.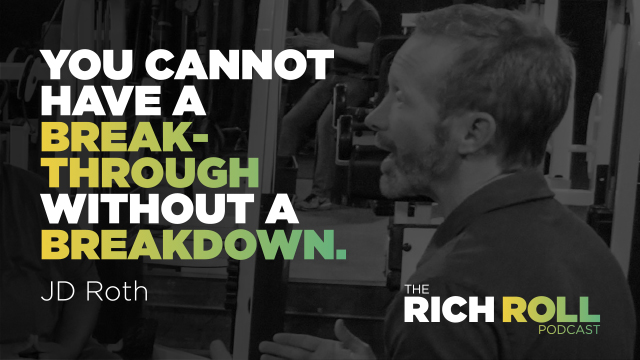 JD is also author of Big Fat Truth*, and a brand-new television series of the same name (premiering June 11 at 8pm ET/PT on Z Living), which challenges and guides groups of participants unhappy with their weight and health (including some former Biggest Loser contestants who regained their weight), providing them the tools to uncover and tackle the real issues behind the weight while encouraging them to adopt a whole food, plant-based diet over a three month period of mental, emotional and practical mentorship by JD and a panel of experts that include none other than podcast favorite Michael Greger, MD (and a brief appearance by yours truly).
Never before has a show advanced plant-based eating as a central conceit. A first in the history of television, I cannot overstate how excited this is for the movement and the world.
Today I sit down with the blockbuster producer to unpack it all — including the whirl of controversy that surrounds the successful shows he created.
This is a conversation about the cultural phenomenon of weight loss television that JD originated, framed and fashioned. It's about the overlooked mental and emotional barriers that prevent too many from achieving and maintaining optimal weight and health. And it's a conversation about his passion for the plant-based lifestyle, as well as the hows and whys behind his book and new television show that advance this lifestyle as the model way to not only lose weight, but keep it off for good.
Irrespective of your opinion on JD's former shows, I can honestly say that JD is truly passionate about helping people — I've seen it first hand, up close and personal. So I urge you to set aside any pre-conceived notions you may harbor and listen with an open mind to what I think you will find is an enjoyable exchange laden with helpful tools and inspiration to inform your journey.
Peace + Plants,

Listen & Subscribe on Apple Podcasts | Soundcloud | Stitcher
Join us for our next retreat at Ballyvolane in Ireland, July 24-31, 2017. For more information visit ourplantpowerworld.com
Thanks to this week's sponsors:
Harrys.com: A superior shave at an affordable price. Friends of the Rich Roll Podcast can visit Harrys.com/ROLL to redeem your Free Trial Set, which comes with a razor, five-blade cartridge, shaving gel, and post shave gel. All you pay is just shipping.
MeUndies: The world's most comfortable underwear! Visit MeUndies.com/ROLL to get free shipping (in the U.S. & Canada) and 20% off your first pair.
*Disclosure: Books and products denoted with an asterisk are hyperlinked to an affiliate program. We are a participant in the Amazon Services LLC Associates Program, an affiliate advertising program designed to provide a means for us to earn fees by linking to Amazon.com and affiliated sites.
The Plantpower Way  is available at these fine retailers!
Amazon  |  Barnes & Noble  |  IndieBound  |  Penguin
Are you a company interested in sponsoring the podcast? Click here to learn more & take our sponsor survey.
HOW CAN I SUPPORT THE PODCAST?
Tell Your Friends & Share Online!
Subscribe & Review:  iTunes | Stitcher | Soundcloud | TuneIn
Donate: Check out our Patreon account!
Download Our Free App! Now you can access, stream, download and share the entire RRP catalog in the palm of your hand on any iOS mobile device (iPhone, iPad and iPod Touch) with our mobile app. Never miss an episode, plus special announcements, discounts, giveaways. Already downloaded? Awesome. When you have a minute, and it feels right to you, do us a solid and give the app a review in the iTunes Store.