Podcast: Play in new window | Download | Embed
---

"I love the feeling of anticipation that comes from having a huge, scary event on the horizon; in fact, that's when I have a sense of living life to the fullest."

Kimberley Chambers
---
Close your eyes and imagine yourself 30 miles off the coast of San Francisco, swimming in the freezing cold, shark-infested waters famously dubbed the Red Triangle. No wetsuit. In the middle of the night.
Most would call this lunacy.
Kimberley Chambers calls this home.
This week's guest is one of the most accomplished record-setting marathon open water swimmers in the world. Her story is incredibly inspiring, but not for the reasons you might imagine. Her story is inspiring because just nine years ago, Kim was not a swimmer at all, suffering a life-threatening accident that nearly claimed her leg and her overall enthusiasm for life.
The morning started out like every other morning. The New Zealand born former ballerina and rower turned software executive left her San Francisco apartment and accidentally tripped, toppling down a treacherous flight of stairs.
We saved your leg. But it's unlikely you will walk again.
The doctor's verdict presented Kim with a choice: accept permanent disability. Or prove them wrong.
Needless to say, she chose the latter.
After countless surgeries and an excruciatingly prolonged rehabilitation, a friend encouraged her to try swimming. Although foreign to the water, she immediately took to it. A ticket to freedom. But the real turning point came the moment she first jumped into the frigid San Francisco Bay. In an instant, she had found sanctuary. To this day, it's a love affair with cold water and the tight-knit community of like-minded souls who embrace it that changed everything about her life and how she lives it.
An inner fire ignited, Kim began to channel her newfound passion into a series of death-defying, envelope-pushing open-water marathon challenges that have redefined the limits of human potential and transformed her into the elite athlete she is today.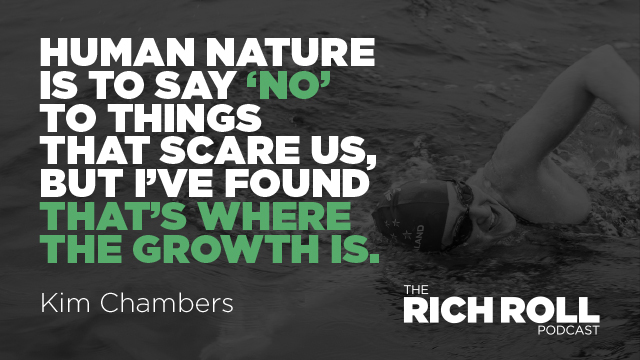 Among Kim's many accomplishments:
In 2014, she became the 6th person (and 3rd woman) in history to complete the Oceans Seven — the marathon swimming equivalent of the Seven Summits mountaineering challenge, with each of the 7 swims chosen for their treacherous water conditions and potential wildlife risks;
In 2015, she set a new world record becoming the first woman to swim 30 miles from the shark-infested Farallon Islands off the coast of San Francisco;
In September 2016, Kim attempted a non-stop 93 mile swim from Sacramento to Tiburon. However after swimming over 24 hours and 54 miles, sustained 30 knot winds rendered it unsafe for her to continue;
And just two months later, Kim led an international team of swimmers to complete an unprecedented historic swim across the Dead Sea to raise global awareness around the environmental deterioration of that critical body of water.
This is a conversation about the boundaries of human potential. It's about the capacity to turn tremendous adversity into boundless opportunity. It's about finding joy and adventure outside the comfort zone. It's a conversation about reframing identity to step into and own — really own — our most authentic, fully actualized selves.
And I suppose it's about how to not get eaten by a shark.
Delightfully engaging, ever humble, and beautifully human, Kim embodies everything you seek in a modern day female super hero.
It was a pleasure to spend time with her and it is my hope that our conversation will leave you deeply reconsidering the limits of your own potential.
I sincerely hope you enjoy the exchange.
Peace + Plants,

Special thanks to Kate Webber for graciously allowing me use of her photography in today's podcast. Check out her incredible work on the upcoming documentary Kim Swims: Website | Twitter | Facebook
Listen & Subscribe on iTunes | Soundcloud | Stitcher | GooglePlay
Spots are available for our next retreat in Italy — May 20-27, 2017. For info visit plantpowerworld.com
Check out Julie's brand new, updated website srimati.com
Thanks to this week's sponsors:
Headspace.com: Train your mind for a healthier, less-stressed life. Download the FREE app and begin their Take10 program, for 10 days of guided meditation at headspace.com/ROLL
Audible: With more than 180,000 audiobooks and spoken-word audio products, you'll find what you're looking for. Rich Roll listeners are entitled to a FREE audiobook and 30-day trial today by signing up at audible.com/richroll
SHOW NOTES
Background, Context & Reference
Notable People Discussed in today's podcast
Vito Bialla: founding member of Night Train Swimmers and is the organization's President
Related Podcasts You Might Enjoy
Thanks to Jason Camiolo for production, interstitial music and audio engineering; Chris Swan for production assistance & show notes; Shawn Patterson for graphics. Theme music by Ana Leimma.
*Disclosure:Books and products denoted with an asterisk are hyperlinked to an affiliate program. We are a participant in the Amazon Services LLC Associates Program, an affiliate advertising program designed to provide a means for us to earn fees by linking to Amazon.com and affiliated sites.
The Plantpower Way  is available at these fine retailers!
Amazon  |  Barnes & Noble  |  IndieBound  |  Penguin
Are you a company interested in sponsoring the podcast? Click here to learn more & take our sponsor survey.
HOW CAN I SUPPORT THE PODCAST?
Tell Your Friends & Share Online!
Subscribe & Review:  iTunes | Stitcher | Soundcloud | TuneIn
Donate: Check out our Patreon account!
Download Our Free App! Now you can access, stream, download and share the entire RRP catalog in the palm of your hand on any iOS mobile device (iPhone, iPad and iPod Touch) with our mobile app. Never miss an episode, plus special announcements, discounts, giveaways. Already downloaded? Awesome. When you have a minute, and it feels right to you, do us a solid and give the app a review in the iTunes Store.