Podcast: Play in new window | Download | Embed
---
"I just want people to be consuming nutrient dense plants so they don't have to drag around this chemistry set of a body & suffer."

Darin Olien
---
What's it like to traipse the far outreaches of the globe in search of the the world's greatest edible food sources for optimal health?
Meet the Indiana Jones of Superfoods.
One of the most popular guests of 2015, this week my friend Darin Olien (@superlifeliving) returns to the podcast to delve deep on the next level nutrition insights he's gleaned from his extraordinary adventure-based experiences as a widely recognized exotic superfoods hunter, wellness advocate, supplement formulator & environmental activist.
Over the last twenty plus years, Darin has explored every imaginable port of call across the developing world questing for better, more natural pathways to ultimate wellness. Communing with thousands of rural farmers, growers and manufacturers in remote communities across Peru, Bhutan, the Amazon, the Himalayas, the South Pacific, Latin America and Asia, Darin now shepherds exotic, high-quality, fair-trade superfoods and indigenous herbal commodities to market.
Perhaps best known for his work with fitness company Beachbody, Darin was instrumental in the development and ongoing formulation of the wildly successful whole-food supplement, Shakeology. He chronicles his experience and expertise in Superlife: The 5 Simple Fixes That Will Make You Healthy, Fit & Eternally Awesome* (just released in paperback), as well as on his website Superlife.com, where he demystifies health, fitness, nutrition, and longevity into simple daily actions designed to promote life-long wellness.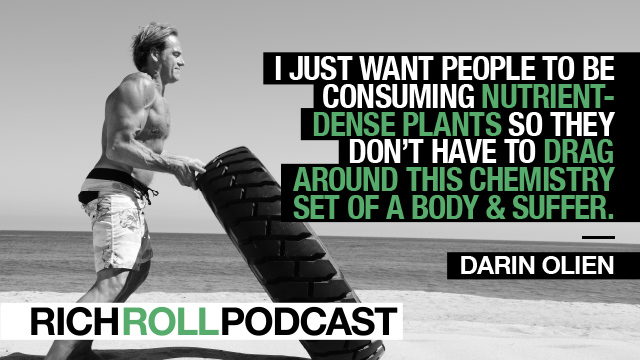 Plant-based, ripped, and bearing more than a passing resemblance to his workout buddy Laird Hamilton, what is most intriguing to me about Darin isn't just that he is a respected authority on the healing potential of food. And it isn't just that he has been instrumental in introducing these so called superfoods to western consumers. What is most interesting is his commitment to do it right. A deep rooted responsibility to fairly, sustainably and transparently support the long-term interests of indigenous grower communities against the industrialized threat posed by the well-funded, politically powerful agricultural interests responsible for decimating the planet's precious rainforests at an unfathomable rate.
An inspiration to me personally, this is a guy who walks his talk. From the foods he consumes to the lifestyle habits he practices, Darin is the thriving embodiment of what it means to truly own and take responsibility for your health, your life and the planet we collectively enjoy.
But what exactly is a superfood? Are these foods truly "super" or is it all just exaggerated marketing hype?
Our first conversation tracked Darin's life story. Packed with takeaways, today's exchange deep dives into the efficacy of exotic fruits, herbs, adaptogens and mushrooms. Parsing fact from hyperbole, it's a conversation about the most important superfoods you should be incorporating into your daily routine and why. It's a mind-blowing discourse on the importance of water quality and next-level hydration. It's an exploration of Darin's pre-workout routine and nutrition essentials. And it's about our collective responsibility to support ecological rainforest preservation and the indigenous communities that protect them.
But ultimately, this is a conversation about big picture fundamentals – how to adopt long-term nutrition and lifestyle habits with staying power that will positively impact your performance, extend your longevity, improve your overall wellness, and preserve our planet's beautiful bounty.
Specific topics covered include:
being good stewards of the land
the efficacy of superfoods & the harvesting process
The Dr. Oz Effect
the power of the consumer to direct change
deforestation in the rainforest
supporting indigenous communities with fair trade
Darin's favorite superfoods
the importance of water
Darin's daily pre-workout routine
the big picture fundamentals of wellness
taking gradual steps to eating healthier
I absolutely love this guy. I love this conversation. And I think you will too.
Peace + Plants,

Listen & Subscribe on iTunes | Soundcloud | Stitcher | GooglePlay
Check out Julie's podcast divine throughline
Thanks to this week's sponsors:
Harrys.com: A superior shave at an affordable price. Friends of the Rich Roll Podcast can visit Harrys.com/ROLL to redeem your Free Trial Set, which comes with a razor, five-blade cartridge, shaving gel, and post shave gel. All you pay is just shipping.
StrideHealth: The first health insurance recommendation engine tuned & tailored to the life of the individual. Find the perfect health plan for you—go to stridehealth.com/roll and save over $400 for the year. It's easy coverage in 10 minutes or less, built just for people like us.
SHOW NOTES
Connect With Darin: Website | Facebook | Twitter | Instagram
Background, Context & Reference
Notable People Discussed
Tero Isokauppila: co-founder and President of Four Sigmatic Foods, a US company specialized in superfoods, medicinal mushrooms and adaptogenic herbs
Masaru Emoto: Japanese author, researcher, photographer and entrepreneur, who claimed that human consciousness has an effect on the molecular structure of water
Compton Rom Bada: Founder of Ascended Health, nutrition shaman, and microbiologist
Past Episodes Relevant to Today's Conversation
Thanks to Jason Camiolo for production, interstitial music and audio engineering; Chris Swan for production assistance & show notes; Shawn Patterson for graphics. Theme music by Ana Leimma.
*Disclosure:Books and products denoted with an asterisk are hyperlinked to an affiliate program. We are a participant in the Amazon Services LLC Associates Program, an affiliate advertising program designed to provide a means for us to earn fees by linking to Amazon.com and affiliated sites.
The Plantpower Way  is available at these fine retailers!
Amazon  |  Barnes & Noble  |  IndieBound  |  Penguin
Are you a company interested in sponsoring the podcast? Click here to learn more & take our sponsor survey.
HOW CAN I SUPPORT THE PODCAST?
Tell Your Friends & Share Online!
Subscribe & Review:  iTunes | Stitcher | Soundcloud | TuneIn
Donate: Check out our Patreon account!
Download Our Free App! Now you can access, stream, download and share the entire RRP catalog in the palm of your hand on any iOS mobile device (iPhone, iPad and iPod Touch) with our mobile app. Never miss an episode, plus special announcements, discounts, giveaways. Already downloaded? Awesome. When you have a minute, and it feels right to you, do us a solid and give the app a review in the iTunes Store.