Podcast: Play in new window | Download | Embed
---
"The prize never goes to the fastest guy; it goes to the guy who slows down the least."

Chris Hauth
---
This week marks the highly anticipated return of Chris Hauth to the podcast.
A sub-9 hour Ironman, Chris (@AIMPCoach) is the current Age Group Ironman World Champion, a former Olympic Swimmer and one of the world's most respected endurance coaches. In 2006, Chris won the Ironman Coeur D'Alene and went on to be the first American amateur & 4th overall American at the Ironman World Championships in Kona, Hawaii.
When he's not training and racing, Chris expertly coaches a wide spectrum of amateur and elite professional athletes across a variety of disciplines, including Ironman and Western States top finishers, Ultraman winners and myriad swimmers towards age group nationals and Olympic Trials.
My relationship with Chris began in 2008. A coach/athlete mentorship turned friendship that profoundly and forever altered the trajectory of my life. Brilliantly guiding me through three Ultraman World Championships ('08, '09 & '11) as well as EPIC5 in 2010, my debt of gratitude for Chris' tutelage cannot be overstated. Simply put, I could have never achieved the level of athletic success I have enjoyed without his deft counsel, which has been instrumental in maximizing my potential as an athlete and bettering me as a human being.
Today I am pleased to share his wisdom with you.
This is a general conversation about Chris' evolving philosophy on training, racing and life. It's also a granular and technical masterclass on optimal training protocols, the common mistakes most athletes make, the approach and mindset required to break the glass ceiling on potential, and how to effectively balance performance goals against general health and well-being.
But at it's core, this is a conversation about multi-sport as a crucible for self-awareness and growth.
Endurance sports as metaphor for life.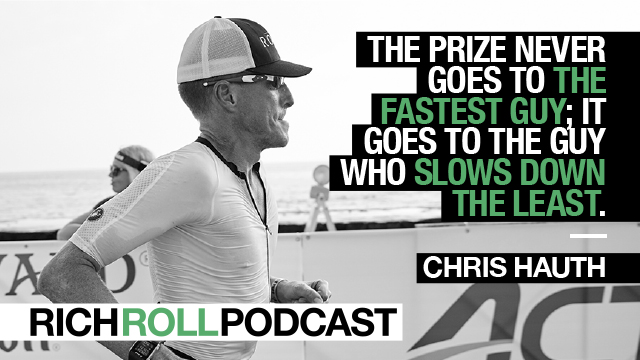 We cover a lot of ground in this conversation, including:
Chris' training & racing philosophy
aerobic vs. anaerobic training
the benefits of calculated progression
pros & cons of external monitors/trackers
race plan execution
prioritizing core strength
strategies for optimizing recovery 
the facts on fad dieting and fitness nutrition
striking the proper balance between performance & general health
overcoming adversity through mental & physical fitness, and
the imperative of fitness for life
I have an inkling this episode will leave you wanting to hear more about Chris' story and philosophy. If so, check out RRP #21 — our first podcast exchange back in the early days of the program. Then check out his website AIMPCoaching and let him know what you think on Twitter at @AIMPCoach. Still have questions for Chris? Shoot him an e-mail at [email protected] (Chris – you might regret sharing your e-mail here!)
I sincerely hope you enjoy the exchange.
Peace + Plants,

Listen & Subscribe on iTunes | Soundcloud | Stitcher | GooglePlay
Spots are now available for Plantpower Austraila, Feb. 20-27, 2017. For info visit plantpowerworld.com
Check out Julie's podcast divine throughline
Thanks to this week's sponsors:
MeUndies: The world's most comfortable underwear! Whether you want a subscription or a single pair, head to MeUndies.com/ROLL to get free shipping (in the U.S. & Canada) and 20% off your first order.
StrideHealth: The first health insurance recommendation engine tuned & tailored to the life of the individual. Find the perfect health plan for you—go to www.stridehealth.com/roll and save over $400 for the year. It's easy coverage in 10 minutes or less, built just for people like us.
SHOW NOTES
Background, Context & Reference
Notable People Discussed
Related Podcasts You Might Enjoy
Thanks to Jason Camiolo for production, interstitial music and audio engineering; Chris Swan for production assistance & show notes; Shawn Patterson for graphics.
*Disclosure:Books and products denoted with an asterisk are hyperlinked to an affiliate program. We are a participant in the Amazon Services LLC Associates Program, an affiliate advertising program designed to provide a means for us to earn fees by linking to Amazon.com and affiliated sites.
The Plantpower Way  is available at these fine retailers!
Amazon  |  Barnes & Noble  |  IndieBound  |  Penguin
Are you a company interested in sponsoring the podcast? Click here to learn more & take our sponsor survey.
HOW CAN I SUPPORT THE PODCAST?
Tell Your Friends & Share Online!
Subscribe & Review:  iTunes | Stitcher | Soundcloud | TuneIn
Donate: Check out our brand new Patreon account!
Download Our Free App! Now you can access, stream, download and share the entire RRP catalog in the palm of your hand on any iOS mobile device (iPhone, iPad and iPod Touch) with our mobile app. Never miss an episode, plus special announcements, discounts, giveaways. Already downloaded? Awesome. When you have a minute, and it feels right to you, do us a solid and give the app a review in the iTunes Store.