Podcast: Play in new window | Download | Embed
---
"No one else is responsible for your well being…take control of your own health."

John Lewis
---
Beyond the chiseled arms and imposing six-foot six physique, the thing you notice most about this week's guest is his smile — a smile the size of Texas that only hints at the even bigger heart within.
But John Lewis wasn't always the exemplary model of health and advocacy he is today. Tipping the scales at 315 pounds by his freshman year in high school, things could have easily gone sideways for this young man growing up in Ferguson, Missouri.
But instead of drugs and gangs, he turned to sports, finding solace and refuge in basketball and football. Honing his skills in both high school and college helped him ditch his fat kid image and triggered his life-long love for healthy living.
Nonetheless, John began experiencing some serious, negative health issues despite maintaining an athletic nature post-college. He sought medical advice and was informed that excessive animal protein consumption just might be the culprit. That advice, combined with his mother's colon cancer diagnosis, catalyzed an experiment with vegetarianism. Little did he know, that experiment would change his life.
In short shrift, ditching meat resolved his health issues. More importantly, the lifestyle aligned with his values. So it wasn't long before John jettisoned all animal products from his plate and went entirely vegan.
Needless to say, this was an unlikely move for a football loving gym rat. His friends were not amused.
But John never felt better. The lights went on, opening him to an entirely new way of living and being that brought his life path into focus.
Today, John is an in-demand public speaker, personal trainer, and entrepreneur tirelessly spreading his his broad smile as the Bad Ass Vegan — busting traditional stereotypes as an entirely new breed of vegan evangelist with a unique ability to communicate and positively impact a wide diversity of people.
He has appeared on multiple television shows and been profiled in several magazines, including Muscle & Fitness, Men's Fitness, Fitness Rx, Vegan Health & Fitness, Thrive, Origin, Maxim and even Sports Illustrated. You might have seen him flexing in all those P90X television ads that were ubiquitous a few years back.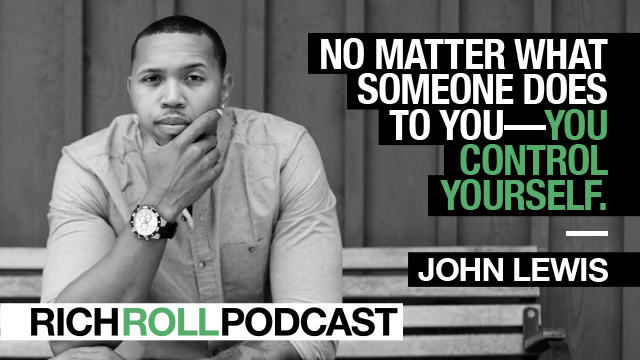 Beyond the nickname, Bad Ass Vegan is also John's apparel and lifestyle brand — a health and nutrition company striving to upend traditional notions that surround what it means — and what it looks like — to be vegan by educating individuals on plant-based nutrition and more conscious living.
I first met John a couple years ago and always enjoy spending time with him at various lifestyle events — his energy is beyond infectious. So I'm proud to share his powerful, super uplifting message with you today.
This is a conversation about taking personal responsibility for ourselves, our well being, and our life paths. It's about the impact of mindset on personal destiny. It's about the power of community. And it's a conversation about the power we all possess to positively transform ourselves and make a real difference in those we touch.
We cover a lot of ground in this conversation, including:
John's early childhood & upbringing
reflecting on life in Ferguson
shifting focus from the NBA to an MBA
John's experiment transitioning away from meat
body awareness & Kundalini energy
starting Bad Ass Vegan for community
ethical sensibilities & fashion forwardness
plant-based impact on recovery time & endurance
consumer demand & speaking with your dollars
hip hop-influenced documentary
taking health for granted
fanning the flames of positive change
I sincerely hope you enjoy our exchange.
Peace + Plants,

Listen & Subscribe on iTunes | Soundcloud | Stitcher | GooglePlay
Spots are now available for Plantpower Austraila, Feb. 20-27, 2017. For info visit plantpowerworld.com
Check out Julie's podcast divine throughline
Thanks to this week's sponsors:
Harrys.com: A superior shave at an affordable price. We've partnered with Harry's to give you $5.00 off your order when you enter code "ROLL" at checkout. Go to Harrys.com/ROLL right now to get a limited edition holiday shave set while supplies last. Free shipping ends on December 9th.
MeUndies: The world's most comfortable underwear! Whether you want a subscription or a single pair, head to MeUndies.com/ROLL to get free shipping (in the U.S. & Canada) and 20% off your first order.
SHOW NOTES
Background, Context & Reference
Notable People Discussed
Related Podcasts You Might Enjoy
Thanks to Jason Camiolo for production, interstitial music and audio engineering; Chris Swan for production assistance & show notes; Shawn Patterson for graphics. Theme music by Ana Leimma.
*Disclosure:Books and products denoted with an asterisk are hyperlinked to an affiliate program. We are a participant in the Amazon Services LLC Associates Program, an affiliate advertising program designed to provide a means for us to earn fees by linking to Amazon.com and affiliated sites.
The Plantpower Way  is available at these fine retailers!
Amazon  |  Barnes & Noble  |  IndieBound  |  Penguin
Are you a company interested in sponsoring the podcast? Click here to learn more & take our sponsor survey.
HOW CAN I SUPPORT THE PODCAST?
Tell Your Friends & Share Online!
Subscribe & Review:  iTunes | Stitcher | Soundcloud | TuneIn
Donate: Check out our brand new Patreon account!
Download Our Free App! Now you can access, stream, download and share the entire RRP catalog in the palm of your hand on any iOS mobile device (iPhone, iPad and iPod Touch) with our mobile app. Never miss an episode, plus special announcements, discounts, giveaways. Already downloaded? Awesome. When you have a minute, and it feels right to you, do us a solid and give the app a review in the iTunes Store.