Podcast: Play in new window | Download | Embed
I'm obsessed with the idea that we can all do and be better. That's what this show is about — a loud and clear call to action. A graceful nudge to help anyone and everyone not just understand, but actually believe that we are all capable of so much more than we often allow ourselves to accept.
Enter  David Clark.
It's fun to interview the celebrated. But quite honestly there is just something far more personally gratifying about sharing the story of an anonymous, everyman hero. What truly moves and inspires me are tales of regular people with regular problems who courageously meet severe challenges head on; do something unexpected and astounding that strains the boundaries of what we imagine possible; and come out the other side transformed with life lessons that can benefit us all.
Much like my conversation with Josh LaJaunie ( RRP #63 is a must listen if you haven't already and in my top-5 most downloaded shows), this interview will move you. It will touch you. It will erase whatever obstacles and excuses you rely on that perpetuate bad habits, keep you stuck and reinforce denial. My sincere hope is that David's story will help you really get that no matter what your circumstances or environment, that you always hold the power to implement personal change that can profoundly alter the trajectory of your life — beyond your wildest imagination even.
I was first introduced to David by my friend Mishka Shubaly ( another RRP fave with a shocking 5 appearances on the show ). I didn't know anything about him, but when Mishka says he's worth investigating, I investigate.
I winced at photos of a guy pushing 320 pounds, prematurely aged, red-faced and bloated, cocktail in hand. I know an alcoholic when I see one, and this image of David cut a little too close to home. A guy who looked like hell, red lining towards death without a care while wrecking havoc, destruction and woe in the lives of loved ones and anyone and who happened to cross his path.
Then I saw a picture of a fit and slim 165 pound athlete crossing the finish line at insane ultra-marathons like the Leadville 100 and  Badwater – a 135 mile run across Death Valley in 130-degree July heat — widely considered to be the world's two toughest footraces.
The 320+ pound guy, who looked like some kind of menacing Archie Bunker-esque uncle you're scared to talk to bore almost no resemblance to that runner achieving things that would impress even the most accomplished marathoners. To say that I was amazed by the astounding extent to which he had seemingly transformed his life would be an understatement. My first thought was, can this be real?
But when I looked closely, it was undeniable. It was indeed the same guy.
I needed to know more. I needed to know how he did it. So I reached out to David and he sent me his self-published memoir,  Out There: A Story of Ultra Recovery*. After reading the first page, I knew I had to have him on the show.
David's is the story of a man who never had a chance to find out who he was. Growing up in the hardest of circumstances, poor, homeless, without any formal education and traveling the country in his father's pickup truck, he's a kid who grew up no stranger to the hard knocks of life. This book is a no-holds barred, at times quite painful personal account of what it's really like to be obese. What it really feels like to be an alcoholic in the firm grips of disease without hope of escape. Spiraling toward death, spending years eating recklessly, drinking and drugging himself, David grew farther and farther away from everyone around him until he found himself completely alone. Desperate. Broken. In a fleeting moment of clarity, a thought occurred to him:
"If I don't change today, I will die."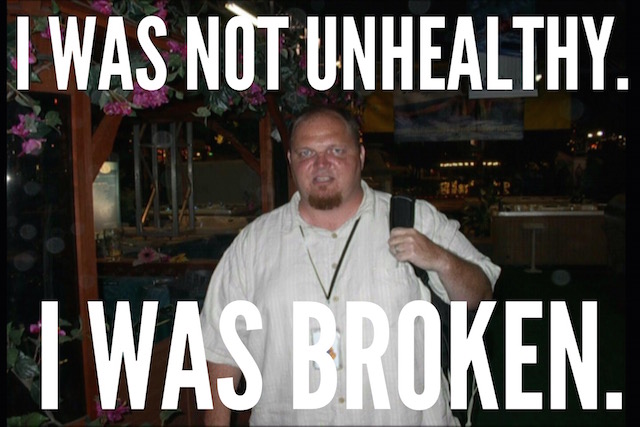 Ultimately Dave had enough. Pulling from deep reserves, he somehow found the wherewithal to finally face and overcome his demons, transform his life wholesale and ultimately accomplish feats most sane people would deem impossible. First he recovered from a death-sentence addiction to drugs and alcohol that destroyed his career, his family and nearly his life. Then he overcame a life-long addiction to unhealthy foods & lifestyle habits to discover a healthy (now plant-based) way of living. Hand in hand with his life overhaul came a deep passion for running.
When he began, David could only run 15 seconds before having to stop, out of breath. But he persisted. And the results are staggering. He didn't just drop 150 pounds. He didn't just complete a half-marathon. He didn't just complete a marathon. And he didn't just finish the Badwater 135, but a whole slew of impressive ultra-marathons, including a stab at the 12-hour treadmill run world record. Today, David is a loving father of three, a running coach, sponsored runner, speaker, and a gym owner. And the running odyssey continues. Just today he texted me to let me in on a new challenge – he intends to run the Boston Marathon 4-times in a row to honor the memory of a young girl that passed away this year!
Not enough? David dedicates his remaining free time to The Superman Project, a vehicle he created to help others and further share his story of how we can all change everything about ourselves if we want it badly enough.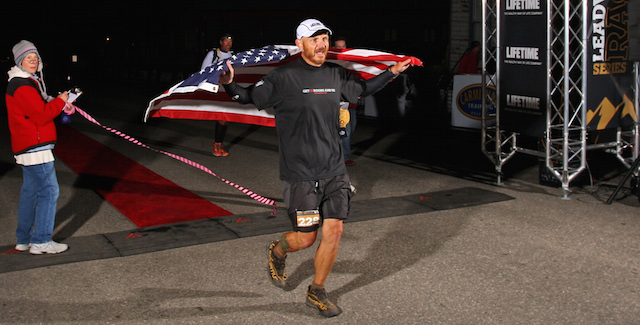 This week I am beyond pleased to give Dave a well-deserved microphone to serve this powerful message. So just how did he do it? Tune in and find out.
I sincerely hope you enjoy this week's offering.
Peace + Plants,

SHOW NOTES
Connect with David: Website | Twitter | Facebook
*Disclosure: Books and products denoted with an asterisk are hyperlinked to an affiliate program. We are a participant in the Amazon Services LLC Associates Program, an affiliate advertising program designed to provide a means for us to earn fees by linking to Amazon.com and affiliated sites.
HOW CAN I SUPPORT THE PODCAST?
1. TELL A FRIEND! (Self-explanatory)
2. SHARE ONLINE! (Also self-explanatory)
3. SUBSCRIBE & REVIEW the show on iTunes, Stitcher and Soundcloud and TuneIn.
4. DONATE: Check out the DONATE button on the right hand margin or click HERE to learn more. We even accept Bitcoin!
5. DOWNLOAD THE NEW MOBILE APP! Now you can access, stream, download and share the entire RRP catalog in the palm of your hand on any iOS mobile device (iPhone, iPad and iPod Touch) with our new mobile app. Never miss an episode, plus special announcements, discounts, giveaways. Already downloaded? Awesome. When you have a minute, and it feels right to you, do us a solid and give the app a review in the iTunes Store.