Podcast: Play in new window | Download | Embed
---

"Everybody has something to share. If it's based on experience and shared from a pure and authentic place of humility and transparency, it is powerful beyond measure."

Julie Piatt
---
It's been a while, but Julie and I are finally back with another installment of Ask Me Anything — a twist on my typical format where we answer questions submitted by you, the listener. I absolutely love this format, primarily because it connects me more deeply and authentically with the global community of people who enjoy the show. Because community is truly what it's all about.
This is an exciting time for us. We have been working super hard getting everything ready for the impending release of  The Plantpower Way,  so we thought it would be fun to share a little behind the scenes on why we wrote the book; the collaborative and often intense two-year process undertaken to create it; the insane amount of effort and diligence required to launch a book into the mainstream; and our ultimate aspirations for the work.
Then the conversation turns to listener submitted inquiries. A conversation that explores:
parenting tips for temperamental teenagers;
the nutritional needs of athletic plant-based kids;
the journey towards service & mentorship;
tips for starting a podcast based on Rich's experience;
gender challenges faced in the wellness lifestyle;
pursuing a plant-based lifestyle on a budget;
the impact of increasing nutrient density on appetite & cravings; and culminates with
In the Sun– an original song by SriMati (aka Julie)
It was really fun to once again sit down with Julie — my wife and co-collaborator — to engage with the audience first hand, hashing out free-form the subjects you care about most. Thank you everyone who submitted the 100's of questions we reviewed. If we didn't get to yours (obviously chances are we didn't), nonetheless please keep them coming. I plan on doing many more supplemental Q&A focused editions of the show (both with Julie and surprise guest hosts), so don't be shy. Fire your queries off to [email protected] and we'll do our best to answer!
I sincerely hope you enjoy the offering.
Peace + Plants,

SHOW NOTES
Listen & Subscribe on  iTunes  |  Soundcloud  |  Stitcher  |  TuneIn
Thank you to this week's show sponsor:  Harrys.com.  Type in my coupon code "ROLL" for $5 off your first purchase.
Production, music & sound design by Tyler Piatt. Additional production by Chris Swan. Graphic art by Shawn Patterson. Thanks boys!
Connect with Julie:  SriMati.com  |  Instagram  |  Twitter  |  Facebook
*Disclosure: Books and products denoted with an asterisk are hyperlinked to an affiliate program. We are a participant in the Amazon Services LLC Associates Program, an affiliate advertising program designed to provide a means for us to earn fees by linking to Amazon.com and affiliated sites.
A special thanks goes out to Lars, Michelle, Wade, Carson, Jen, Lisa & Alex for the wonderful questions in today's podcast.
WIN A SOMA! This week our good friends at  SOMA  are graciously donating 4 SOMA Carafes and 1 SOMA Pitcher to five lucky listeners. I love everything about this company and their beautifully designed, eco-friendly, sustainable plant-based filters and products that make water healthy and delicious. In addition, every product sold actively supports organizations like  charity: water  who are working to solve the global water crisis.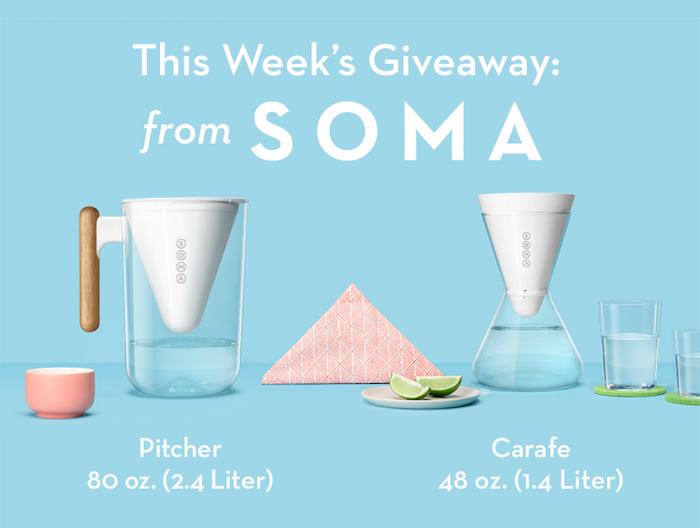 HOW TO WIN**: All you have to do is join our  Thunderclap  — a totally free, simple to use crowdsourcing platform requiring only that you "pledge" a social media post in support of  The Plantpower Way  that will automatically post to your timeline on April 27. Our goal is to achieve a social reach of 1 million (we're close with 800K+!), so show your support for the movement and let all our voices be heard all at once! To join, just click on the below banner and follow the simple instructions. It only takes a minute tops (did I say it's free?). Thanks so much for the support – we will announce the SOMA winners on next week's podcast!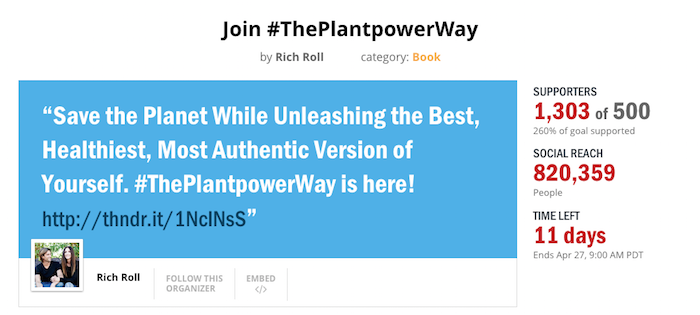 **No purchase necessary for eligibility. Shipping to winners restricted to US & Canada. Even if you don't win this week's prize, and as a thank you for joining our cause, we will add your name to the future free weekly raffles we will be conducting up to the launch of our Thunderclap on April 27th, 2015. All winners will be randomly drawn weekly (every Sunday at 12:00PM PST), contacted through their social media account and announced on the following week's podcast.
Are you a company interested in sponsoring the podcast?  Click here  to learn more & take our sponsor survey.
HOW CAN I SUPPORT THE PODCAST?
Tell Your Friends & Share Online!
Subscribe & Review:  iTunes,  Stitcher,  Soundcloud  and  TuneIn.
Donate: Check out the  DONATE  button on the podcast homepage or click  HERE  to learn more.
Download Our Free App! Now you can access, stream, download and share the entire RRP catalog in the palm of your hand on any iOS mobile device (iPhone, iPad and iPod Touch) with our  new mobile app.  Never miss an episode, plus special announcements, discounts, giveaways. Already downloaded? Awesome. When you have a minute, and it feels right to you, do us a solid and give the app a review in the  iTunes Store.