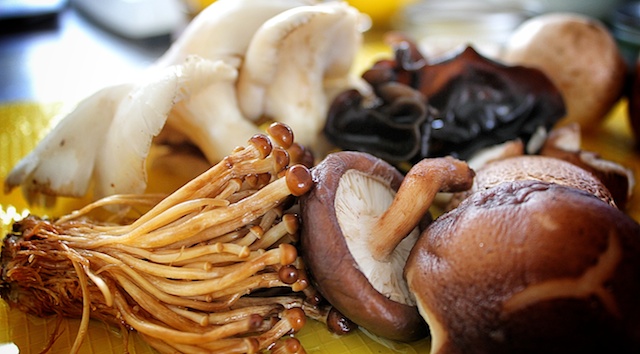 By Julie Piatt
Each day the holidays inch closer.  You've been good lately: eating really well, exercising — listening our podcast of course! — and generally taking care of yourself.  But you know how this goes.  Soon the parties commence, and all those good habits get thrown out the window in the name of merriment.  You don't want to be rude, so you eat what's in front of you, smile and say thank you.  And before you know it, "I'll only eat one" turns into a campaign of gluttony that sends you down an demoralizing shame spiral.
How can it be avoided?  One word: preparation.
Nobody has domain over what you put in your mouth.  So despite whatever excuses you may come up with, it's on you.
True, you can't control the food offered to you in a social setting you didn't plan.  But there are ways around this.  Eat before you attend the gathering.  Even better?  Bring your own dish.  I realize this isn't always politic, but the point remains.  This is the time of year when you really need to dial up personal responsibility for your food and lifestyle choices.  You don't have to wake up in January feeling sick, lethargic and depleted.  It's entirely up to you — nobody else.  It only requires a decision, followed by some simple, consistent actions oriented around self-care.  With a little planning, determination and by establishing a few simple healthy boundaries, you can come out the other side not just intact, but energized and feeling great.
Not only can it be done, it can be easy, without sacrificing flavor.
That's where today's post comes in.
Everybody loves gravy on their holiday meal.  But who made the rule that gravy must be infused with white flour and lard to taste good?
Introducing our  Simple Vegan Mushroom Gravy Recipe — the second in this year's series of easy to prepare, nutritious and delicious PlantPowered holiday recipes Rich and I will be publishing over the next several days as a companion to this week's podcast discussion (in case you missed it, be sure to tune in for tips and strategies for navigating holiday treacheries by clicking here: RRP #60: How To Maintain Healthy Nutrition & Optimal Physical, Emotional & Spiritual Health During the Holidays ).
Our family loves this recipe – we use it over our Vegan Stuffing & Mashed Potatoes, Tempeh Meatless Loaf (don't worry, we're posting recipes for these recipes later this week) and even over simple things like green beans.  For those new to the PlantPower lifestyle, it might seem odd at first to create gravy out of mushrooms instead of turkey lard, but you will be amazed at how flavorful it is — I can guarantee you won't miss your old high fat, processed flour version one bit.  Even our kids and relatives can't get enough of it.
So let's get out of our comfort zone, and try something new….
SIMPLE VEGAN MUSHROOM GRAVY
I have a different version of this gravy in our Jai Seed eCookbook.  But as I'm always creating in the moment, I discovered this exquisite simplified version of my recipe, much of which has to do with the quality of the mushrooms used.   If you include a fair amount of darker colored mushrooms, it will make a beautiful brown colored gravy.  The "type" of mushrooms isn't critical, but freshness is.
Ingredients
4 cups of the best farmers market mix of mushrooms you can find
1 tablespoon macadamia nut oil
1 small lemon
2 tablespoons gluten free tamari
filtered water
Preparation
1.  Wash and de-stem the mushrooms. 
2.  Heat the macadamia nut oil in a large skillet and add the mushrooms.  Saute them for about 5 minutes until they begin to brown and the juices release.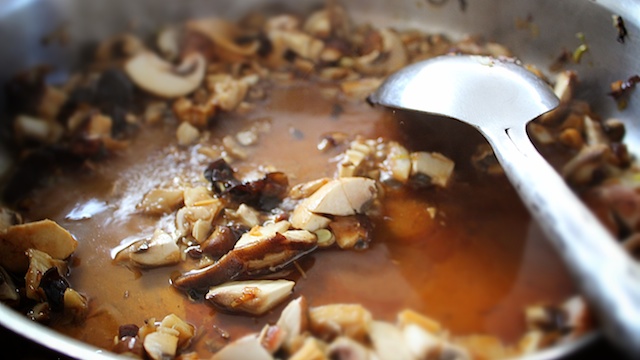 3.  Turn the flame off and squeeze half a lemon over the mushrooms, then add the tamari. 
4.  Transfer mushrooms into a Vitamix (or BlendTec or other high-powered blender) and blend until very smooth (don't have a Vitamix ? Might be something you want to put on your holiday list.  We can't live without ours.  I understand that it is an expensive item.  But if you use the banner ad on this site or click HERE to order, you can get free shipping.  Plus they have some awesome more affordable refurbished versions to fit a more modest budget).
5.  Pour the mushroom puree back into the sauce pan and add filtered water, 1/2 cup at a time until the gravy reaches the desired consistency.  If it needs more salt, add another splash of tamari.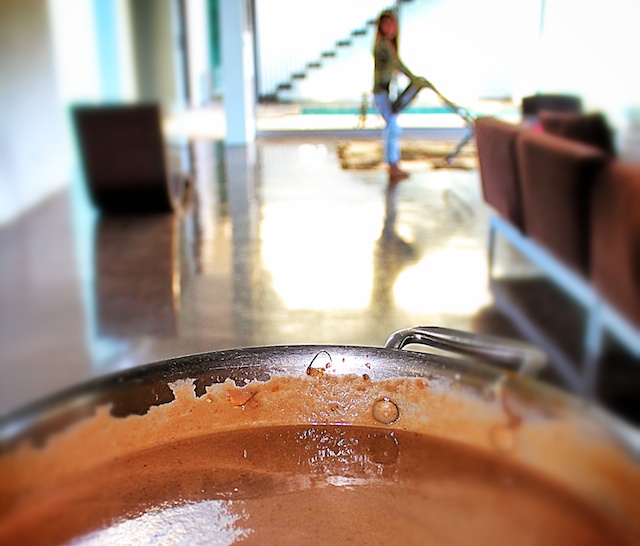 Serve & Amaze!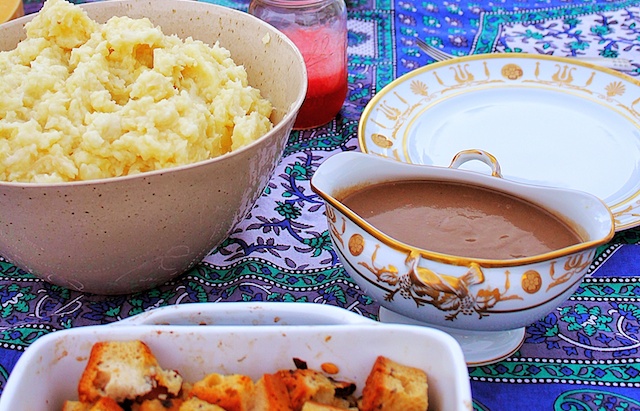 Enjoy plant-based recipes or just love great food?  Be sure to follow me on  Instagram  and Twitter !
Namaste,
Julie
P.S. – Want to learn more about our plant-based lifestyle and how to implement it into your life?  Check out our Jai Seed eCookbook– 77 pages of amazing, healthy & easy to prepare PlantPowered recipes certain to sate even the most finicky of palates.
Want even more?  Then be sure to check out The Ultimate Guide to Plant-Based Nutrition  – the online course Rich and I created in partnership with  MindBodyGreen.com.  3.5 hours of online streaming video content broken up into segmented topics, plus an online community and tons of downloadable kitchen, shopping & dietary tools plus a slew of recipes.  Makes a great holiday gift too!