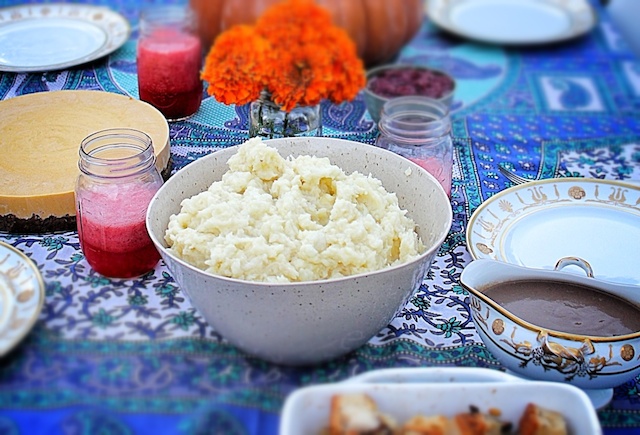 By Julie Piatt
We're now less than 2 weeks away from Thanksgiving.  We all want to enjoy the hearty flavors this special meal delivers each year.  But we also want to eat healthy, feel great and avoid that all-too-familiar post-meal coma that finds us immobile on the couch.
But how?  I can feel the panic setting in…
Good news: you can have the best of both worlds.  Better yet? It's easy.
Earlier this week I shared delicious, easy to prepare, healthy vegan recipe versions for holiday Stuffing and Mushroom Gravy.  Today, we hit on another go-to festive favorite.
Everybody loves mashed potatoes — particularly during the winter months.  But who made the rule that mashed potatoes must be infused with all that saturated fat dairy — stuff like butter, cream cheese and half & half cream — to taste good?
Introducing our  Vegan Cauliflower Mashed Potatoes Recipe — the third in this year's series of easy to prepare, nutritious and delicious PlantPowered holiday recipes Rich and I will be publishing over the next several days as a companion to this week's podcast discussion (in case you missed it, be sure to tune in for tips and strategies for navigating holiday treacheries by clicking here: RRP #60: How To Maintain Healthy Nutrition & Optimal Physical, Emotional & Spiritual Health During the Holidays ).
This mashed potatoes recipe is a big hit around our house — all four kids love it.  Using the cauliflower makes it easier to digest — it sits much lighter in the belly, leaving you feeling good after a healthy portion.  No food coma lethargy! 
Serve with our Mushroom Gravy, Vegan Stuffing, Tempeh Meatless Loaf (recipe up in a few days), green beans, baked yams and kale salad to complete your healthy PlantPowered holiday meal.
VEGAN CAULIFLOWER MASHED POTATOES
Serves 8-10
Ingredients
2 heads cauliflower
1 bag red potatoes (approximately 15 medium sized)
2 cups "Just Mayo" Vegan Mayonnaise by Hampton Creek *
2 tablespoons sea salt (we prefer Selina Naturally Celtic Sea Salt )
*Why Just Mayo ? Because it provides the creamy texture we all love – in fact, it tastes remarkably like real mayo.  But it contains 0 grams of saturated fat & 0 grams of cholesterol.  All told, it's dairy free, egg free, non-GMO, gluten free, soy free and kosher. Check out this post on Choosing Raw for a good review of this product.
However, I also realize this is a new product and may not be readily available in your area.  In that case, opt instead for Vegenaise (the grapeseed oil variety) from Follow Your Heart.
Preparation
1.  Fill a large pot with water  to 3/4 full. 
2.  Add the potatoes to the pot and boil on high until they are soft. 
3.  In a separate large steamer pot, steam the heads of cauliflower until they are very soft and translucent. 
4.  Empty the potatoes into a strainer, drain the water and gently rub the potato skins off with your thumbs under a cool stream of water. 
5.  Add the skinned potatoes back into the same large pot.  Cut the tops off the cauliflower and add into the pot as well.  Add in 2 cups vegan mayo and sea salt.  Mix well by hand until the mixture is creamy.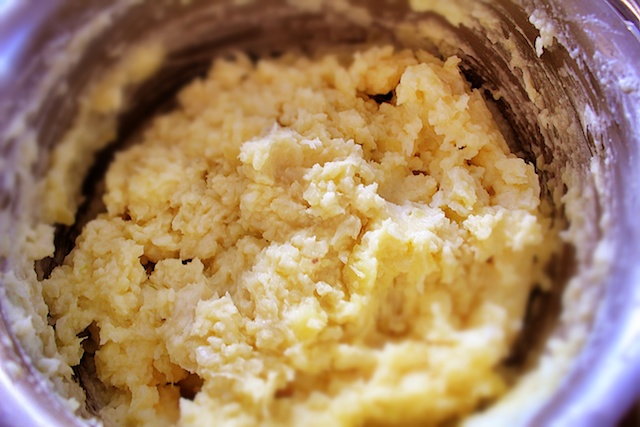 Serve with the other dishes in this series & amaze your family and friends!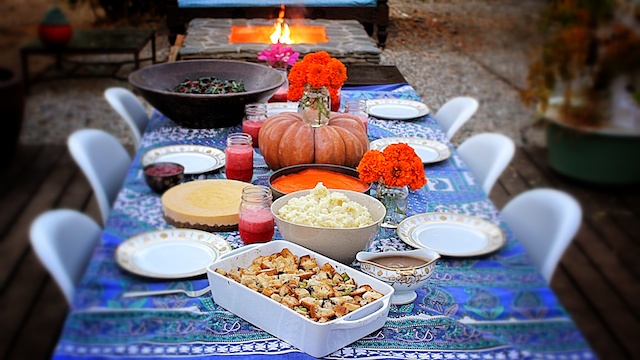 Enjoy plant-based recipes or just love great food?  Be sure to follow me on  Instagram  and Twitter !
Namaste,
Julie
P.S. – Want to learn more about our plant-based lifestyle and how to implement it into your life?  Check out our Jai Seed eCookbook– 77 pages of amazing, healthy & easy to prepare PlantPowered recipes certain to sate even the most finicky of palates.
Want even more?  Then be sure to check out The Ultimate Guide to Plant-Based Nutrition  – the online course Rich and I created in partnership with  MindBodyGreen.com.  3.5 hours of online streaming video content broken up into segmented topics, plus an online community and tons of downloadable kitchen, shopping & dietary tools plus a slew of recipes.  Makes a great holiday gift too!