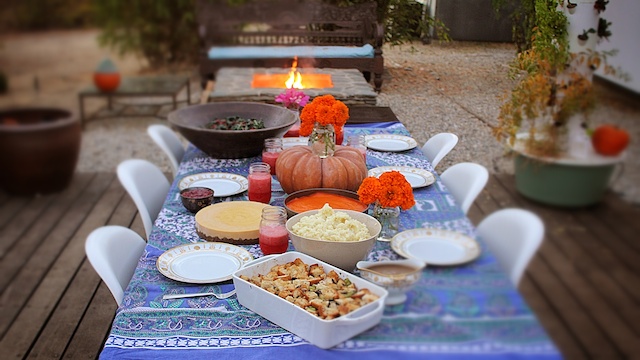 By Julie Piatt
The holidays are just around the corner.  Rather than despair about how you're going to get through them in one piece, let's shift perspective and set in motion a plan to emerge on the other side not just relieved, but feeling great.
This process begins and ends with what we put on our plate.
So if I'm not going to eat turkey, ham or any of that lard-infused gravy, then what on Earth can I prepare and still feel like I am having a hearty holiday meal?  And how will it possibly satisfy those finicky family members and friends who are expecting the typical Thanksgiving or Christmas meal with all the trimmings?
Not only can it be done, it can be easy, without sacrificing flavor.
Introducing the first in a series of easy to prepare, nutritious and delicious PlantPowered holiday recipes Rich and I will be publishing over the next several days as a companion to this week's podcast discussion ( RRP #60: How To Maintain Healthy Nutrition & Optimal Physical, Emotional & Spiritual Health During the Holidays ).
First up, gluten free vegan stuffing.  Who doesn't love stuffing?  And who said stuffing requires all that lard? This is a new recipe that I am very happy with.  The seaweed really went the extra mile to make this gluten free stuffing sing.  Everyone in my family was really pleased.  I hope you will be too!
GLUTEN FREE VEGAN STUFFING
Serves 6-8 People
Ingredients
2 loafs gluten free bread, cubed
4 celery stalks with leaves
1 tablespoon macadamia nut oil or olive oil
2 garlic cloves peeled and finely chopped
1/2 shallot finely chopped
2 cups of wild mushrooms washed, stems removed
1/4 cup premium atlantic organic seaweed finely chopped
1 tablespoons chopped fresh sage
1 tablespoon thyme
juice of 1/2 small lemon
1 tablespoon gluten free tamari
1 cup filtered water
Preparation
1.  Cut the gluten free bread loafs into 1/2 inch cubes.  Spread them out evenly in a flat rectangular baking dish.  Set aside.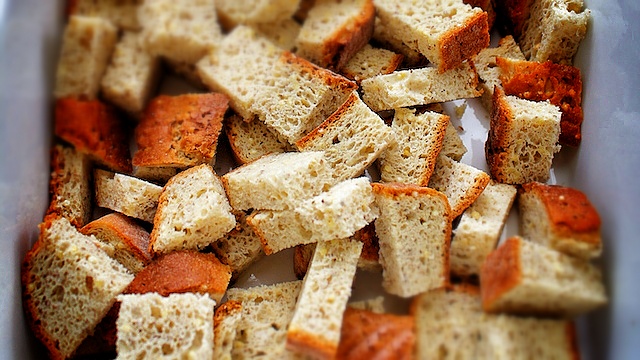 2.  In a large sauce pan,  sauté onion and garlic on a medium flame for 30 seconds, then add the chopped celery and stir until the color brightens. 
3.  Add mushrooms and continue to saute until brown and the juices have made a nice broth in the pan.  
4.  Squeeze a half of a lemon and add the tamari and stir again.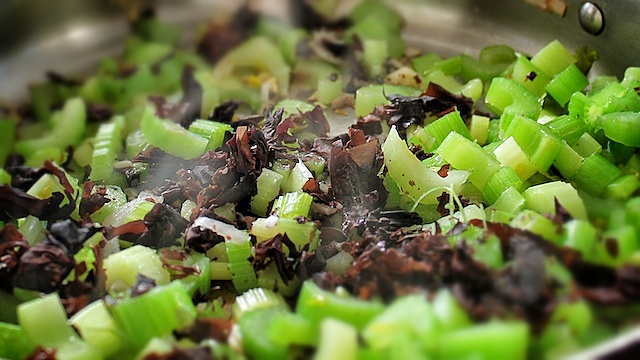 5.  Turn sauteed mixture out over the bread cubes.  Sprinkle with the fresh herbs and mix well.  If needed add a teaspoon of large grain celtic sea salt.  I ended up not needing any extra salt.
6.  Transfer to a large flat casserole dish.  Add 1/2 cup of filtered water. 
7.  Cover with aluminum foil and bake for 20 minutes at 350 degrees or until hot.
Serve & Amaze!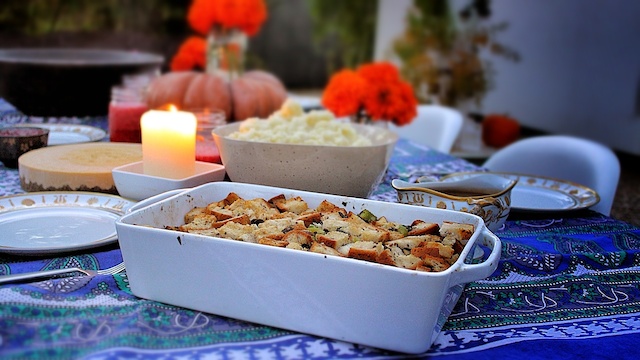 Enjoy plant-based recipes or just love great food?  Be sure to follow me on  Instagram  and Twitter !
Namaste,
Julie
P.S. – Want to learn more about our plant-based lifestyle and how to implement it into your life?  Check out our Jai Seed eCookbook– 77 pages of amazing, healthy & easy to prepare PlantPowered recipes certain to sate even the most finicky of palates.
Want even more?  Then be sure to check out The Ultimate Guide to Plant-Based Nutrition  – the online course Rich and I created in partnership with  MindBodyGreen.com.  3.5 hours of online streaming video content broken up into segmented topics, plus an online community and tons of downloadable kitchen, shopping & dietary tools plus a slew of recipes.  Makes a great holiday gift too!