Podcast: Play in new window | Download | Embed
People say people don't change.
Bullshit.
I have the great honor of seeing and participating in lives that have changed so dramatically the people they are today bear almost no resemblance to who they once were.
Weight loss, sure – I see that all the time. I'm talking more about drastic career changes; dramatic spiritual awakenings; and impossible recovery from profound addictions. I'm talking about people who change from that person you'd shuffle across the street to avoid – literal mental insanity – to becoming inspirational leaders among men. Alterations so stunning I'm left awestruck; and with a profound sense that there must be powers at work beyond the mere mortal.
If this show is anything, it's an effort to share those stories to inspire that kind of hope, aspiration and possibility in you. That no matter what your circumstance or plight in life, that transcending the obstacles you face is within reach.
When I recorded the introduction to this episode and wrote down these thoughts, it was 3:30 am. Jetlagged and wide awake, I just returned from a whirlwind trip across the globe – 3 weeks on the road in Canada, Beirut, Lebanon and all across Saudi Arabia. Riyadh in the heart of the Arabian desert, Al Khobar on the Persian Gulf & Jeddah on the Red Sea.  If you follow me on Instagram or Facebook you might have seem some pictures of me running in all those places. Apologies for all the selfies, but I just wanted to share what I was experiencing with everyone. It was such a fantastic journey and privilege to see parts of the world I never in a million years thought I would ever have the opportunity to see.
I gave 6 talks over the course of the trip; all in their own right amazing. Particularly in the Middle East, where the cultural divide can seem so profound and impenetrable that making a true connection seemed almost impossible.
And yet to connect with people on a fundamental level over things and concerns we all share no matter what the dictates of our cultural prerogatives – our health, the health of our children, nutrition, prevention of disease, fitness and the ills of our food system ecosystem – was life altering for me. I know it made it impact on them as well.
It feels really good. An experience I am immensely grateful for. An experience I won't soon forget.
My point is that I have changed. Dramatically and irrevocably. Mostly in ways I didn't expect. Could never have predicted. And certainly never dreamed, consciously plotted or specifically devised. But definitely in ways I embrace and love.
For most of my life, all I wanted was to be someone else. And now I can say that I would not trade my life for anyone.
It all started when I made a decision to do the inside work. As I got healthier — physically, mentally, emotionally and spiritually — I learned, very slowly and stubbornly I might add, how to lean into, trust and take action on my (once dubious and self-will driven) instincts, no matter how illogical or contrary to my chosen life path they may have seemed at the time.
This has made all the difference.  It is the reason I enjoy the life I have today.
It begins with mining your personal truth. And then embarking on the journey of living it. Something I want everyone to experience — and why I do this show.
If today's guest is anything, he is a guy who is living his truth. Living his own unique brand of passion. Walking a road less traveled, and inspiring people the world over.
Timothy Shieff.
Otherwise known as Livewire, Timothy is widely considered one of the world's best (if not the best) Freerunners. More commonly referred to as parkour (although I have since discovered there is a difference), Timothy specializes in doing the kind of thing you see in the Jason Bourne and James Bond movies — running up walls, jumping off roofs and generally defying gravity and the laws of physics with nothing but incredible skill, laser sharp coordination, impossible body strength, and the mere momentum of his body.
This is a long way of saying that this proper and polite young English lad can do things you can't. Mind-bending, mind-blowing body movements that have made him a superstar in his chosen subculture and beyond.
But quite honestly, Timothy's athletic skill — and his interesting relationship with fear that allows him to place himself in situations most wouldn't dare — is secondary to his indefatigable drive to inspire others the world over towards self betterment through the incredible transformative power of body movement.
Additionally passionate about the planet, Timothy's discipline can be described as a form of physical, quasi-political performance art – a demonstration of how we can live more in harmony with nature and our immediate surroundings. A reframing of what a building, rooftop, curb or staircase railing actually means by inverting and expanding upon the possibilities in which a human being can interact with it.
On top of all of this, Timothy is 100% plant-based. An ardent vegan and close friend & cohort of Jamie Oliver, Tim shares his many opinions on the subject, which just might make you rethink a few traditional assumptions about the relationship between nutrition and extraordinary athletic performance. Particularly as it relates to an athlete of his kind, where explosiveness, power, speed, incredible body strength and precise coordination dictate everything. And draw the line between astounding feats and mortal injury.
But more than any of this, it's Tim's spirit that moves me, and why I'm so proud to have him on today's show.
The first line of his website bio says it all:  I'm a Human practicing Being. His stunning high-gloss music video-esque 2014 Showreel says the rest – it's an absolute show stopper:
In any event, I found out Tim was visiting Los Angeles from his native UK when my buddy Mac Danzig (MMA/UFC fighter who guested in RRP #45 ) texted me and said I had to meet Tim.  I was super busy at the time and didn't think I would be able to make it work. Then the next day I ran into my Ninja Warrior buddy Travis Brewer (also a former guest on RRP #70 ) who told me he had been training with Tim that day.
The universe was making it clear – I had to meet this guy.
So I made the time. I'm so glad I did.
Travis also sits down with us to co-host today and we dug in. Here's Tim jumping across my roof before we sat down for the chat.  Unbelievable.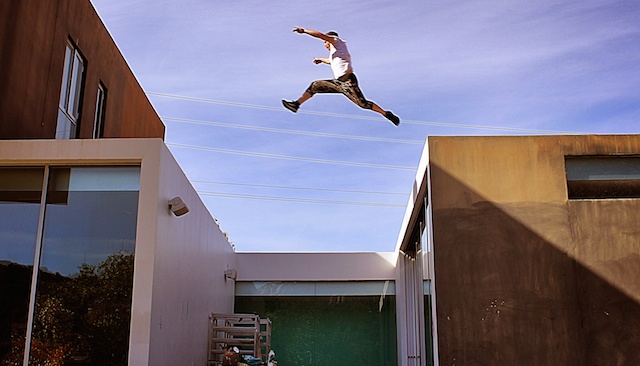 I genuinely hope you enjoy the conversation.
Peace + Plants,

SHOW NOTES
Connect With Timothy Shieff:  Website  |  Twitter  |  Instagram
Legal Zoom: Use Referral Code RICH at Checkout:  http://www.legalzoom.com
HOW CAN I SUPPORT THE PODCAST?
1. TELL A FRIEND! (Self-explanatory)
2. SHARE ONLINE! (Also self-explanatory)
3. SUBSCRIBE & REVIEW the show on iTunes, Stitcher and Soundcloud and TuneIn.
4. DONATE: Check out the DONATE button on the right hand margin or click HERE to learn more. We even accept Bitcoin!
5. DOWNLOAD THE NEW MOBILE APP! Now you can access, stream, download and share the entire RRP catalog in the palm of your hand on any iOS mobile device (iPhone, iPad and iPod Touch) with our new mobile app. Never miss an episode, plus special announcements, discounts, giveaways. Already downloaded? Awesome. When you have a minute, and it feels right to you, do us a solid and give the app a review in the iTunes Store.
Thanks for listening and thanks for the support!