Podcast: Play in new window | Download | Embed
American Ninja Warrior.  Calisthenics freak.  Battlebar champion.  Muscle Beach staple.  Parkour artist.  Spiritual crusader. Social entrepreneur.
These are just a few labels we can attach to the badass known as Travis Brewer.  But what is truly inspiring about this airborne athlete with a conscience is his mission to live life to the fullest. Catalyzing positive impact through movement to make the world a better place.  And inspire others to become more of who they are.
For Travis, it's an inside job.  His ability to walk through fear, break barriers, push past physical, mental and emotional plateaus to perform the impossible with death-defying body movement begins and ends with one thing – his devotion to spirituality & meditation.
Today Julie and I sit down with Travis to explore the boundaries of human potential – both athletic and beyond the monkey bars; what it truly means to unlock the best of who you are; the crucial extent to which devotion, spirituality and meditation play into his holistic health and peak performance equation; and how he pursues happiness and life satisfaction through service to others.
Travis is a fascinating, insightful, considerate and contemplative young man with big dreams for the future of youth, health, movement and entrepreneurship. It was an honor to have him spend an evening with our family, and I'm thrilled to share this conversation with you.
Enjoy!
All images of Travis courtesy of ©  PJ Russ  – thanks PJ!
To set the stage, here's a short little inspiring video on Travis that will give you a sense of his groovy vibe.
And here's a gander at one of the insanely cool, gargantuan "bird's nest" art piece creations Travis has a hand in building, as we discuss on the show.  Must have!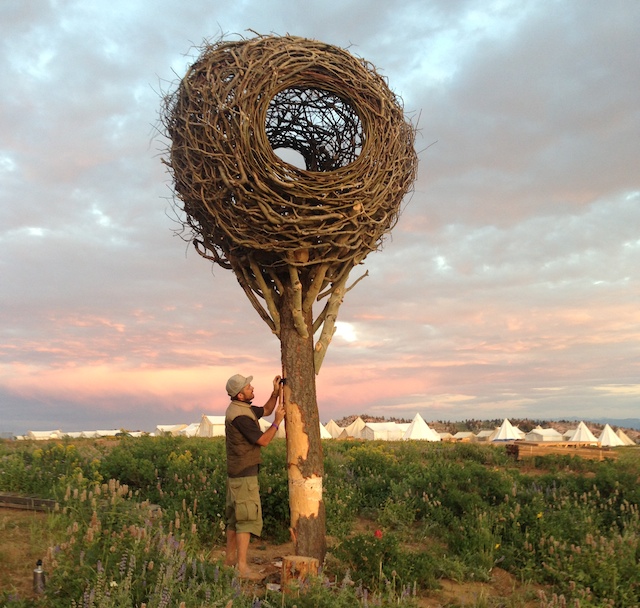 SHOW NOTES
Audible.com FREE Audiobook & 30-Day Trial: http://www.audiblepodcast.com/richroll
HOW CAN I SUPPORT THE PODCAST?
1. TELL A FRIEND! (Self-explanatory)
2. SHARE ONLINE! (Also self-explanatory)
3. SUBSCRIBE & REVIEW the show on iTunes, Stitcher and Soundcloud and TuneIn.
4. DONATE: Check out the DONATE button on the right hand margin or click HERE to learn more. We even accept Bitcoin!
5. DOWNLOAD THE NEW MOBILE APP! Now you can access, stream, download and share the entire RRP catalog in the palm of your hand on any iOS mobile device (iPhone, iPad and iPod Touch) with our new mobile app. Never miss an episode, plus special announcements, discounts, giveaways. Already downloaded? Awesome. When you have a minute, and it feels right to you, do us a solid and give the app a review in the iTunes Store.
Thanks for listening and thanks for the support!