Podcast: Play in new window | Download | Embed
---

"As you cultivate empathy in your life the drive or compulsion to judge starts to evaporate."

Rich Roll
---
Humans love duality. But there is great beauty in the grey that lives between the lines.
Black and white. Good and bad. Evolution and regression. We are hard wired to categorize. To pick a team and stick with it. It's our way of making sense of the world. But too often this inclination to self-identify only serves to isolate and divide — working at cross-purposes with our competing desire to more deeply connect with our fellow humans.
So what happens when we resist the urge to judge another? This week on the podcast Julie and I peer beyond dogma, belief systems and categories to embrace the grey.
Consider it a thought experiment in forsaking judgment for empathy as a path to better understand others and the environments we co-inhabit.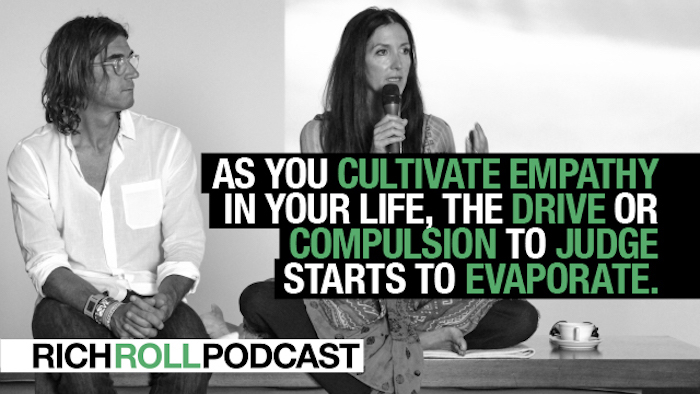 Specific topics include:
creating and cultivating community
the difference between discernment and judgment
enhancing sustainability in consumer choice
finding your authentic voice
We end the episode with a rendition of the Hedy West song 500 Miles by Julie (aka SriMati) and our boys' band Ana Leimma.
I sincerely hope you enjoy the conversation.
Peace + Plants,

P.S. – Julie and I are thrilled to announce that we will be hosting our second retreat —Plantpower Tuscany October 1-8, 2016. As of the date of this post, there are a few spots still available but they are likely to go quickly. So if you want to attend and experience a magical week in Italy exploring your inner landscape, please get in touch with us soon.  For everything you need to know about the program, itinerary, pricing and accommodations please visit plantpowerworld.com
Listen & Subscribe on  iTunes | Soundcloud | Stitcher | GooglePlay
Thanks to this week's sponsors:
Harrys.com: A superior shave at an affordable price. Type in my coupon code "ROLL" at purchase for $5 off your starter set and get an entire month's worth of shaving for just $10 when you visit Harrys.com/Roll.
RING has designed a myriad of products designed to reduce crime in communities. For a limited time, Rich Roll Podcast listeners get $50 off the 'Ring of Security Kit'. Visit Ring.com/Rich.
Thanks to Jason Camiolo for production, interstitial music and audio engineering; Chris Swan for production assistance & show notes; Shawn Patterson for graphics; and Ana Leimma for the theme music. Credit for the episode thumbnail and large image goes to the talented Reece Robinson, a Skidmore student who attended our Italy retreat this past May. Check out his amazing photography at reece-robinson.com. Thanks for the great image Reece!
*Disclosure:Books and products denoted with an asterisk are hyperlinked to an affiliate program. We are a participant in the Amazon Services LLC Associates Program, an affiliate advertising program designed to provide a means for us to earn fees by linking to Amazon.com and affiliated sites.
The Plantpower Way  is available at these fine retailers!
Amazon  |  Barnes & Noble  |  IndieBound  |  Penguin
Are you a company interested in sponsoring the podcast? Click here to learn more & take our sponsor survey.
HOW CAN I SUPPORT THE PODCAST?
Tell Your Friends & Share Online!
Subscribe & Review:  iTunes | Stitcher | Soundcloud | TuneIn
Donate: Check out the DONATE button on the podcast homepage or click HERE to learn more.
Download Our Free App! Now you can access, stream, download and share the entire RRP catalog in the palm of your hand on any iOS mobile device (iPhone, iPad and iPod Touch) with our mobile app. Never miss an episode, plus special announcements, discounts, giveaways. Already downloaded? Awesome. When you have a minute, and it feels right to you, do us a solid and give the app a review in the iTunes Store.