Hot on the heels of Down To Earth — the #1 hit Netflix series in which he co-stars alongside Zac Efron — today my superfood hunting, brother-from-another-mother Darin Olien returns for his 4th appearance on the podcast to blow minds and drop wisdom on all things nutrition, hydration, ecological preservation, longevity, and living a high-vibration life.
One of my most popular guests to date, Darin's biography reads like a Hemingway adventure novel. Devoted to advancing human health, ecological preservation and sustainability, he's spent the better part of the last 20 years embedded in remote farming communities across the Himalayas, South Pacific, Latin America and Asia, scavenging for the most nutritionally potent plants, nuts, and seeds on the planet.
His most recent obsession is Barùkas (aka the baru nut) — an incredibly nutrient-rich superfood known to the indigenous tribes of the Brazilian Cerrado for millennia, yet virtually unheard of anywhere else. This discovery led to Darin to an epiphany: he could help preserve the Cerrado (which is a tropical savanna ecoregion three times the size of Texas) by employing its indigenous communities to harvest the native baru and importing them to North America. A win-win to preserve precious environmental resources, support indigenous communities,  and simultaneously introduce North America to the healthiest nut on the planet.
Everything Darin has learned over the decades is laid bare on the pages of Superlife, his New York Times bestselling primer on all things health and well-being. His 121Tribe.com app will put you on a 21-day lifestyle-changing diet and exercise program. And his recently launched podcast, The Darin Olien Show, is already killing the game.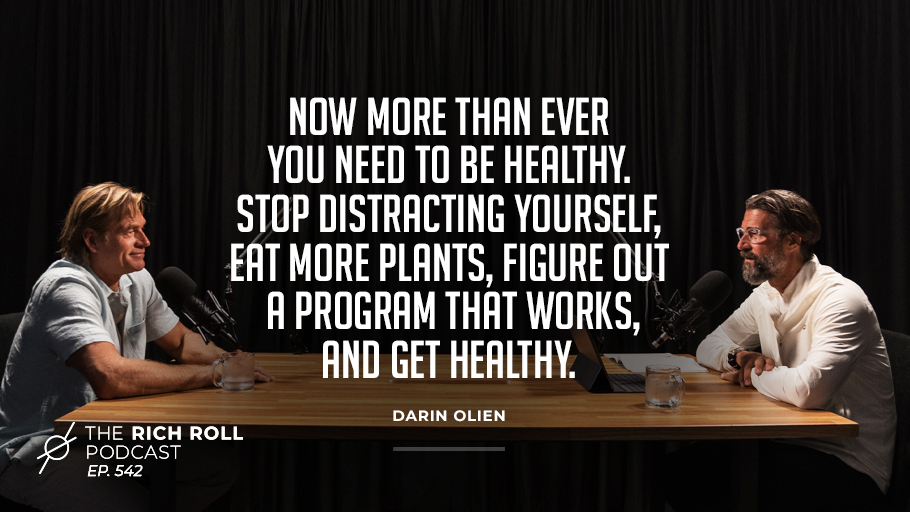 Down To Earth introduced to a broad, mainstream audience what I've always known about this incredible human:
A man who truly walks his talk, Darin is the real deal.
Picking up where we left off two years ago in RRP 382, Darin and I discuss all things Down To Earth. The show's origins. What it was like collaborating with a global superstar. The show's overnight impact on Darin's life. And the show's impact on countless people across the world.
We discuss his commitment to forging a more sustainable food system. The impact of Barùkas on the indigenous farming communities of the Brazilian Cerrado. And his plans for leveraging new found fame to cultivate community around well-being and drive global ecological preservation.
Finally, we explore Darin's daily habits. The overlooked importance of hydration. And Darin's personal water routine (it's intense).
May this conversation leave you understanding why Darin is the first person I turn to for advice not just on nutrition and fitness — but on all manner of subjects related to living my best authentic life.
Now more than ever people need to be heathy. They need to stop distracting themselves and they need to eat more plants.
– DARIN OLIEN
For those new to me and Big D, we've logged about 6 hours of extraordinary back catalog conversation over the years. I highly suggest you visit those archived episodes, which you can find here: RRP 382, RRP 268, and RRP 153.
The visually inclined can watch our exchange on YouTube. And as always, the podcast streams wild and free on Apple Podcasts and Spotify.
Note: In the interest of total transparency and because I believe wholeheartedly in Darin's mission, I am a Barùkas ambassador. So if today's conversation leaves you interested in checking out the baru nut, Darin has a special offer for you guys: Visit barukas.com/richroll or enter coupon code RICHROLL at checkout and receive 15% off your first purchase.
It is with pride, love and gratitude that I share the wisdom of my friend and mentor with you today.
Peace + Plants,

Listen, Watch, & Subscribe
For 1000s of delicious, customized plant-based recipes & so much more, check out our Plantpower Meal Planner.
Tell Your Friends & Share Online
Donate: Patreon
Patronize Our Sponsors: For a complete list of all RRP sponsors and their respective vanity URLs and discount codes, click "Sponsors" here.
Thanks to Jason Camiolo for production, audio engineering and show notes; Margo Lubin and Blake Curtis for video, editing and graphics; portraits by Davy Greenberg; and theme music by Ana Leimma.
*Disclosure: Books and products denoted with an asterisk are hyperlinked to an affiliate program. We are a participant in the Amazon Services LLC Associates Program, an affiliate advertising program designed to provide a means for us to earn fees by linking to Amazon.com and affiliated sites.