Podcast: Play in new window | Download | Embed
---
"True self discovery begins where your comfort zone ends."

Adam Braun
---
It's no secret that aspects of our current education system are at best antiquated, at worst broken. Whether it's quality education in the developing world, properly training people to meet our rapidly changing workforce needs or the crippling student loan debt that onerously burdens millions of young people, we're long overdue for some systemic upgrades.
This week's guest has devoted his life to tackling these problems.
A young man with a bright future, Adam Braun graduated from Brown and threw himself headfirst into a burgeoning career in finance when an extended backpacking trip across the developing world forever changed his perspective. Inspired by a sense of purpose and a call to service, in 2008 Adam walked away from Wall Street to launch Pencils of Promise – a for purpose philanthropic endeavor with the mission of building schools in countries across the world. A massive success, Pencils of Promise is responsible for over 400 new schools to date, distinguishing itself as one of a handful of charitable organizations that has fundamentally changed how we think about and practice philanthropy and giving.
Named to Forbes' 30 Under 30 List, Business Insider's 40 Under 40 List, and Wired's Smart List of 50 People Changing the World, Adam chronicles his remarkable journey in The Promise of a Pencil*, a powerful story of awakening and action that demonstrates how one person can make a huge difference in a short period of time. Debuting at #2 on the New York Times Bestseller list and going on to becoming a #1 national bestseller, it's a favored read among business leaders and can even be found on many a college syllabus.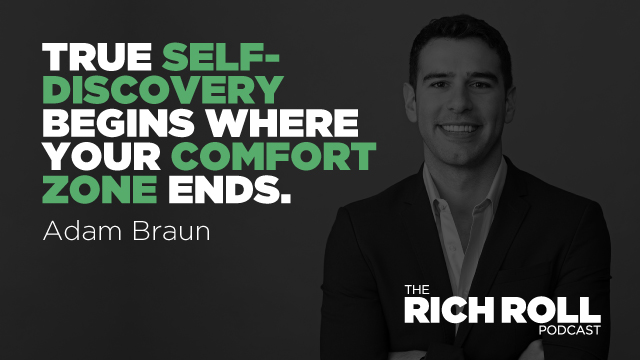 Today finds Adam embarking a new chapter, taking on higher education with an ambitious new start up called MissionU – a for-profit for purpose, venture-backed organization that presents a compelling alternative to traditional college by sending students into the workforce debt-free.
This is a great conversation about Adam's journey to entrepreneurial success. It's about the current state of education, the business of education, and the innovative path forward. It's a conversation about self-awareness, integrity and lightning moments. But mostly, this is a conversation about the transformative power of leading a meaningful life of service fueled by purpose.
I applaud Adam's commitment to dream big and solve huge problems. A special human, I promise you will be captivated by the extraordinary story behind it all.
I sincerely hope you enjoy the exchange.
Peace + Plants,

Listen & Subscribe on iTunes | Soundcloud | Stitcher
Join us for our next retreat in Italy, May 20-27 — for info visit: plantpowerworld.com
Thanks to this week's sponsors:
Boll & Branch: The first honest and transparent bedding company that only uses sustainable and responsible methods of sourcing and manufacturing. Go to BollandBranch.com today for $50 off your first set of sheets by typing in promo code "RICHROLL".
Zeel.com: Choose one of their 8,000 licensed massage therapists for an on-demand massage, in your own home. To help get you started, Rich Roll listeners can get $25 off their first massage by visiting Zeel.com and adding promo code "ROLL" at checkout.
*Disclosure:Books and products denoted with an asterisk are hyperlinked to an affiliate program. We are a participant in the Amazon Services LLC Associates Program, an affiliate advertising program designed to provide a means for us to earn fees by linking to Amazon.com and affiliated sites.
The Plantpower Way  is available at these fine retailers!
Amazon  |  Barnes & Noble  |  IndieBound  |  Penguin
Are you a company interested in sponsoring the podcast? Click here to learn more & take our sponsor survey.
HOW CAN I SUPPORT THE PODCAST?
Tell Your Friends & Share Online!
Subscribe & Review:  iTunes | Stitcher | Soundcloud | TuneIn
Donate: Check out our Patreon account!
Download Our Free App! Now you can access, stream, download and share the entire RRP catalog in the palm of your hand on any iOS mobile device (iPhone, iPad and iPod Touch) with our mobile app. Never miss an episode, plus special announcements, discounts, giveaways. Already downloaded? Awesome. When you have a minute, and it feels right to you, do us a solid and give the app a review in the iTunes Store.