---
"This is not your typical recipe book. It is a book about hope, and the universally shared belief that any one of us can be better . . . You will not find better guides in that quest."

CNN Chief Medical Correspondent Sanjay Gupta, M.D.
---
[POST UPDATED APRIL 26, 2015]
If you are an avid follower of my podcast and this blog, then you are likely well aware that our new book The Plantpower Way hits bookstores THIS WEEK on Tuesday, April 28 – it's here!
You probably also know that we are celebrating this momentous occasion by giving away over $300,000 in incredible, high-quality gifts to everyone who pre-orders the book on or before the April 28 on-sale date. Get a great new book (or books!) hot off the press that you will use daily and just might change your life or the life of a loved one, plus extra awesome, exclusive, quality goods and product discounts on top to sweeten the pot — it's a no-brainer.
A chronicle of our family journey, this book is eight years in the making and over two years in production. But, finally, it's almost here. We can hardly contain our excitement. This is our way of saying thank you to everyone who has walked this path with us.
Today I am so grateful to share that we are offering an exciting new way of giving back.
Starting the week of March 30, 2015 and continuing weekly between now and May 1, we will be raffling off some amazing, exclusive high-end gifts to lucky podcast listeners and followers.
WEEK OF MARCH 30 GIVEAWAY – LIVING TEA GIFT PACKAGE
First up? A gift package valued at over $200 from our friends at Living Tea,  which (in my humble opinion) offers a wide array of the best organic, gourmet teas in the world — all sustainably harvested from living, old growth trees throughout China and Taiwan. This exclusive high-end package not available in stores includes the following:
WEEK OF APRIL 6 GIVEAWAY – 3 COCO JACKS
Week two in giveaways continues with three  Coco Jack Sets  (each valued at $36.95) from our friends at Coco-Jack.com  (consider "liking" their Facebook Page and follow them on Twitter! ). If you caught these guys on Shark Tank, then you already know it's a safe, easy and fun way to open up your Young Thai coconuts, extract the juice and scoop out all the meat with one simple swoosh, no matter what your size or strength. It's a gorgeous handy device. Our kids love using it. Here's the deal:
WEEK OF APRIL 13 GIVEAWAY – 5 SOMA WATER FILTERS
Week 3 in giveaways is sponsored by our good friends at SOMA,  who are graciously donating 4 SOMA Carafes and 1 SOMA Pitcher to five lucky listeners. I love everything about this company and their beautifully designed, eco-friendly, sustainable plant-based filters and products that make water healthy and delicious. In addition, every product sold actively supports organizations like charity: water who are working to solve the global water crisis – so that's awesome too.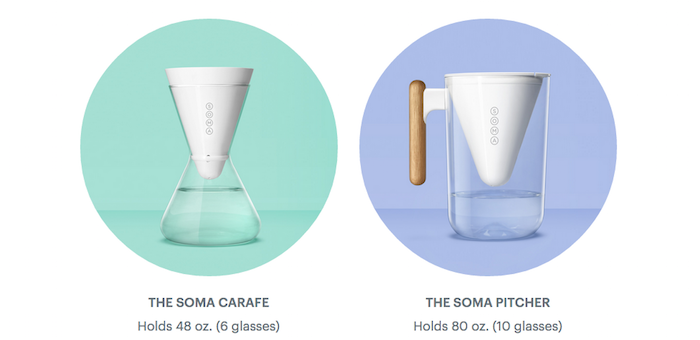 WEEK OF APRIL 20 GIVEAWAY – VITMAX BLENDERS & HEADSPACE MEMBERSHIPS
This week we are thrilled to raffle off some truly extraordinary gifts from our friends at Vitamix and Headspace— two companies I absolutely love and am proud to support.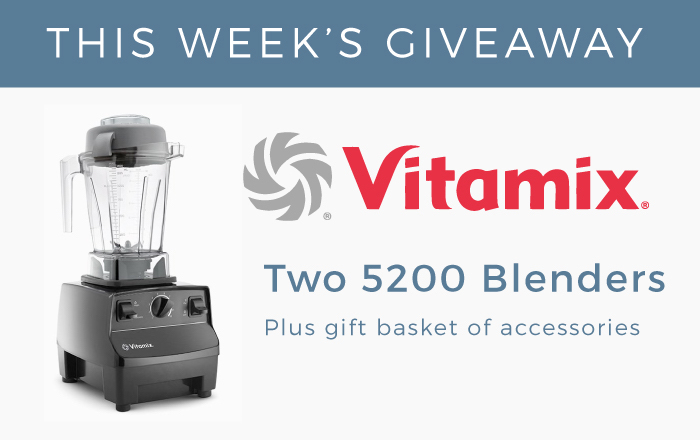 Vitamix: The company that makes the absolute best high-powered blender on the market is graciously donating two  Vitamix 5200 blenders  with accompanying gift baskets packed with incredible accessories to two lucky listeners. Here's the breakdown:
Vitamix 5200 blender ($449 each)
Gift Basket Kit ($5.99)
Stainless Steel Smoothie Cup ($28.50)
Soft Red Measuring Cup ($10)
3 White Spatulas ($6.95)
Canvas Bag ($5.00)
101 Blender Drinks Book ($16.95)
The Art of Blending Book ($19.95)
Water Bottle ($22)
Vitamix Gift Card ($25)
TOTAL GIFT PACKAGE VALUE:

$589.34

 EACH- INSANE!
Headspace: In addition to learning about the benefits of the Headspace app in RRP #142,  Andy Puddicombe and his team are graciously gifting 5 lucky listeners with annual memberships to this life-changing and award-winning app (a $95.88 value per membership). Thanks guys!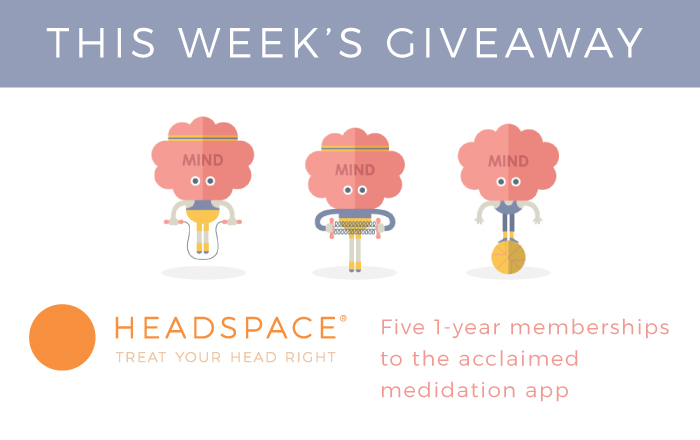 WEEK OF APRIL 27 GIVEAWAY – 3 OMEGA JUICERS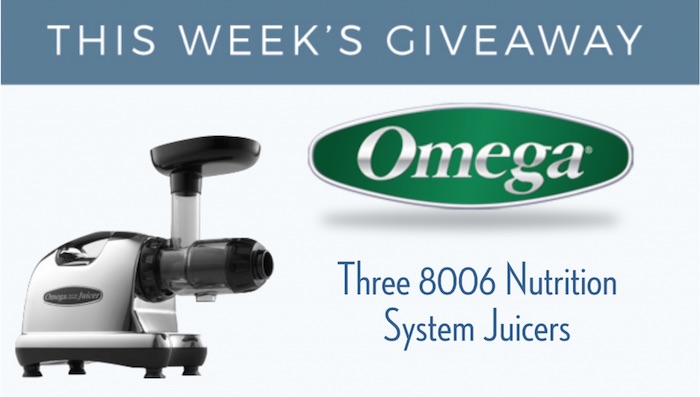 This week we are thrilled to raffle off three very high end model 8006 Nutrition System juicers (with a retail value of $300 each) from our friends at  Omega Juicers  — the makers of the absolute best, most efficient and reliable commercial capacity juicers on the market.
We have owned one of these machines for a few years and absolutely love it. Unlike high-speed centrifugal juicers that create copious amounts of heat, the advantage of the slow masticating process is that it better preserves the cellular structure of the extracted plant material, thus improving the nutritional quality of the end product. With this amazing machine you can mince herbs and juice fruits, veggies, wheatgrass, superfoods and create all-natural nut butters, nut milks, baby food and so much more.
The three winners will be announced on next week's podcast (May 4) and contacted via e-mail or on social media if no e-mail is provided.
HOW CAN I WIN?*
Although we would of course love it if you buy the book,  no purchase is necessary. To be eligible for these contest giveaways — as well as all future giveaways we are sponsoring each week through May 1 — all you have to do is join our  Thunderclap campaign.  Much like Kickstarter, Thunderclap is an online crowd sourcing platform. But instead of being oriented around fund raising, it's oriented around an idea — much like Change.org. In other words, we're not asking for money; this is a totally free online resource that requires only that you "pledge" a Twitter, Facebook or Tumblr social media post in support of The Plantpower Way.  In turn, Thunderclap will then simultaneously unleash everyone's pledged social post at the same time on April 27 (the day prior to the book's on sale date) that will create a loud viral thunderclap in support of getting the word out.
We feel these contests are a fantastic and super easy way to reward you for freely supporting us, as well as a great way to participate in the wellness movement and let all our voices be heard all at once! With your help, I have no doubt we can achieve our goal of eclipsing 2 MILLION IN SOCIAL REACH. To join, just click on the below banner and follow the simple instructions. I promise it will only take a minute tops (did I say it's free?).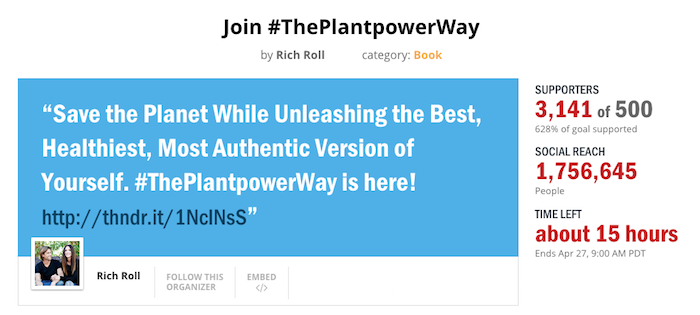 But you must act NOW – this campaign closes on Monday April 27 at 8:59 am PST, which means only hours remain as I type this. Everyone who has already joined the Thunderclap remains eligible to win the Omega Nutrition Systems.
Just so were clear: I'm not trying to hoodwink you (or anyone else) into buying a book you don't want. To be sure, we are doing everything we can to launch our book into mainstream awareness. To that I plead guilty. If you have been positively impacted by all the free content and podcasts I have been working tirelessly to freely provide you each week, it would mean a lot to me if you could return the favor with this very simple, free and easy request (or better yet, a pre-order!).
At the same time, these weekly contests and all our amazing pre-order giveaways are once again just a simple way of saying thank you. Thank you for all the love and support you have given us. Thank you for being part of something much bigger than me and much bigger than you — a movement.
A movement that needs your help.
Why? Because our collective consciousness is in disrepair. Despite the advent of populist interest in all things wellness, right now millions of people continue to suffer, stuck in diet and lifestyle habits that are unnecessarily making us sick, divorced from our true state, which is to be healthy, happy and free. Meanwhile, our planet is dying.
Diets don't work. The environment is in rapid decline. But there is a solution. It's about creating new, healthier lifestyle habits with staying power that serve ourselves, our children and the long-term sustainability of this spinning blue globe we call home.
The Plantpower Way is our call to action — our gift to the planet and people everywhere — to wake up and understand that there is a formula for success. No matter who you are, this cookbook and lifestyle guide is a roadmap that will empower you and your loved ones with the recipes, tools, tips, resources and inspiration to once and for all regain control of your health and unlock the best version of yourself. It just so happens that it's also the greatest gift you can give to the planet. Funny how that works.
So if it feels right to you, join our Thunderclap  and/or  buy the book  and send a loud message across the globe that irrespective of age, status or circumstance, optimal health for yourself and Mother Earth is a choice that is always available, accessible, doable and sustainable. And together, we will win.
Thanks so much for helping us raise the vibration.
Peace + Plants,

*No purchase necessary for eligibility. Shipping to winners of physical (as opposed to digital) gifts restricted to US & Canada. Even if you don't win the weekly prize, and as a thank you for joining our cause, we will add your name to the future free weekly raffles we will be conducting up to the launch of our Thunderclap on April 27th, 2015. All winners will be randomly drawn weekly (the Sunday 7-days following the start date for each giveaway), contacted via e-mail or through their social media account and announced on the following week's podcast.