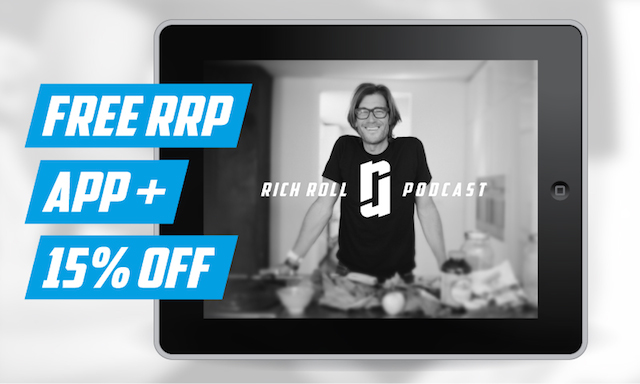 It's here! It's been a long road, but we are super excited to finally announce the launch of our brand new free app for your iOS mobile device!
Why an App?
Most of you out there listening to the podcast access the show via iTunes or other podcast aggregators like Stitcher. That's great. Unfortunately, most of these services only display or make readily available the most recent 50 episodes of the show. With 100 episodes now in the can and so many more in the pipeline, that means that over half our catalog is simply unavailable to you, and that's a shame. Every single episode is of course available and accessible on this website, but it's inconvenient to find, access and play. Not handy for listening on the go, on a run, in the gym or in the car.
So we decided to make things easy.
Finally, and for the first time, now you can access the ENTIRE Rich Roll Podcast library in the palm of your hand on any iOS device — all the way back to the first episode. The best part? IT'S TOTALLY FREE.
The app makes it easier than ever to listen to, stream and/or download every single show; bookmark and save your favorite episodes; read my posts and show notes that accompany each and every episode (which I put a ton of work into by the way); and share what you are listening to with friends via Facebook, Twitter and e-mail with direct links and featured images for each and every show.
In addition, we've included a tab for special announcements regarding upcoming episodes, public appearances, exclusive product offers and discounts that will be available only to app subscribers.
Bottom line? It's never been easier to listen to, save, and share each and every episode of the RRP all the way back to #1 all in the palm of your hand — simple and free.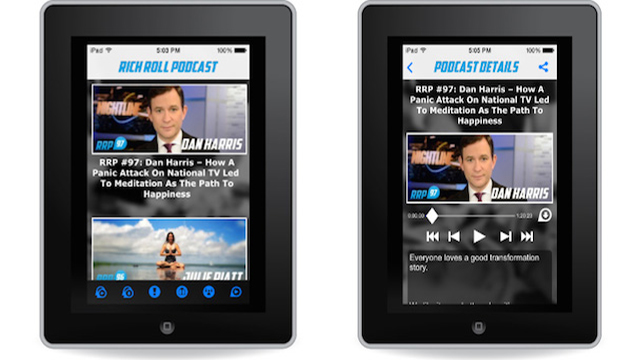 >>> Click Here to Download! <<<
What's Next?
Mobile isn't just the future, it's the present.  We all know it. This first version of the app is just the beginning. Right now it's essentially an open catalog, free podcast player. Future iterations will offer a premium upgrade option and provide an array of exclusive content including recipes, videos, special content and product offerings. At that time, the full podcast catalog will likely only be accessible to premium subscribers. This means you will have to pay a few bucks to get the old episodes on the app. So if you want to get in on the old shows for free before we launch premium services, now is the time to do it.
What About Android?
I know, I know. I can hear you already. I understand of course that many of you don't have iPhones or iPads and use an Android device instead. Right now the app is for iOS only. This is an early days pilot program. If there is enough interest, then we will explore creating an Android compatible version.
Special Limited Time Offer!
To celebrate the launch — as well as our impending 100th podcast episode (100!) — we decided to give you guys a special deal. Now through Wednesday, enter the coupon code "rrapp15%off" with your next purchase of Plantpower Provisions and get 15% off!*
[*Discount does not apply to downloadable purchases. Offer good through Wednesday, August 20th 1:00PM GMT. In stock items only, while supplies last, no other discounts apply.]
Gratitude
I absolutely love how the app came out. Easy to use, intuitive and just well, cool. It would not have been possible without the very hard work of a number of people. Tremendous thanks goes out to Andy Fearns and Bill Stein — the masterminds who conceived, developed and coded the app. Plus additional ones and zeroes by resident genius Matthew Boisjolie. And the awesome graphics and design work was performed by my main man Shawn Patterson. I can't thank you guys enough — you did an amazing job creating the best podcast show app on the market.
Feedback & Sharing the Love!
We would love to hear from you. So click here  to download the app, play around with it and let me know what you like and don't like in the comments section below. What you would like to see in future iterations. Understand that this is version 1 — in many ways still a beta product. So we're open to ideas and want to know your thoughts. Plenty of things I know we can make better over time (for example, a guest or subject matter index, key word search functionality, special extra exclusive content, etc.)
If you are enjoying the new app experience, want to support this plantpower evolution / revolution, and it feels right to you, we would greatly appreciate you do us a solid by: 1) spreading the word & telling your friends about the app; and 2) giving us a review in the iTunes App Store.
If you dig what we have come up with and are looking for a good team to build your own mobile app, hit me up in the comments section below and I can put you in touch with Andy and Bill (serious inquiries only).
Thanks so much for taking this wild podcast ride with me, and I sincerely hope you enjoy the new offering. Again, please let me know what you think in the comments section below.
Peace + Plants,
Rich