Podcast: Play in new window | Download | Embed
100 EPISODES!
Wow. I can't believe how amazing this podcast journey has been.
Over the last week, I have been flooded with inquiries on social media – so who is going to be the special guest for the big episode 100?
A lot of speculation. Big names getting thrown around with anticipatory question marks. I understand the appeal. But this landmark has me sentimental. Thinking a lot about what was going on in my life when I made the decision to start this show. And when perceived through this lens, there is only one person appropriate to sit across from me for 100 — the same person who sat across from me for #1.
The wheel turns. We come full circle. Revisit. Reflect. Give thanks. And move forward.
So much has changed since November 2012 when the show launched. To take a quantum leap forward, we must connect with and better understand the past. So I went back and listened to that very first offering — for the first time since I recorded it. Admittedly rough. Unpolished. Nervous energy, echo chamber audio and uncertainty converging in a vacant warehouse on an organic farm on the north shore of Kauai. Just me, Julie, a couple really bad mics and no expectations or idea as to where this leap would land.
And yet I was dumbstruck by just how much the show has stayed true to the seed I planted that day.
I vividly recall that day. My son Tyler and my nephew Harrison jerry-rigging their musical equipment to manage the audio. I remember the theme music they wrote and recorded in the warehouse just hours before the first show — a riff they came up without much thought and always intended as "temp" until they wrote something better. Julie and I sitting across from each other, wondering just what we might talk about.
Two years later and I'm astonished at just how little has changed. Today Ty (who is now my producer and the guy behind all the show music) and Harrison strummed guitars and checked audio levels as I set up in our garage. That temp theme music still begins each episode. And Julie and I still stare across at each other before every show we do together, wondering just what the conversation might bring.
But what really struck me about that first episode is that my improvised introduction and meandering thoughts, words, intentions and aspirations for what the show might become mirror exactly what the show has indeed become 100 episodes and hundreds of recorded hours later — compelling long-form conversations with inspiring, paradigm busting minds and personalities in health, wellness, nutrition, fitness, entrepreneurship, creativity and spirituality with one singular goal – to help you discover, uncover, unlock and unleash your best, most authentic self.
Although I know I have gotten better at this, I still consider myself rather amateur behind the mic. But I'm proud of the show we've built. A show that has promoted dialog around new ideas. A toolbox of inspiration and education for transcending your circumstances. A platform for unlocking your inner potential – in whatever form that may be – by introducing and discussing new (sometimes controversial or fringe) ideas with the hope that you will take what resonates with you and not only use it, but share it.
The Power of Community
I send the show out into the ether every week. But it's you, the audience, who has taken what alone is nothing more than an inert digital file comprised of ones and zeroes — and fertilized it. A seed you have fostered into something much bigger and more important than a simple weekly .mp3. Something remarkable:
Community.
When I think back on the history of the show to date, it's crystal clear what is truly important. And most beautiful. A global water cooler around which we can connect over a myriad of ideas with one collective goal — be and do better. Together.
Community.
That's what today's show is all about.
No matter what your goal or aspiration – irrespective of how solitary you believe its pursuit – you simply cannot truly score on your own. Everyone needs a team. Everyone needs a support network. Everyone needs help. Everyone needs a Board of Advisors.
Birth family or soul family. Children or parents. Friends or co-workers. Clubs or crews. The shape and form of these networks of support mean less than the quality of the individuals that comprise them.
The point is this: when your team is intact, in alignment, supportive and strong, miracles can occur.
Together we are one. Together we are strong. Together we can change the world.
Let's Talk About Gratitude
With the reflection that comes with milestones I am overwhelmed with gratitude. Let this 100th episode serve as a big thank you to all of you out there who have helped me along the path. Without a doubt, this includes you – the listener. Thank you for your courage; for taking the leap; and walking this journey alongside me. Thank you for putting wind in my sails by tuning in week after week.
And thank you for giving me hope in the good — the promise of a better more fulfilling, legacy worthy purpose here on Earth in this short life.
But most of all, thank you for letting me serve. Because it is in service that I find purpose, meaning and a sense of deep satisfaction that positively infuses every aspect of my daily life experience.
I Want To Hear From You (Plus Giveaway!)
In addition, I want to thank each and every one of you — and there are many — who have taken the time to reach out and share with me your challenges, victories and struggles. I cannot overstate the extent to which your experiences humble me; hold me accountable for my own actions; inspire me to do and be better; and ennoble me to soldier on in the face of whatever obstacles I may face.
Which brings me to an idea..
If you have been positively influenced by this show to make a personally significant change in your life, I want to hear your story. If you're up for sharing, please weave your tale in the comments section below. If you'd rather remain anonymous (I get it), then e-mail your testimony to [email protected] (I am the only person who will see these e-mails and your confidence will not be shared). To the extent of your willingness to be vulnerable, let it all hang out: the struggles you faced, how you overcame and how this show might have played a (small part).
I'm not looking to take any credit whatsoever for anybody's journey. Any improvements you made to your life, well that's on you entirely. Hats off and head bowed in reverence. I just love the stories. It helps me feel more connected to you. It helps dry the cement on this community bond I am trying to foster – a bond over just being better.
I promise to read everything. Then I'll pick 3 and send the chosen a sweet care package of thanks and congratulations. Because giving back is what it means to be part of a community.
This week is about honoring just that. It's what this show is — and has always been — all about.
I sincerely hope you enjoy this 100th conversation. And again, thank you. Really.
Peace + Plants,

PS – Next week I finally sit down with the great Brendan Brazier . I know there is a lot of anticipation for this one, and it doesn't disappoint. So stay tuned!
PPS – Below is the beautiful video slide show Julie referenced in our conversation documenting the birth of Jaya Blue, the youngest addition to our family community. The images and video come courtesy of the extremely talented mind and eye of Stacie Isabella Turk.
SHOW NOTES
Julie's Website: SriMati.com
Huffington Post: "Ask and You Shall Receive" by Amanda Slavin
Filmmaker & photographer Stacie Isabella Turk:  Ribbonhead.photoshelter.com
Episode featured image © Maclay Heriot
THE APP IS HERE!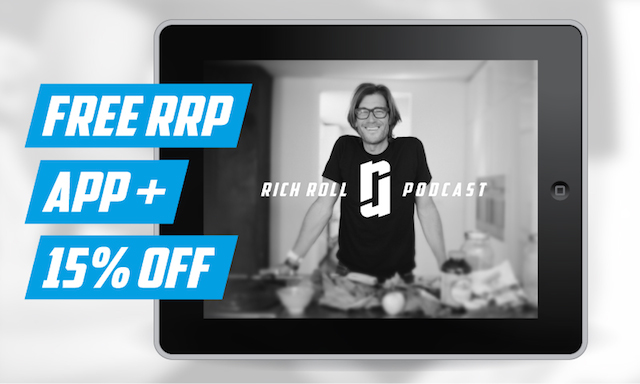 It's been a long road, but we are super excited to finally announce the launch of our brand new app for your iOS mobile device!
Finally, you can access the ENTIRE Rich Roll Podcast library in the palm of your hand. The best part? It's totally free.
>> Download it here for free! <<
Now you can easily listen to, save and share any and every episode of the RRP all the way back to #1 in the palm of your hand — simple and free. Plus special announcements and exclusive product offers and discounts available only to app subscribers.
Even better? We're celebrating the launch with a special limited time offer. Enter the coupon code "rrapp15%off" with your next purchase of Plantpower Provisions and get 15% off!*
*Discount does not apply to downloadable purchases. Offer good through Wednesday, August 20th 1:00PM GMT. In stock items only, while supplies last, no other discounts apply.
Click here to download the app, play around with it and let us know what you think in the comments below. If you dig it, and it feels right to you, we'd greatly appreciate it if you could help spread the word — tell a friend and leave a us review in the iTunes App Store !
HOW CAN I SUPPORT THE PODCAST?
1. TELL A FRIEND! (Self-explanatory)
2. SHARE ONLINE! (Also self-explanatory)
3. SUBSCRIBE & REVIEW the show on iTunes, Stitcher and Soundcloud and TuneIn.
4. DONATE: Check out the DONATE button on the right hand margin or click HERE to learn more. We even accept Bitcoin!
5. DOWNLOAD THE NEW MOBILE APP! Now you can access, stream, download and share the entire RRP catalog in the palm of your hand on any iOS mobile device (iPhone, iPad and iPod Touch) with our new mobile app. Never miss an episode, plus special announcements, discounts, giveaways. Already downloaded? Awesome. When you have a minute, and it feels right to you, do us a solid and give the app a review in the iTunes Store.
Thanks for listening and thanks for the support!