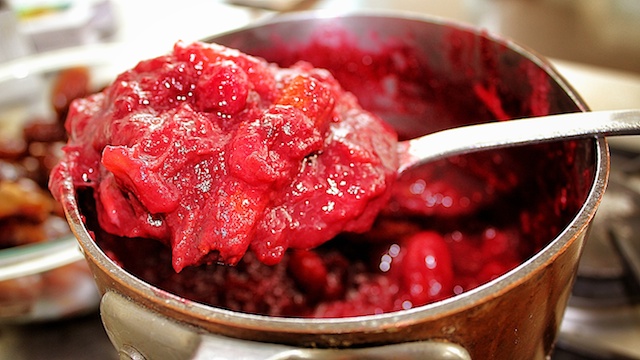 By Julie Piatt
Over the last several days, I've had the great pleasure of sharing with you some super delicious and healthy PlantPowered, gluten-free holiday meal recipe staples — Vegan Stuffing, Cauliflower Mashed Potatoes, Mushroom Gravy & Almost Raw Vegan Pumpkin Pie.  What are we missing? No holiday meal is complete without cranberry sauce! 
But what many may not realize is that cranberries in their native state are incredibly bitter.  Therefore, store-bought cranberry sauce is infused with an incredible amount of preservatives, artificial flavoring & colors as well as insane amounts of refined sugar in order to render the end product sufficiently sweet, pleasant to the eye and palatable to the typical consumer.  Even homemade versions typically require at least a full cup of refined sugar.
So how can I make a great tasting, organic, healthy cranberry sauce my family, kids and friends will enjoy without relying on a big bag of refined sugar?
Introducing my take on Cranberry Sauce, our fifth in this series of easy to prepare, nutritious and delicious PlantPowered holiday recipes we are publishing to supplement this week's podcast discussion (in case you missed it, be sure to tune in for tips and strategies for navigating holiday treacheries by clicking here: RRP #60: How To Maintain Healthy Nutrition & Optimal Physical, Emotional & Spiritual Health During the Holidays ).
PLANTPOWERED CRANBERRY SAUCE

Serves 6-8 people
Ingredients
2 packages fresh organic cranberries
10 organic dates soaked in filtered water for at least 1 hour
1 cinnamon stick
2 tablespoons raw (preferably manuka) honey (or maple syrup for those that prefer to avoid honey)
Preparation
1.  In small saucepan, add the cranberries plus 1 cup of water.  Cook on medium heat until the mixture becomes syrup-like and the berries are soft and glazed. 
2.  Add 10 soaked dates, pits removed.  You can also experiment with adding a strip of or orange or lemon zest for a little citrus flavor accent.  Add the water from the soaked dates and 1 cinnamon stick broken in half. 
3.  Continue to cook for another 5 minutes until the dates break down. 
4.  Turn off heat and let cool. 
5.  Before serving, remove the cinnamon stick.  The mixture will take on a darker red hue due to the dates and cinnamon.
6.  OPTIONAL: add  the honey or maple syrup, but only for those that prefer the extra sweetness.  Personally, mine didn't need it this time.  The dates rendered the dish plenty sweet. 
Yes, it's that easy.
Serve & Amaze!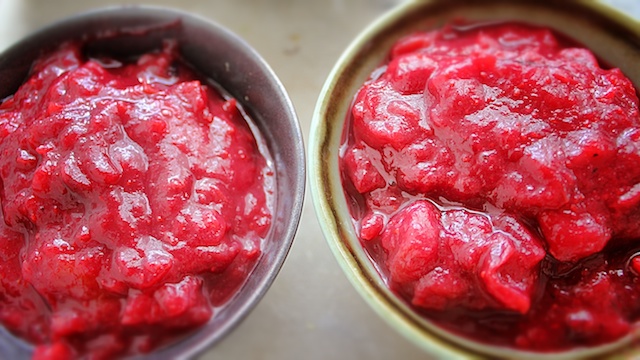 Enjoy plant-based recipes or just love great food?  Be sure to follow me on  Instagram  and Twitter !
Namaste,
Julie
P.S. – Want to learn more about our plant-based lifestyle and how to implement it into your life?  Check out our Jai Seed eCookbook– 77 pages of amazing, healthy & easy to prepare PlantPowered recipes certain to sate even the most finicky of palates.
Want even more?  Then be sure to check out The Ultimate Guide to Plant-Based Nutrition  – the online course Rich and I created in partnership with  MindBodyGreen.com.  3.5 hours of online streaming video content broken up into segmented topics, plus an online community and tons of downloadable kitchen, shopping & dietary tools plus a slew of recipes.  Makes a great holiday gift too!