Over the last several episodes, I've endeavored to shoulder healthy and thoughtful conversations about what matters most right now — the pandemic, racial injustice, systemic racism, police brutality and food injustice.
Today we shift from that somber gear for an interlude of reprieve.
Enter entertainment's ultimate plant-based father-daughter duo: Kevin Smith & Harley Quinn Smith.
An indie film legend, Kevin is also an actor, comedian, comic book writer, author and early podcast pioneer — a voice of huge influence on my personal career behind a microphone.
In 1994, Kevin burst into prominence with his hyper low-budget comedy Clerks, a film he wrote, directed, co-produced, and filmed in the convenience store where he worked. Premiering at Sundance, it was fêted with the festival's highest award before going on to become an indie cult classic.
In addition to countless appearances in both movies and television, Kevin has created a litany of films, affectionately and collectively referred to by his many rabid fans as the View Askewiverse, a nod to Kevin's production shingle, View Askew Productions.
Returning to his roots (did he ever leave?), Kevin toured his latest film, Jay and Silent Bob Reboot (featuring names like Chris Hemsworth and Ben Affleck) to roadshow box office success, promoting it with pre-pandemic live events in over 60 cities across North America.
An iconic and beloved character amongst indie film fans and comic book nerds, Kevin has always been immediately recognizable and famous for his hockey jerseys, backward hat and well, his weight.  But in February of 2018, Kevin had a near-fatal heart attack.
A lifestyle change was needed. Desperately. Enter Harley.
"Seeing what human compassion could do to an animal gave me a new awareness that I had never understood before, that human actions directly affect the animals that we coexist with.

HARLEY QUINN SMITH
An actress, animal rights activist and bass player for the bubblegum punk band, The Tenth, Harley suggested —some might say coerced—Kevin to adopt her plant-based ways. Kevin obliged. In short, he dropped 50 pounds and kept the weight off. His blood work normalized. And the rest is history.
Together they recently launched Vegan Abattoir—a daddy daughter podcast affair that provides plant-based answers to the vegan-curious questions they get from a meat-eating and dairy-drinking audience. Dare you enter? If so you can catch yours truly in episode 2.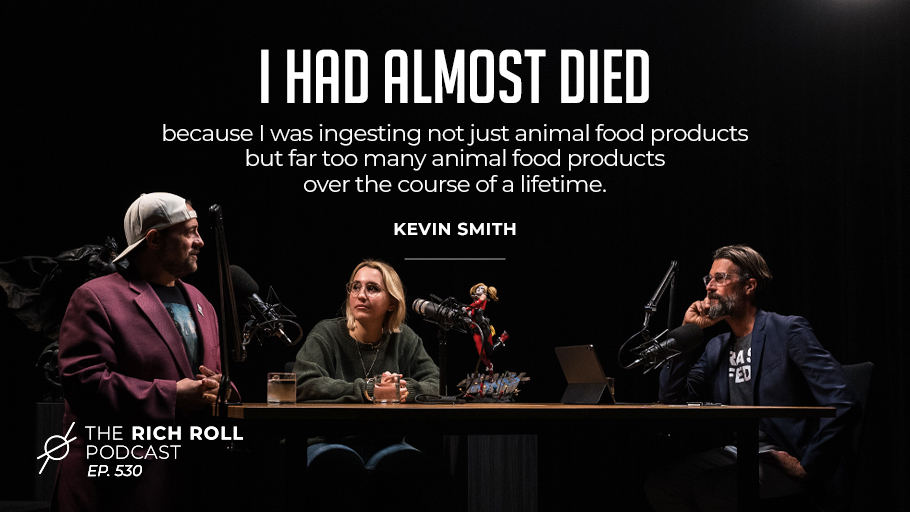 Picking up where I left off with Kevin in last year's barnburner 2.5 hour Vulcan mind meld (RRP #433), Today's discussion centers primarily on veganism and animal rights. What led Harley to adopt this lifestyle, the way it has transformed her life, and that of her Dad.
It's about the many projects these two have up their sleeve, from restaurants to non-profits, to upcoming films.
It's a peek into the life of a Hollywood family, and the complicated dynamics of the movie biz and stardom — including a touching remembrance of Stan Lee and the story behind Harley landing a Manson girl part in Quentin Tarantino's Once Upon A Time In Hollywood.
The gleeful banter between Harley and Kevin is infectious. And while this conversation is light, I promise there is much to be gleaned — especially if you are new to the vegan world or perhaps contemplating a more-plant based approach to your plate and life.
I've interviewed a lot of people. Few are as skilled as Kevin in the art of conversation. And Harley just made it all so much better. Enjoy!
Peace + Plants,

Listen, Watch, & Subscribe
For 1000s of delicious, customized plant-based recipes & so much more, check out our Plantpower Meal Planner.
Tell Your Friends & Share Online
Donate: Patreon
Patronize Our Sponsors: For a complete list of all RRP sponsors and their respective vanity URLs and discount codes, click "Sponsors" here.
Thanks to Jason Camiolo for production, audio engineering and show notes; Margo Lubin and Blake Curtis for video, editing and graphics; portraits by Davy Greenberg; and theme music by Tyler Piatt. Trapper Piatt & Hari Mathis.
*Disclosure: Books and products denoted with an asterisk are hyperlinked to an affiliate program. We are a participant in the Amazon Services LLC Associates Program, an affiliate advertising program designed to provide a means for us to earn fees by linking to Amazon.com and affiliated sites.