The media fervor currently swirling the pandemic is a fever of conflicting data and performative politics. Black and white, it's either sequester ad infinitum or back to work now — a conversation devoid of nuance.
How to discern fact from fiction? Separate opinion from data? Politics from perspective?
Like me, I suspect you're frustrated — yearning for evidence-based answers over conjecture; considered strategy over confusion; and objectivity over punditry.
I can't tell you when this alternate reality (which has morphed into a distorted normality) will cease. What I can offer is the experience and perception of one of the best and brightest in public health and preventive medicine.
Meet David L. Katz, MD, MPH FACPM, FACP, FACLM.
A pioneering voice in functional lifestyle medicine, David is a graduate of Dartmouth, the Albert Einstein College of Medicine & Yale School of Public Health. In addition, he is the founding director of Yale University's Yale-Griffen Prevention Research Center, a past-president of the American College of Lifestyle Medicine, and the founder & president of the True Health Initiative, a non-profit coalition of more than 500 world-renowned physicians, scientists, and nutrition experts (including myself, the least qualified member of this coalition) committed to establishing and communicating a growing scientific consensus on the optimal diet for human beings and the planet.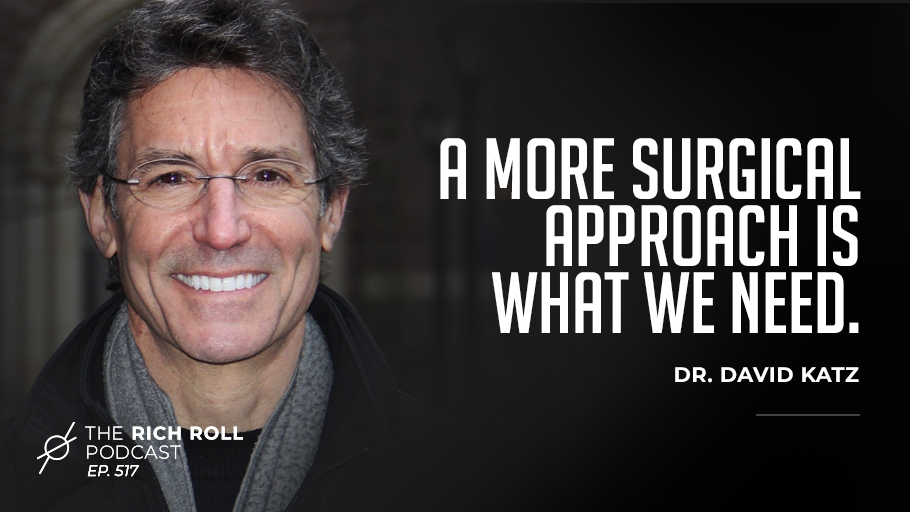 The recipient of 3 honorary doctorates, David was also a James Beard Award nominee in 2019 for health journalism, has contributed countless articles to top medical journals along with op-eds in The New York Times and other magazines, and somehow found the time to write 17 books, including his latest, How To Eat, which he co-authored with the great Mark Bittman.
Although David has been a prominent voice in nutrition science and lifestyle medicine for many years, the pandemic has suddenly foisted him into a very bright spotlight.
Currently making the major media rounds, you might have caught one of his recent appearances on Real Time With Bill Maher, CNN or Fox News, where he's been advocating for a more data-driven, targeted public health response to coronavirus.
It's a strategy he calls vertical interdiction. It's (strangely) controversial. And it's the focus of today's conversation — a nuanced discourse on improving how we consider and navigate the landmines of this unique global predicament.
I appreciate David's thoughtful perspective and his commitment to service (including treating COVID-19 patients on the outbreak frontlines in the Bronx). He's eloquent and data-driven. Evidence-based and no-nonsense. And quite charming to boot.
To anyone suffering from the virus or the effects of it, my heart goes out to you. This pandemic is hurting us all, some in more catastrophic ways than others.  I hope Dr. Katz's words bring you comfort — he gets as close as he can to providing us with the answers we are all so desperately seeking.
The visually inclined can watch it go down on YouTube. And as always, the audio version streams wild and free on Apple Podcasts and Spotify.
It's an honor to share his perspective with all of you today. May you receive it with an open mind and heart.
Peace + Plants,

Listen, Watch, & Subscribe
For 1000s of delicious, customized plant-based recipes & so much more, check out our Plantpower Meal Planner.
Tell Your Friends & Share Online
Donate: Patreon
Patronize Our Sponsors: For a complete list of all RRP sponsors and their respective vanity URLs and discount codes, click "Sponsors" here.
Thanks to Jason Camiolo for production, audio engineering and show notes; Margo Lubin and Blake Curtis for video, editing and graphics; portraits by Ali Rogers; and theme music by Ana Leimma.
*Disclosure: Books and products denoted with an asterisk are hyperlinked to an affiliate program. We are a participant in the Amazon Services LLC Associates Program, an affiliate advertising program designed to provide a means for us to earn fees by linking to Amazon.com and affiliated sites.