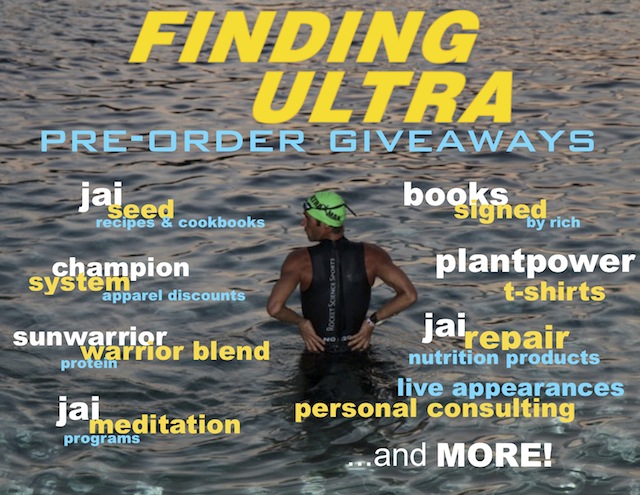 So excited to finally announce the launch of my new website for FINDING ULTRA !  
First, a HUGE shoutout of gratitude for the eminently talented team at Sandbox Studios  — the boys that put in the long hours to make this happen.  James Gilbert, Reis Paluso and Marshall Caswell, I thank you for your design aesthetic, tireless coding and attention to detail.  Simply put, you guys rule.
Check out the site and let me know what you think in the comments section below .
Sure, the site is cool.  Downright awesome, in fact.  Have you ever seen a website for a book that is this cool?  I haven't.  "But so what?  What's in it for me?" I hear you ask.
Actually, quite a bit.  If you are struggling with weight, declining health, fitness — or most importantly, feel disconnected from your "true self" and  dreams long ago abandoned  — lost or flatlined without a roadmap, tools or inspiration to take your life back, then this is just the thing for you.   A PERSONAL WAKE UP CALL TO ACTION.  
Let's be honest.   I would really like you to pre-order the book.  In fact, the book's success depends on it.  But more importantly, I'm simply passionate about going wide with my message – a message I know and trust has the power to catalyze and sustain personal change and growth.  Why?  Because I've seen it happen.  Not just in myself, but in many people I have worked with over the years.  Powerful tools for life transformation and sustained, continuous personal growth that have revolutionized the way I live my life.
If they worked for me, then believe me they can work for you too.  
"The mass of men lead lives of quiet desperation.  What is called resignation is confirmed desperation."

– Henry David Thoreau, Walden (1854)
True then.  Even truer now.  Unfortunately, we live in a society in which we have completely lost touch with what truly moves us – our most "authentic" selves overwhelmingly discarded in favor of playing by the rules.  Doing what's expected of us.  Who we were meant to be and what we want out of this short life — in the truest sense of these phrases — hasn't just been de-prioritized; it's been eradicated altogether.  Countless lives hijacked by fear, wasted and decaying in office buildings and cubicles just so we can pay the bills.  Living for the weekend, we reward ourselves with time wasted on a rotunda of empty (and all too-often fear-based) distractions we call entertainment.  Immersing ourselves in mind-numbing media, poisonous food, consciousness-altering substances and unhealthy relationships to ease the pain of our collective dissatisfaction, we further disconnect ourselves from our fellow man in favor of Siri.  Then impulsively spend money on products we can't afford in a desperate attempt to fill an empty hole of discontentedness that just grows deeper.  A vicious cycle that over time becomes so entrenched, we feel powerless to change, ultimately losing hope.  Too many of us just give up altogether, resigned to live the rest of our days in numbed disillusionment.  The Matrix, it seems, is actually real.
No wonder we're pissed.  I was.  But I found a way out.  And you can too.  Let me take you there.
On it's surface, the book will show you how to radically improve your diet, revive your health and unleash your inner power with more vitality and enthusiasm than you thought possible.  And to be sure, it will motivate you to get up off that couch – with tools to start moving your body, retrain your mind and connect with your soul purpose.  It will inspire you to dust off that latent goal that has been nagging at the back of your mind far too long — maybe as long as you can remember.  And galvanize a plan to finally bring it to life.  But the book is so much more than that.  Seamlessly woven into the narrative is a roadmap to unleash your own true self.  A catalyst to re-discover what — deep down inside — truly moves you.  Inspiration to uncover those abandoned dreams deferred.  And unleash your personal power to pursue and achieve the happy and authentic self dormant within all of us that yearns to not just tolerate life, but celebrate it with a full embrace.  
Join me.  And let's break free.  Together.
Ready to begin?  Let's do it.  Here's more than a few totally killer limited-time offer incentives to get you to act now.
Between now and when the clock strikes midnight on May 21, 2012, I am sweetening the pot for those who pre-order the book by offering the following exclusive packaged giveaways.  These offers  will go up on the new website this week, but they are active immediately.  Here's the lowdown:
Receive my book, PLUS 1 FREE 7-RECIPE DOWNLOAD of PlantPower Recipes excerpted from our JAI SEED eCookbook .  A day in my life with food.
In addition to the books, you will receive the above, PLUS:
1 FREE FULL EDITION COPY OF OUR  JAI SEED eCOOKBOOK, a beautiful 77-page coffee table style digital book rife with plant-based nutrition information and easy-to-prepare delicious recipes that have fueled my training and fed my family for years.  Certain to please even the most finicky palate in your family.  Not enough?  What if I throw in:
1 FREE SAMPLE OF  SUNWARRIOR WARRIOR BLEND  Raw Plant-Based Protein Supplement – something to boost the smoothies I discuss in the book and the recipes you'll find in JAI SEED.  Still not good enough?  Fine; I'll also gift you with a:  
10% OFF DISCOUNT CODE FOR ALL  CHAMPION SYSTEM  APPAREL.  The people behind my custom training & racing gear, they make a wide variety of killer duds not just for swim/bike/run but a multitude of sports from hockey to motocross, not to mention some groovy casual wear to boot.  COOL.
Receive the books, ALL OF THE ABOVE GIVEAWAYS, PLUS:
1 FREE DOWNLOAD of our JAI SEED 30-MINUTE GUIDED MEDITATION PROGRAM.  Not currently offered for sale, this is an exclusive offer not otherwise available anywhere.  Professionally-produced, recorded & musically accompanied by my wife — long-time yoga/meditation teacher Julie Piatt— this truly unique tutorial and guided program (designed for beginners and avid practitioners alike) has been of immense benefit to me personally and has proved a tremendous aid in helping countless others who struggle with learning and maintaining a consistent meditation practice — a crucial tool in unleashing your personal power.  Everything you need to not only get started, but get hooked and stay hooked.  Still not enough?  
ALL 10 BOOKS PERSONALLY SIGNED BY ME.  AWESOME.  (NOTE: before purchasing online, please e-mail [email protected] as some online retailers do not currently have signed copies in stock).
ALL OF THE ABOVE GIVEAWAYS;
ALL 20 BOOKS PERSONALLY SIGNED BY ME, PLUS:  
2 FREE  PLANTPOWER T-SHIRTS.  LOOK COOL, BE BE COOL.
1 BIG STACK OF PERSONALLY SIGNED BOOKS — a great gift for friends, family, employees and coworkers;
ALL OF THE ABOVE GIVEAWAYS; PLUS:
ONE MONTHS SUPPLY OF JAI REPAIR: be the VERY FIRST customer to receive a personally signed one-month supply of Rich's brand new (yet to launch) nutritional product JAI REPAIR.  Over a year in development, Jai Repair is a proprietary and revolutionary athletic recovery supplement devised by Rich and microbiologist Comptom Rom, PhD of Ascended Health  (Rich's nutritional guru over the last several years), specifically designed to expedite physiological repair induced by exercise stress.  With a robust profile of plant-based proteins (hemp, sprouted brown rice & pea), L-glutamine and powerful antioxidants such as resveratrol, grape skin and berry extracts,  it's a perfectly balanced post-workout recovery aid.  But what makes JAI REPAIR truly unique is the addition of Cordyceps mushroom extracts.  A perfectly safe (plant-based) adoptogen native to high altitude regions of rural China, Cordyceps have been established to increase lung capacity and oxygen uptake, improve stamina and endurance, enhance sexual function and expedite muscular recovery.  Long used by Chinese athletes to great effect, Jai Repair is one of the few and first U.S. based athletic supplements bringing the powerful benefits of Cordyceps to the American marketplace.   It is estimated that Jai Repair will retail at approximately $65 (48 ounces / 1 month supply) and is not yet commercially available, so be first in line!  BAM.
A ton of books PERSONALLY SIGNED BY RICH;  
ALL OF THE ABOVE GIVEAWAYS;
FREE JAI SEED eCOOKBOOKS & MEDITATION PROGRAMS FOR EVERYONE to whom you give/gift one of the 100 signed copies; PLUS:
FREE PLANTPOWER SEMINAR: 100 books is a lot to ask.  Of anyone.  So guess what?  I will come to you to perform a live speaking engagement at a location of your choosing – your local bookstore, school, corporation or multisport club/retailer (travel & accommodations not included; I will sign all pre-ordered and purchased books on site). And of course, all attendees will also receive a free copy of our JAI SEED eCookbook and Meditation Program as well.  At the current online book sale price of $16.49, all this will cost you only $1,649 (and possibly less due to certain bulk order discounts) — a paltry sum for a speaking engagement, let alone 100 books.  Pool resources among friends to buy the books, take care of the travel, then charge admission for the seminar if you like — and keep all the proceeds.  I have no doubt you'll end up profiting in the end.  Think about it.  Then DO IT.
ALL OF THE ABOVE — including the PLANTPOWER SEMINAR are yours.  In addition, you will be the proud recipient of your very own:
PRIVATE PLANTPOWER SUMMIT.  I will visit your home (and/or a small group of your choosing) to perform a full day PlantPower tutorial to designed to KICK START the first step in TAKING YOUR LIFE BACK.  A comprehensive one-day program in which I will provide you with invaluable tools to master nutrition, fitness, meditation and personal life transformation soup to nuts, including, but not limited to: a personal kitchen overhaul, grocery store tour, plant-based nutrition primer, yoga/meditation tutorial and time management overhaul.  A program that will revolutionize your perspective on nutrition and fitness and renew your commitment to making this life your BEST LIFE (travel & accommodations not included; will sign all pre-ordered and purchased books on site).  At the curent online price of $16.49, this will coast you $4,123 (although bulk orders of this size may be even cheaper).  Once the offer ends, the Seminar and Summit together would set you back more than twice this without the books.  $4K is a small price to pay to completely change your life, wouldn't you say?  YES, IT IS.
ALL OF THE ABOVE —  including both the PLANTPOWER SEMINAR & PRIVATE SUMMIT, PLUS:
1 FULL MONTH OF FREE PRIVATE PLANTPOWER CONSULTING.  For 30 days following my visit, I will provide to you free of charge

one full month

of my nutrition and lifestyle design coaching services, which shall include a weekly meal plan, custom fitness and meditation program and reading list, plus a scheduled weekly phone call as well as reasonable e-mail interaction with me.  Everything you need to finally make that leap of faith STICK to create a solid lasting foundation for sustained health, wellness and the achievement of your BEST LIFE.  At the current online price of $16.49, this will set you back $8,245 (and quite possibly less given bulk order discounts).  But offered separately, the Seminar, Summit and month of Consulting alone (without the books) would cost more than twice this amount.  ROCK 'N ROLL.
Of course, smaller orders make for great gifts — particularly for Father's Day, which is right around the corner.  The perfect motivation dad needs to get off the couch and into gear.  Not to mention that personally signed copies make for a unique and nice personal touch.
If you happen to run (or be employed by) a mid-to-large sized corporation, this book will make great gifts for your employees or co-workers.  And with over 50 appendix pages bursting with plant-based nutrition and fitness information, it's the ideal book for every company all the way up to Fortune 500's looking to buttress their corporate wellness programs, improve the health and productivity of their workers and slash long-term health care costs.  And to sweeten the pot further, in such cases I will make available free copies of our JAI SEED eCookbooks and Meditation Program to all your employees, free of additional charge.
Not a CEO?  Convince your boss to make the investment in the bulk book purchase and you reap the reward.
In return for all of the above offers, I only ask one tiny favor:
I'm not asking you to write a good review.  Of course, I would love that.  Only asking you to call it as you see it as soon as you have had a chance to read it.  The number of reviews posted on Amazon is very important in terms of raising the book profile, influences retailer orders and  positions the book for long-term viability.  So just be cool and follow through on this for me.  Appreciated.
How does all this work?  
It's easy.  Just e-mail your proof of purchase to  [email protected]  — forward the receipt you get from your on-line retailer of choice (see right hand margin of this page for links) and we'll follow up with you for your mailing info and fulfillment.
For any questions concerning bulk orders, please e-mail [email protected].  Discounts may be available.  Appearances booked in 2012 based on availability.  Travel/Accommodations not included.
Thanks for helping make my dream a reality.  May this book help you in the manifestation of your own dreams.
If it does, then I'm a happy guy.  And that, my friends, is the whole ballgame.