Thought I would check in from the Big Island and give an update on all the goings on leading up to Ultraman this weekend.
I arrived in Hawaii this past Monday and settled into the most lush accommodations imaginable. Thanks to my local buddies Mike Field and Todd Clark, and courtesy of the gracious Seth Koppes, I have been staying in Seth's fabulous house at Kuki'o, the most stunning development on the island. To put it in perspective, it's where people like Michael Dell own houses. And where Lance Armstrong stays when he visits. Needless to say, I am in good hands and could not ask for a better place to decompress, hone my final race preparations and relax.
Training has been great. I'm seeing the numbers I want to see and everything is lining up perfectly. As they say, the hay is in the barn. Now it's just time to sharpen the tool, rest and focus the mind and spirit on the task at hand. Sleep. Meditation. Relaxation. Visualization. Decompression.
That said, the number of tasks to accomplish in order to be prepared for race day is endless. The logistics are daunting and the errands never seem to end. You do your best to plan and prepare for every conceivable mishap or scenario, but there is only so much that can be done. The Island has its own plan, and soon that plan will be revealed. The key is to remain calm. Stay present. Humility is king. And honoring this sacred place and the power it yields paramount.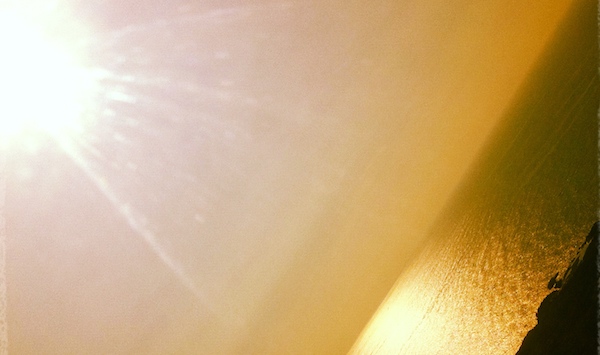 Yesterday I had a great open water swim with Chris Lieto here at Kuki'o and had the pleasure of hanging out with his beautiful family for a few hours on the beach. It was cool to get to better know one of the best and brightest in the sport. Also one of the best examples of service and humility in sport. Not long ago I was just a dude convalescing on the couch. Now I'm out swimming with one of triathlon's shining stars. The irony is not lost on me. I am supremely grateful to even be here. And know that my life is a miracle.
Four days from now it all begins. A cavalcade of emotions. Excited, nervous, anxious, scared, thrilled, intimidated, humble, you name it. But the work is done. The preparations nearly complete. Now it's just time to execute. Enjoy the ride. And honor the journey by giving everything I have to give.
There are so many people who have supported me and my family this year — too many to name. You know who you are. And without you we would not be here. So I thank you for everything you have done for me and my family. My gratitude will be shown on the race course by giving it everything I have. And then some.
I'm deep into taper, and yet just days from the race there remains so much to do. Here's a snapshot. Today I need to move out of Seth's house at Kuki'o and into an condo in town. I have to rent the crew van, then head to the bike shop to pick up my bike which is being serviced. Then I need to get a 3hr ride in, shower and hit the grocery store before picking up my family at the airport at 7:30. Then I will drive them an hour north to the house we rented up in Hawi – a groovy pad on a 10 acre organic farm that will serve as ground zero for the kids. And where we will be hanging out for a few weeks after the race. I would prefer to lay in bed all day, but just too much that needs to be done. And I can't wait for my family to arrive!
Morgan Christian from Metabender is putting the finishing touches on completing the live GPS tracking page for this website which will allow those who wish to follow the race a real time experience – live mapping, telemetry, updates from the crew, Twitter feed as well as photos and videos uploaded to the page in real time. I will have a GPS tracking device attached to my bike seatpost & run gear which will track my location as well as speed, etc. It's pretty awesome and I'm excited to be able to offer a robust experience for those who wish to follow along. In the next day or so, you will see a menu item along the top of this site entitled "Live" – just click it to pull up the Metabender empowered page and enjoy the ride!
Finally, please take a moment to consider a contribution to the Hall Steps Foundation, the charity I am supporting for this year's race. I know times are tight for everyone, but even a small amount helps. And is greatly appreciated.
As we head into this final week, I am committed to increasing the frequency of my blog posts and haring this epic journey with you. I invite you to come along for the ride!
---