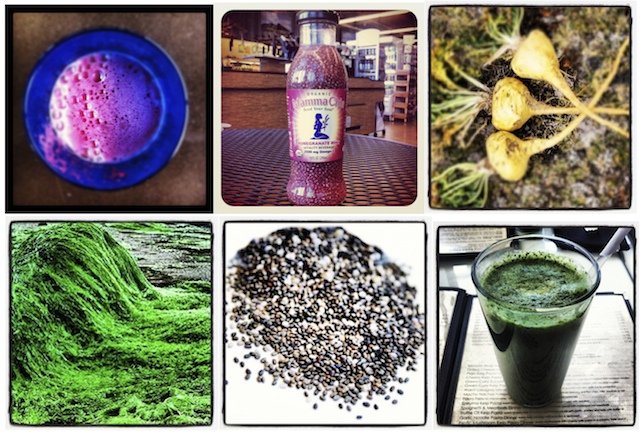 Below is an article I recently wrote for the newly minted SwimSwam.com – the online destination for all things swimming founded by my buddy  Mel Stewart.  A former world-record holder and two-time Olympic gold medalist in swimming, Mel is quite simply one of the greatest butterfly swimmers of all time.  Period.  But more than that, he is a great guy who continues to do great things for the sport he loves.  So do me a favor – if you are a fan of swimming, swing by  SwimSwam  and check it out.  
Hope you like the post.  Plus, I make an exciting announcement at the end!
I'm always experimenting with new foods to help maximize my workout gains, expedite my recovery between sessions and reduce fatigue while building strength and endurance so I can train and race at my peak.
Suffice it to say that there is no magic pill or secret supplement that can replace the tried and true benefits of a well balanced diet comprised of fresh organic vegetables, fruits, grains, nuts and legumes.  But you can give yourself a nutritional edge when such a well-rounded dietary regimen is complemented with certain so-called "superfoods".
Here's a rundown of my top-4 such (completely safe!) plant-based foods you should be including in your diet.  But I bet you're not.  More likely than not you've never even heard of some of them.  However, athletes of all types have experienced success by incorporating these foods into their daily routine – foods you might be surprised to learn are readily available in most health food markets like Whole Foods, or online.
CHIA SEED
If you read the bestselling book  Born To Run, then you know these tiny seeds are an ancient Aztec staple known as the "ultimate runner's food."  Why?  A complete protein high in omega-3 fatty acids, fiber, phytonutrients and antioxidants, chia has been shown to promote heart health, boost endurance, increase oxygen uptake and impede dehydration.  It's also a great "slow carb", providing sustained energy over a long period of time.  Sprinkle on your breakfast cereal or add a teaspoon to a glass of water or morning smoothie.
MACA ROOT
Packed with amino acids, vitamins and minerals, maca (typically retailed in powder form) derives from a plant indigenous to the high Andes of Peru and has proved highly effective in combating anemia and chronic fatigue while promoting adrenal functionality.  A natural mood enhancer, with respect to athletes' needs maca has been shown to improve stamina and reduce the onset of exercise-induced soreness.  It can be taken in capsule form, but I prefer to add a tablespoon to my morning smoothie.  Love it.
SPIRULINA
A very concentrated source of nutrition, spirulina is a blue-green algae noted for having the highest percentage of complete protein by weight of any food on earth.  Rich in a wide variety of vitamins, phytonutrients and antioxidants, studies have established a strong correlation between spirulina intake and enhanced endurance as well as expedited recovery induced by exercise stress.  I prefer the liquid version as another additive to my smoothie blends.
CORDYCEPS
An adaptogen derived from mycellium fungi that grow above 10,000 feet in rural sections of China, cordyceps were first used by Chinese track and field athletes, who experienced significant improvements with daily use.  Known to boost the immune system, increase lung capacity by enhancing oxygen uptake, improve stamina and combat the onset of exercise-induced fatigue, I have experienced tremendous success incorporating this mushroom extract into my daily regimen – again by adding it to both my pre- and post-workout blends.  You may have never heard of cordyceps, but my prediction is that it will not be long before this superfood will find it's way into many new food products aimed at the athlete market – so this is your call to get ahead of the curve.  I have been using Cordyceps for the last two years, I can personally attest to their benefit in my training and racing.  In fact, I'm an evangelist.
Reluctant to try something new?  The definition of ignorance is contempt prior to investigation.  So set aside what might be pre-conceived notions.  Conduct your own experiment and give these foods a try.  Pay attention – maybe even document — how you feel both during and after your workouts.  Then let me know what you find.
JAI REPAIR: PROTEIN + ANTIOXIDANTS + B12 + CORDYCEPS = POWER
How much do I love Cordyceps?  So much so that I have made them a a KEY INGREDIENT in a new product I have been developing that will launch (anticipated release this summer).  Called JAI REPAIR, it's a post-workout athletic supplement honed, refined and devised by me in close collaboration with my nutrition guru, microbiologist Compton Rom, PhD of Ascended Health  (several fascinating video interviews with Rom on YouTube HERE ).  
If you have been following me for a while, you know that Compton's home-brew plant-based nutritional concoctions have been absolutely key in terms of keeping me healthy and training/racing at my peak.  So I can't tell you how excited we are to have finally locked down a product that we can bring to market — something I stand behind 100% and believe in completely.  The result of two years of experimentation, JAI REPAIR is specifically formulated to:
Reduce fatigue induced by exercise (and other life) stress;
Expedite muscular and physiological repair caused by oxidative stress and free radical damage;
Diminish the inflammation resulting from training that impedes recovery;
Boost stamina and athletic performance via enhanced oxygen uptake and lung capacity;
Buttress the immune system; and even
Promote optimum sexual functionality (who doesn't want this?)
Containing a robust and complete amino acid profile of both essential and non-essential amino acids derived from the highest quality plant-based proteins such as hemp, sprouted brown rice and pea, it is complemented with 5000mg of L-glutamine, your RDA of vitamin B12 (important for vegans!), a robust matrix of powerful anti-oxidants such as high-grade resveratrol, grape skin and berry extracts, and of course – Cordyceps.  
To be sure, there are several great plant-based protein supplements on the market.  But JAI REPAIR IS THE FIRST AND ONLY athletic supplement product to combine ALL OF THE ABOVE into a single powerful ONE-STOP SOLUTION to meet your post-workout needs.  And to my knowledge, it's THE ONLY athletic recovery product in the U.S. that combines protein and antioxidants with the marvelous benefits of Cordyceps.  It's a recipe that has been instrumental in my development as an athlete over the last few years, and I can't wait to make it available to you.
Although designed by an athlete for athletes, JAI REPAIR is a healthy tool to promote and enhance long-term optimum wellness for everybody, whether you are on a plant-based diet or favor a more traditional American diet.  
I will reveal more about JAI REPAIR as we near product launch, so stay tuned for details.  Dying to be the first in line to receive the product signed by me?  Check out these FINDING ULTRA Pre-Order Giveaways, available now through May 21.
For copious recipes that include the above superfoods — and much more, don't forget to check out our digital e-cookbook  JAI SEED.  A beautiful coffee-table style cookbook for the digital iPad set that contains 77 glossy pages of plant-based nutrition information and easy to prepare recipes certain to satisfy even the most finicky family member.
And now through May 21, if you pre-order 5 copies of  FINDING ULTRA, the  JAI SEED eCookbook  ( and other goodies ) is FREE.  
Pre-order 1 JUST ONE COPY of FINDING ULTRA and receive a  FREE 7-RECIPE JAI SEED DOWNLOAD.  For more information on this and many more FINDING ULTRA pre-order giveaways, click  HERE.