Podcast: Play in new window | Download | Embed
Today on the show I visit New York's PS244 – The Active Learning Elementary School — in Flushing, Queens to chat with science teacher and Director of the school's Wellness and Nutrition Program Christian Ledesma, as well as PS244's Principal Bob Groff to find out how PS244 became the first public school in the United States to institute a vegetarian school lunch.
But what I pleasantly discovered went well beyond a simple cafeteria upgrade.  PS244's revolutionary school lunch program is just the latest manifestation of a school founded on principals of wellness.  It's fair to say that the very fibre of PS244's  DNA is the promotion of holistic health for kids premised on the advancement of not just the mind, but that of the childrens' bodies & character.
And it shows.  I saw food being grown in hanging gardens along the playground fences.  Kindergartners making their own granola bars and tasting blackberries in after-school programs.  Even a tower garden in the school library.  And that's just the tip of the iceberg when it comes to the day-to-day goings on at this special institute.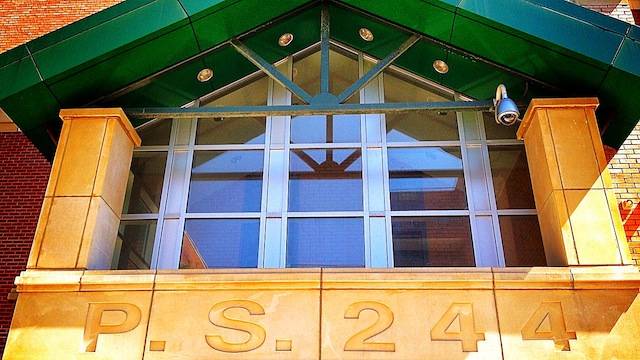 What PS244 has accomplished — seemingly impossible within the confines of a very large & bureaucratic urban school district — is beyond inspiring.  And yet obviously doable when passion aligns with faith and hard work.  The bar is set.  And my hope is that this school's example will empower other teachers, administrators, principals, parents and students to take greater initiative in their own schools and districts and aspire for positive change.
Special thanks to Amie Hamlin, Executive Director of the New York Coalition for Healthy School Food.  It was her and this organization, working tirelessly for several years in alliance with the New York Department of Education, that made the impossible real.  My desire was to include Amie in this interview, but she was not in NYC on the day of my visit, so my plan is to interview her for a future podcast episode.  Stay tuned!
Enjoy the show.
Want to learn more about how they did it and/or get involved? See the below links.   And don't miss the NY Times piece on grade-schooler Zachary Maxwell and his behind-the-scenes exposé short documentary "Yuck!" – it's amazing.
SHOW NOTES
PS244 Current School Lunch Menu
New York Coalition for Healthy School Food "NYCHSF") Website
New York Coalition for Healthy School Food on Twitter: @CoolSchoolFood
New York Coalition for Healthy School Food on Facebook
FAN4Kids, PS244's Fitness and Nutrition education program
Alliance for a Healthier Generation, who gave PS244 the framework for being a healthy school and has recognized it as one of the healthiest schools in the nation:
Info on Tower Garden in PS244 library.  NOTE: Te tower garden in PS244's library was donated to the school by NYCHSF via Arthur Field, who works for the company that makes the tower gardens.  Thanks Arthur and Amie!
Woolly Pocket, the garden on the fence in PS244's backyard
NYC's Office of School Food, in charge of serving 1.1 million kids
Zachary Maxwell & his Documentary "Yuck!": "The Michael Moore of the Grade-School Lunchroom"
FINDING ULTRA PAPERBACK IN TIME FOR FATHER'S DAY
Hey – you gotta get dear old dad something for Father's Day, right?  Well, I have just the thing.   Finding Ultra*  just hit bookstores and online retailers in paperback.  And it's cheap –  just $12.45 on Amazon*.  What the heck, right?  That's like a one cold pressed juice at Whole Foods; and will hopefully be even a bit more nourishing.  Then tell a friend.
*Disclosure: Books and products denoted with an asterisk are hyperlinked to an affiliate program. We are a participant in the Amazon Services LLC Associates Program, an affiliate advertising program designed to provide a means for us to earn fees by linking to Amazon.com and affiliated sites.
HOW CAN I SUPPORT THE PODCAST?
1. TELL A FRIEND! (Self-explanatory)
2. SHARE ONLINE! (Also self-explanatory)
3. SUBSCRIBE & REVIEW the show on iTunes, Stitcher and Soundcloud and TuneIn.
4. DONATE: Check out the DONATE button on the right hand margin or click HERE to learn more. We even accept Bitcoin!
5. DOWNLOAD THE NEW MOBILE APP! Now you can access, stream, download and share the entire RRP catalog in the palm of your hand on any iOS mobile device (iPhone, iPad and iPod Touch) with our new mobile app. Never miss an episode, plus special announcements, discounts, giveaways. Already downloaded? Awesome. When you have a minute, and it feels right to you, do us a solid and give the app a review in the iTunes Store.
Thanks for listening!
As always, thank you for all the ongoing support.  You guys are everything.