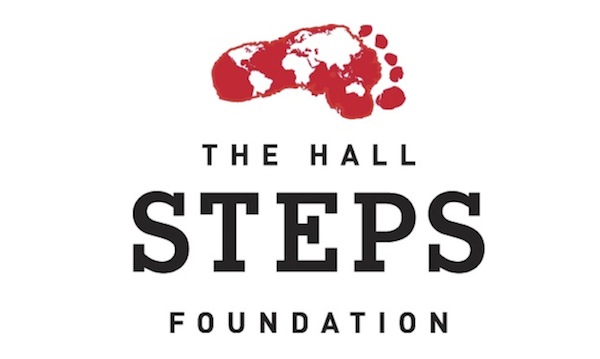 For me, the competition equation just doesn't compute without giving back.  Service.
So I'm very proud, honored and excited to announce that I will be racing the 2011 Ultraman World Championships this November in support of Ryan and Sara Hall's STEPS Foundation  in their fight against global poverty through better health.
First, a little background.  On a family trip to Sedona last winter, Julie and I had the pleasure of meeting Ryan and Sara.  For the uninitiated, Ryan is America's top marathon runner.  Among his many credits, Ryan is a 2008 Olympian and the first American to ever run 26.2 miles under 2:05 when he clocked a 2:04:58 at this year's Boston Marathon.  And Sara is one of America's greatest middle distance runners, a two-time world team member who has won several notable 1500 meter titles and mile road races.  They were nice enough to invite me to join their track workout at Sedona High School, and it was a gift to connect with them.  Not to mention a rare opportunity to witness up close and personal how two of the world's greatest runners train for peak performance.  As I puttered my way around the track, I watched them whir by me, lapping me time and again as they threw down an intense interval workout.  Two very gifted people doing what they do best — and few others on earth are capable of — with nothing but joy.
But more impressive than their athletic gifts is their spirit.  After the workout, Julie, our kids and me joined the Halls for lunch.  This is where I began to learn about STEPS.  And the Hall's heart-felt devotion to a cause clearly very important to them.  I cannot tell you how impressed I was by the social awareness of this young and impossibly humble couple, determined to use their copious God-given talents in service to causes beyond the road and track.  I was energized by their enthusiasm, and wanted to find a way to play a small part in contribution to their cause.
And that moment has now arrived.
But what is STEPS?  And what exactly do they do?  In their own words…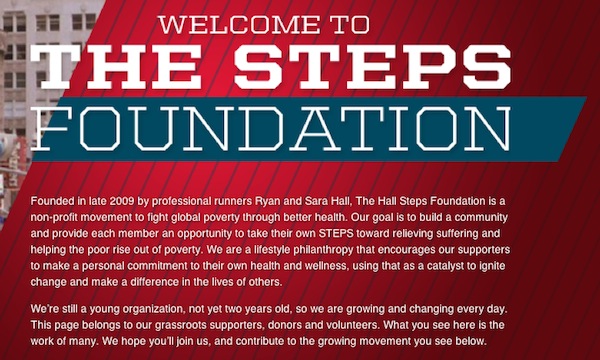 If you know me, you know that the issues of proper nutrition, long-term health optimization and disease prevention are issues of paramount importance to me.  In fact, it's my personal mission to do what I can to provide and promote awareness, education and solutions to the inexcusable explosion in obesity, malnutrition and congenital disease that plagues America due to our GMO / factory farm dominated fast food obsessed culture and its significant contributions to the staggering decline in the wellness of our population.
Over one billion people will go to bed hungry tonight. Almost 50 million of them are right here in the United States.  Simultaneously, America has never been more obese.  And the incidence of heart disease — America's #1 killer — continues to rise.  But STEPS is devoted to tackling these inequities by providing funds and grants to like-minded social causes both in America and across the globe — causes that run the gamut from improvements in water and sanitation, promotion of sustainable agriculture and food security, prevention of disease, and better support for maternal and child health both in America and abroad.
Towards this end, please take a moment to check out just a few of the many projects STEPS is currently involved in by visting the STEPS Website as well as the STEPS Blog.
Then join me.  Visit my Crowdrise Fundraising Page.  And give.  Even if just a little.  Please.  Because every dollar counts.  And there is nothing more important than health.
---