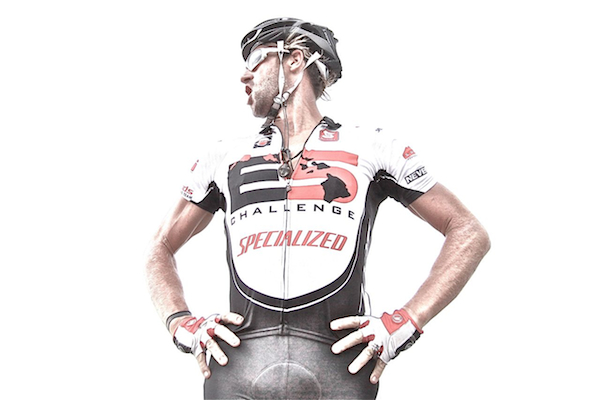 I'm home a week now since the conclusion of the inaugural running of EPIC5 this May 2010.  5 ironman-distance triathlons on 5 different islands of Hawaii. And all in less than a week. Ironman meets the Amazing Race. What a strange, crazy, exhilarating, exhausting and uplifting trip it has been. I plan to post full day-by-day recaps soon, but before the full report, I wanted to check in to share a few brief thoughts in the wake of what was truly one of the greatest, most amazing experiences of my life. The word "epic" is often bandied about with increasing disregard in our modern vernacular, but in all honesty, it really is the perfect — and only — word that fully describes the experience.
In short, the distances were vast, the travel was brutal and the sleep deprivation provided new horizons for me. But when the dust settled, Jason and I accomplished what we set out to do. And then some. Other than being born, getting sober, meeting my wife, and the birth of my children, it was simply the greatest experience of my life.
On the physical plane, I met myself in unchartered waters wildly beyond my expectations. Not a "race" per se, the only goal was to complete the distances each day TOGETHER. Because we were out enjoying the Islands and not "pinning it", we had some assurance that we would be able to bounce back each day for another bout on another island. But in counterpoint, this meant that we were out in the heat and wind much longer each day than we would be had we pushed it a bit harder. And this translated into progressively less rest each day and most importantly, far less sleep. It definitely all caught up to us on Maui, where I was forced to dig as deep as I have ever dug to complete that day, fueled by only 2-4 hours of sleep on each of the 3 previous nights. The physical fatigue was compounded by the daily inter-island travel, which required us to lug 9 (most overweight) bags of gear and nutrition plus bikes through airports, always rushing to catch a flight. Our crew chief Rebecca Morgan was our angel, always getting us where we needed to be. But she was our only permanent sherpa and could only do so much. Either we would fly at night after a full ironman, only to hit the hay well into the wee hours with an early alarm looming; or we would fly in the morning, hauling gear for hours before commencing the day's ironman well into the day and already drained. Suffice it to say that I definitely underestimated the significant fatigue the travel would present.
On the mental plane, the challenge was to remain relaxed and enjoy the experience in the face of many daily obstacles, some of which seemed insurmountable. The best example of this was dealing with bike mechanical issues in Oahu. Commencing the Day 1 ironman on Kauai at 3:45am, we completed it at the airport with only minutes prior to the last flight to Oahu that day. We literally had less than 10 minutes to pack up everything in our trashed crew van, including disassembling our bikes and securing them in travel boxes. It was insanity, but we made our flight with literally only 2 minutes to spare, both Jason and I still wearing our dirty smelly bike kits for the flight. Then my bike failed to arrive, requiring a late night getting pushed even later as we awaited its arrival. Asleep by 1am and up at 5, we began putting our bikes together only to discover that in our bike packing haste, we BOTH were missing a very unique seat post clamp piece necessary for securing our seat posts in our bike frames — the same tiny piece missing on both bikes! What are the odds. Not to mention the fact that this is a piece native only to our Specialized Transition bikes – not a part you can find at just any bike shop. If we could not find 2 replacement clamps in stock from a Specialized dealer in the area, we were in peril of being unable to complete Day 2. It required extreme patience to solve this issue that morning, pushing our start that day almost to the afternoon. But with the help of our local crew volunteer Rex Vicek and Rebecca, we were able to get it resolved and complete the Day — far later than we planned, but still a success. Had we been on any island other than Oahu or the Big Island, we would have been out of luck for sure. The lesson was that we were being cared for. Someone was looking out for us. And that a huge part of this experience was embracing the obstacles rather than fighting them — in Jason's always optimistic words, "That's why its called a challenge!". In being forced to "let go" and surrender to whatever we faced, we became stronger humans, empowered to mentally handle what seemed like extreme obstacles with some degree of grace.
But the most memorable and gratifying aspect of the epic journey occurred firmly on the spiritual plane. At all times, Jason & I felt the love of not only the Islands and their beautiful people and spirit of Aloha and Ohana, but the support of greater forces at work. The Kahunas and Universe beyond was definitely smiling upon us at all times, conspiring to elevate us beyond our limits. On every island, droves of people came out to crew and support us, taking precious (and copious) time out of their day to help us achieve our daily goals. Not to mention all the people that turned up out of the blue to swim, ride and run with us. On Kauai, we had the absurdly enthusiastic "Johnny Rocket" as our bike sherpa all day, pumping his fist in excitement just to take part in the journey. On Oahu, we had half the local H.U.R.T ultra-running crew run through the night with us, many of whom ran the entire marathon, which we did not complete until 1am. In Molokai, Will was our bike sherpa, Coffees of Hawaii our red carpet resort & concierge (including private vegan chef!) and half the local school teachers our crew. And to top it off, a group of local kids joined us for the run, including little 7 year old C.J., who busted out at least 5 miles in the dark (often demanding my coconut water!), his family tagging behind in their mini-van. Maui was a zombie-fest, but we were elevated by cars honking their support, Paul Hopwood pacing us on the run and even a local tri stud who ran with us in his coat and tie after he got off work. Paul never left our side, running alongside us to the pre-dawn amidst burning cane fields. On our home turf of Kona for the final leg, we had 4x ironman champ Luke McKenzie run the first 8 miles with us, then return with his girlfriend Amanda Balding on scooters just to cheer us through our final 2 miles. Even Grant from Bike Works ran in the dark with us out on the Queen K in his tevas! And each night, I cut in to my precious sleep by checking my Twitter feed, stunned by the outpouring of support from across the globe – people cheering for us from afar, following online, thirsty for details and contributing to the Never Stop Foundation cause.
This is all a very long way of saying that we were tremendously supported by countless people and the spirit of the Islands and beyond. People who wanted to help. People who were touched by what we were attempting – a feat so many dissuaded us from even trying as a fool's errand; a recipe for failure and embarrassment. At the end of the day, there is only one other person in the entire world who knows how I feel – and that is Jason Lester. And I think he would agree that fueled by the principal of "Let Go, Let God", that in our own small way we were able to carry a powerful vibration of healing to each Island we visited. A message of service, unity, spirit and love. An accomplishment of the indomitable human spirit that we not just hope — but know — touched more people than we ever expected. And it feels great.
So many people to thank. Brian, Jake and the whole Zoot Sports crew for their gear and a belief in us so strong, they sent Molly Kline all the way out to Hawaii to cover the journey. Ian Dewar at Specialized Bikes for our speedy bikes and gear. Ascended Health (Compton) & Vega (Kelly & Brendan) for their endurance and recovery concoctions. James Gilbert for believing in us from the beginning, and tireless work on graphics, kit design and marketing. Squadra for our bike kits. Brett Blankner (Zen Triathlon) and Morgan Christensen who at a moment's notice dropped everything and mocked up an amazing website that allowed people to fully engage in the experience from afar. Triathlon Lab and Bike Works for help beyond the call of duty. Coffees of Hawaii for red carpet treatment on Molokai, including our own plantation house and cook. The Bike Shop on Oahu for sorting out our mechanical issues. TJ Murphy at Inside Triathlon, Mark Johnson and the Competitor Group for their dedicated daily coverage of the event. And from Rebecca Morgan and the dozens of selfless crew who helped out on each island to the many people who financially and emotionally supported the journey – people like Greg Mattacola & John Callos. We thank and love you all. Without you this would not have been possible.
And of course to Jason Lester, who brainstormed this insanity and sold me on the idea of joining him. I love you my brother and I will never forget what you have done for me.
And finally, to the love of my life Julie Piatt and our children. Without you I am nowhere. Thank you for believing in me and supporting me with all of your hearts in the face of great adversity. Your strength and love are always with me.
I look forward to sharing the details of each day in upcoming posts. Until then, thanks for taking the time to stop by.