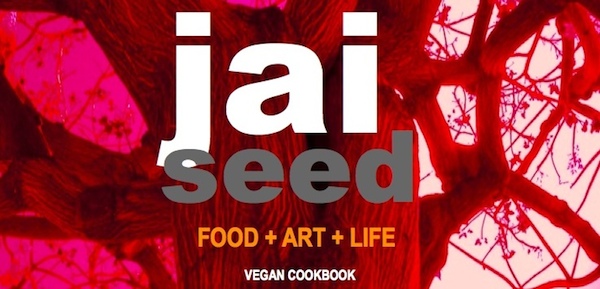 Maybe your New Year's resolution is to slim down.  Maybe even go all the way.  PlantPower style.
Not sure where or how to start?  Fear not!  Look no further than our vegan e-cookbook JAI SEED.
More than just another cookbook, JAI SEED is the creative expression of our family journey.  A journey in whole food plant-based nutrition that has repaired our bodies, invigorated our health and elevated our consciousness. It's not just how we eat – its how we live.
At only $9.99, JAI SEED makes for a great inexpensive and unique gift.  Perfect for loved ones, office peers, secret Santa duties and that hard to please guy who has everything (including the waistline & inclination to do something about it).
Just use our GIFT CERTIFICATE option at checkout and voila – you've fulfilled that nagging holiday duty with just a few clicks on the keyboard.
A digital coffee table style cookbook for the iPad set, JAI SEED is 77 pages of delicious, colorful and inventive vegan whole food recipes – a wide variety of creative breakfast, lunch, dinner and dessert dishes for the athlete and all members of your family, young and old.  In addition to 48 recipes total, we include original artwork by Julie, 6 pages of basic nutritional tips on vegan fueling and a myriad of the plant-based wellness and pre/post workout fruit/vegetable elixirs that I have refined over the last few years of racing and training.
Bursting with color, the recipes are easy, fun and most importantly what you need to not just nourish, replenish, and heal your body, but to elevate your soul.  From the athlete in your family to the toddler to that finicky uncle, we've got you covered in this easy to follow primer to get you started right in 2012.
For more information and to order, simply click HERE.  Then watch your life change.
If you are interested in learning more about PlantPower nutrition, I hope you will consider checking out my book FINDING ULTRA, (Crown / Random House).  In addition to my story, the book contains thirty-plus pages of informative PlantPower appendices, complete with detailed plant-based nutrition information on why I eat the way I do, a "day in the life" of what and when I eat, as well as copious resources to boot.  
The book doesn't hit shelves until May 8, 2012, but is available NOW for pre-order on Amazon at the reduced pre-sale price of just $16.33 (hardcover) and $12.99 (kindle).  
May the Holidays and New year bring you HEALTH!
JAI SEED REVIEWS
"…a great cookbook!"
–  Bob Harper, Host/Trainer on NBC's wordwide hit  "The Biggest Loser"
"Jai Seed is 77 pages of delicious, approachable, and inventive recipes as well as the kitchen equipment (Julie and Rich thankfully keep it simple) and shopping essentials you need to get started on your "plant strong" path….However, Jai Seed is more than just a great primer in healthy eating. Through beautiful pictures and inspiring words, Jai Seed captures one family's inspiring journey of health for the body and soul…"
– Colleen Wachob,  MindBodyGreen.com
"The book is beautiful…food that's approachable to vegetarians and vegans, and very family-friendly…At 10 bucks, Jai Seed is an absolute steal."
– Matt Frazier,  NoMeatAthlete.com  
 Enjoy this brief introductory video by Romain Fournier
---