UPDATE!!!
We are happy to announce the addition of a couple very cool guests to our lineup for Saturday's Workshop!
ASCENDED HEALTH : Microbiologist Compton Rom from Ascended Health will be joining us around noon to share his wealth of knowledge on holistic nutrition and recovery. As you may know, I have been working with Compton and Ascended Health over the last 2 years helping to develop the absolute best nutrition & wellness products for athletes and the everyperson alike. With a background based in western scientific research and 20 years study of indigenous healing methodologies, Compton is a faunt of knowledge on not just nutrition but overall wellness and healing, offering a wide array of products that promote overall wellness, recovery and disease prevention.
JUICY LADIES : We will also happy to report that our friends from Juicy Ladie s — one of our favorite local vegan restaurants — will be in attendance to share their knowledge on the art & science of herbal / juice cleansing and detox.
Again – we look forward to seeing you Saturday!!
*******************
Whose up for some killer training, swim instruction, Plant-Strong cooking tutorials, yoga & meditation in the gorgeous Santa Monica Mountains? Make the Jai Ultra SHIFT!!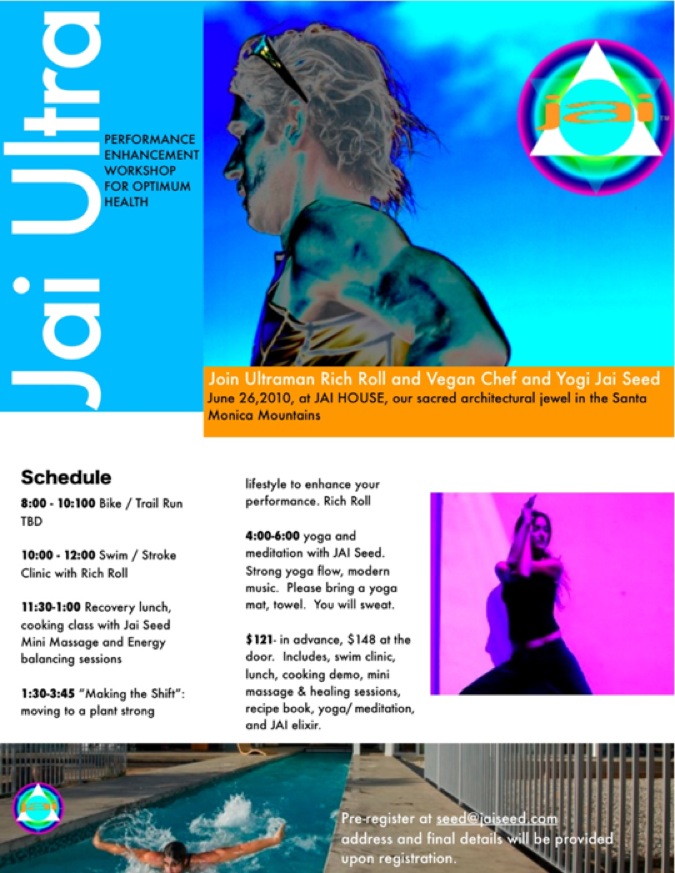 Please join us June 26, 2010 for our first one-day Performance Enhancement Workshop for Optimum Health at the JAI HOUSE, our home in beautiful Malibu Canyon.
Schedule:
8:00 – 10:00 – Bike or Trail Run, TBD
10:00 – 12:00 Swim / Stroke Technique Evaluation in our 25 yard lap pool; includes video taping and stroke analysis by yours truly doing what I do best – help people improve their swimming technique!
11:30 – 1:00 Recovery lunch & Plantstrong cooking class with my wife Julie Piatt ( @jaiseed ). Let Julie show you how we eat, including pre & post workout Vitamix recipes and optimal fueling for athletic performance & overall vibrancy and wellness. Includes mini-massage & energy balancing with Nicole Duran.
1:30 – 3:45 "Making the Shift" Presentation by Rich Roll – the how and why of making the switch to a plantstrong lifestyle as a platform for athleticism and optimal health
4:00 – 6:00 Yoga & Meditation with Julie. Strong yoga flow practice for athletes & everyone with modern music & meditation. Please bring yoga mat & towel. You will SWEAT!
Price: $121 in advance / $148 at the door. Includes everything – swim clinic, lunch, cooking demo, mini-massage & healing sessions, recipe book, yoga, meditation & Jai Elixir sampler.
TO REGISTER: For inquiries, questions & to register, please e-mail Julie at [email protected] Address & additional details to be provided upon registration. Space is limited so please register soon.
Click to download Jai Ultra Performance Workshop Flier
WE LOOK FORWARD TO SEEING YOU!
---