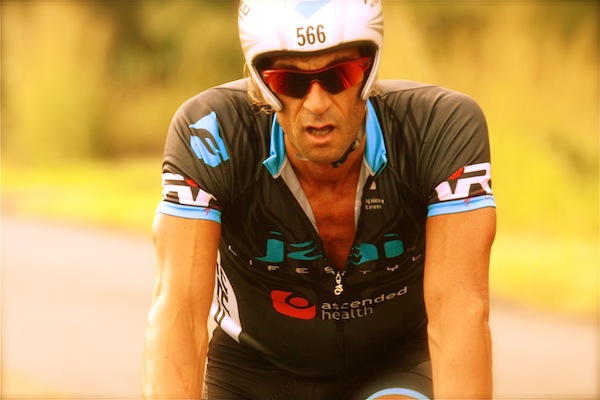 They say the best way to make God laugh is to tell him what your plans are. I got a full dose today.
I trained for this Ultraman race for a year.  I could not have been better prepared or supported. And I had high expectations. Not about what place I would end up.  But simply to race to my potential. To push my body and spirit to the absolute limit and see what I was capable of.
Things didn't really work out.
Everything started great. From the first swim stroke on Day 1 (10K swim + 90 mile bike) I felt fantastic. Well below my threshold, I quickly built a steady and early lead, with Swede Jonas Colting tucked in right beside me. For the first 1500m – 2K, we swam together. A pace I felt I could easily hold all day long. Jonas was getting a nice draft off my left side, just a few feet to my rear. I couldn't tell if he was pushing himself to keep pace or just enjoying a bit of a free ride, so I tested the waters with a quick surge to see if he would match the pace. But he held back, and a little gap developed – a few meters. I didn't want him inching back up, so I decided to hold my increased pace for a spell until the gap grew. Steadily until I had built a solid lead of a few minutes. But I never overdid it. Never exceeded a sustainable effort that would put my overall day in jeopardy. From there I swam strong. And felt I was well on my way to a possible swim course record – somewhere in the 2:10 – 2:12 area.
But as it always does, at about the 4.5 mile marker, as you near the Outrigger Keahou Hotel, the currents shift. And it stops you dead. That last mile and a half seemed to take forever. Nonetheless, I ran up the shore at Keahou Bay after 10K at 2:18. Three minutes faster than my 2009 effort. And feeling great.
But things would soon change.
I had a quick transition to the bike, but that's when things started to fall apart. For the first 2 miles, it's straight uphill for abut 1,000 feet of gain. And hot.  Then another 3-4 miles of steady uphill grade to the town of Captain Cook. I couldn't find my legs. My heart rate was racing and despite backing off, I couldn't get it under control. The watts on my power meter plummeted. And the rest of the day I rode in relative survival mode.
During training, I didn't actually swim all that much. I have that background. Instead, I decided to train my weakness – cycling. And over the last 2 years I have made dramatic improvements since my 2009 Ultraman attempt. Sure I wanted to put in a good swim, but coming out of the water first was never a goal.   I was much more excited to see what I could do on the bike. I had put in the time and was ready to match pedal strokes with the big boys.
Instead, I rode slower than I did in 2009 (my time was faster this year but the conditions were much better – nary a headwind on the Volcano climb). I held a seemingly safe 2nd place most of the day (after Colting passed me on the first climb in the first 10 minutes of the ride), then on the final backbreaking 18 mile / 3900 foot ascent up Volcano, I was passed like I was standing still by Mike Coughlin with only 12 miles left (Mike went on to post the day's fastest bike split) and Alexandre Ribeiro with only 7 miles to go.  
Day 1 is always humbling.  For a good perspective on this, check out Jonas' video recap of Day 1.  And you can read some of my thoughts in this recap on Slowtwitch.
4th overall on the day.  Not bad.  I am proud of that result.  Jonas, Alexandre Ribeiro and Mike Coughlin rode like the wind.  My hat goes off to them.  Big respect.  But the fact remains –I know I didn't perform anywhere close to what I know I am capable of.  And that hurts.
I had nothing.
How could this be? Checking my power meter, I saw watts I would see on a typical mellow Zone 2 aerobic training ride. Except my heart rate was racing at 25-30 beats higher than normal. Maybe I overdid it on the swim? No, I don't think so. Something was wrong. Terribly wrong.  But what?
For sure, I was happy to win the swim stage. But again, this was never a goal. I was here to excel in the overall. And all indicia from training indicated that I was ready to do so. So what happened? I had no idea.
After a boatload of recovery food, I hit the sack early, squeezed tight into a full body suit of compression gear to help reduce the inflammation in my weary body and aching legs. Tomorrow is a new day. It's a long race. I'll find my legs, I told myself. Then I started to shake. And sweat. I went to the bathroom and coughed. A metallic taste. I spit into my hand and saw blood. My face was flush and I started to feel cold, despite the sweating. A fever. Great.
But I put it out of my mind and just collapsed. I slept hard, but sweat through my shirt and sheets. Nonetheless, I felt OK when I woke up. So I chose to say nothing to my wife and crew and just focus on the day ahead.
And Day 2 started out better. My legs felt strong, and I easily matched pace with the leaders down the wicked descent from Volcano. The crosswind gusts were stiff and it rained sideways, but I felt decent. Happy to be on my bike mixing it up with all the top guys.  And under control.  But as we headed south and started hitting some rolling terrain, I knew things were off.  I felt weak.  My skin aching to the touch.  My face flush.  I spit on my forearm.  Blood.
Through the beautiful Red Road section, my power plummeted.  I eased off and tried to pick things up again, but the body just wouldn't respond.  When I reconnected with my crew, I pulled off the road next to our van.
"Something's wrong with me."
I got off my bike and sat in the tall reeds for a moment.  I knew what it would mean to pull out.  All that time, work and effort for naught – the downside of putting all your eggs in just one race bucket.  I also knew what it would mean to soldier on.  Six hours of suffering remained just to finish.  I wasn't here just to finish.  Been there.  Done that.  And at what cost?  I was here to perform.  And today that just wasn't in the cards.
The race doctor was summoned.  Sure enough, some significant congestion in my lungs.  Possibly exercise induced pneumonia.  Maybe bronchitis, exacerbated by yesterday's strain.  I almost never get sick.  And now?  The irony.  
So I made the difficult and heart wrenching decision to pull out of the race.
To be sure, I am heartbroken.  So badly did I want to perform to my ability.  Undertook everything to ensure that I do so.  And sacrificed much just to be here.  A good lesson in how little control I have over most things.
Nonetheless, I remain grateful.  To be here, and for the experience.  All the important things in my life are well intact.  Certainly I am deeply disappointed.  But in the grand scheme of things, it is a very small matter.  I have no doubt that I will be back.  Better and stronger than ever.  Live to fight another day.  That doesn't mean it doesn't hurt.  Because it does.
For now, I'm tucked in bed in the house we rented up in Hawi on an organic farm.  Our family home for the next few weeks.  Time to spend with the kids, put this setback in the rear view.  Focus on my family.  Reflect on the countless blessings in my life.  And move forward.
This race was never about me.  So when I climbed into my crew van this morning, defeated and weak, I felt like I let everyone down.  All those that have supported me.  Family, friends and sponsors for sure.  My devoted crew, including my wife, stepson Tyler, locals Todd Clark and Mike Field and Compton Rom who travelled from LA just to be here with me.  But also those of you who have found some small amount of inspiration in my story.  
Then I looked at my phone.  And was immediately overwhelmed with the outpouring of support I have received this afternoon.  Online, phone calls, messages of concern and support.  You have no idea how much this means to me.  I am more than humbled.  Honored beyond words.  And I promise to carry the torch forward.  Make it up to you and come back strong.  Stronger than ever.