Podcast: Play in new window | Download | Embed
[leadplayer_vid id="51FFCBCD3975E"]
Back by popular demand!  Julie Piatt returns to the podcast to share about our recent trip to New York, our new online course  "The Ultimate Guide to Plant-Based Nutrition"  that we created in partnership with  MindBodyGreen.com  and our panel presentation at the Apple Store SoHo —  Meet the Innovators: Revolutionizing Health  — moderated byJason Wachob, CEO of MindBodyGreen, with yoga impressario  Tara Stiles  and her husband Michael Taylor of  Strala Yoga, and meditation guru  Charlie Knoles  of the  Veda Center.
As always, Julie drops pearls of wisdom when it comes to taming the ego; how to remain neutral in moments of tension & anxiety; and how to best tap into your higher self and unlock the best, most authentic YOU – a consistent theme of the show.  We cap it off with a free amazing plantpowered dessert recipe (instructions below) and take it out with  Inside City, a track on her album Mother of Mine, by SriMati.
Hope you enjoy the program!
UPDATE! We are now up and running on Soundcloud.  What's Soundcloud? Another platform to listen and share the podcast.  What's awesome is that it allows you to share the audio file across your social networks like Facebook and Pinterest and you can even embed this groovy player onto your website or blog.  You can even add comments along the timeline that specifically relate to a certain portion of the show, which is really fun.  Great way to share the content with your friends and colleagues and help spread the word.  So if you enjoyed the show, tell a friend, share away and let's build this PlantPower Mission together!
Also, congrats to Patrick Sperling, Adam Chaim, and Sara Murphy— winners of the PLANTPOWER t-shirt contest! Your shirts are on their way. Here is a composite of the winning photos:
 FREE RECIPE! CHIA SEED COCONUT CREAM PARFAIT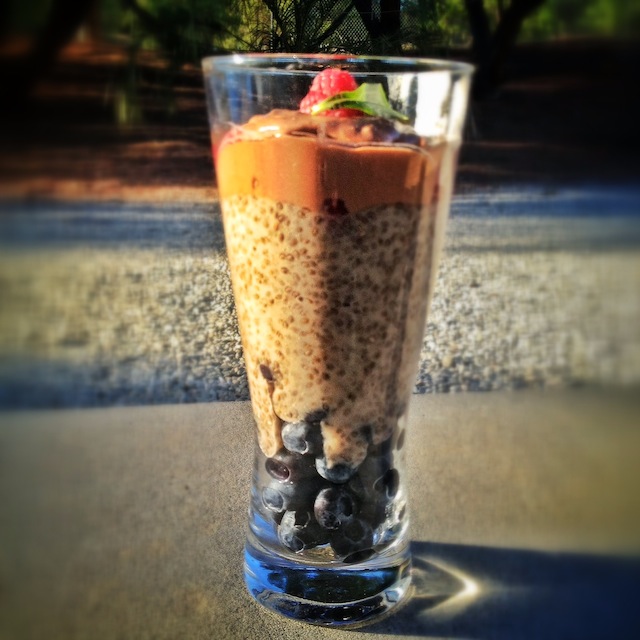 1. Banana chia seed pudding
Ingredients:
1/2 cup chia seeds
3 cups filtered water
2 ripe bananas
1/2 vanilla bean
1/4 cup agave
Preparation: 
In a small bowl, add chia seeds to filtered water, and stir them until the become gelatinous.  Set aside.
Split the vanilla bean lengthwise and scrape out the inside powder.  Set aside.
In a food processor, blend the ripe bananas until smooth.  Add the agave and vanilla bean and process again for 30 seconds.  With the motor running, pour in the chia seed mixture and blend another 45 seconds or until pudding is smooth.
2. Coconut Cacao Cream
Ingredients:
1 can coconut cream
4 tablespoons raw cocao powder
1/4 cup blue agave
Preparation: 
Place a can of coconut cream in the refrigerator for at least 6 hours or overnight.
Open the can and spoon out the firm o coconut cream right into the vitamix.  Be careful not to get any of the water from the bottom of the can.   Add the cacao powder and agave and blend for 30 seconds until the cream is smooth.
Now you're ready to build your parfait!
3. Parfait 
Ingredients:
1 cup blueberries
1 cup raspberries
Stevia leaves or mint leaves
Preparation:
In a nice glass, start with a serving of the chia pudding to fill about 1 1/2 " of the glass.  Now add a layer of fresh blueberries & top that with a layer of coconut cream.  Raspberries are the next layer.   Top that layer with another section of chia pudding.  Finish with spoonful of coconut cream and a single raspberry.
Garnish with stevia or mint leaves!
MORE ON OUR NEW PROGRAM: THE ULTIMATE GUIDE TO PLANT-BASED NUTRITION
Julie and I are so proud to announce the launch of our comprehensive online course covering everything you need to know to get — and stay — plantpowered.   The Ultimate Guide to Plant-Based Nutrition.  3 hours and 22 minutes of online video, broken down into 35 separate 5-15 minute videos, divided into modules and sections that address all the subjects, challenges and recipes you need to begin.  In addition, the program includes a variety of tools for download, including our Jai Seed eCookbook, additional recipes, a comprehensive grocery list and kitchen utensil guide and a variety of resources and additional information on food and nutrition.  Not enough? You also get exclusive membership to an online community forum where we address your questions, provide additional support and allow you to interact with other members to share your journey.
To find out more on the backstory, read this post and and preview an introductory video  HERE.
You are one click away from changing your life.
Meet the Innovators: Revolutionizing Health – an evening at The Apple Store SoHo:
[leadplayer_vid id="51F83EBB072B8″]
FINDING ULTRA NOW IN PAPERBACK
Finding Ultra* recently hit bookstores and online retailers in paperback.  And it's cheap –  just $12.45 on Amazon* last time I checked.  What the heck, right?  That's like a one cold pressed juice at Whole Foods; and will hopefully be even a bit more nourishing.  Check it out.  Already read it? Then tell a friend.
SHOW NOTES
*Disclosure: Books and products denoted with an asterisk are hyperlinked to an affiliate program. We are a participant in the Amazon Services LLC Associates Program, an affiliate advertising program designed to provide a means for us to earn fees by linking to Amazon.com and affiliated sites.
HOW CAN I SUPPORT THE PODCAST?
1. TELL A FRIEND! (Self-explanatory)
2. SHARE ONLINE! (Also self-explanatory)
3. SUBSCRIBE & REVIEW the show on iTunes, Stitcher and Soundcloud and TuneIn.
4. DONATE: Check out the DONATE button on the right hand margin or click HERE to learn more. We even accept Bitcoin!
5. DOWNLOAD THE NEW MOBILE APP! Now you can access, stream, download and share the entire RRP catalog in the palm of your hand on any iOS mobile device (iPhone, iPad and iPod Touch) with our new mobile app. Never miss an episode, plus special announcements, discounts, giveaways. Already downloaded? Awesome. When you have a minute, and it feels right to you, do us a solid and give the app a review in the iTunes Store.
As always, thank you for all the ongoing support.  You guys are everything.