Podcast: Play in new window | Download | Embed
Some people are artists. Others are athletes. It's the rare individual who can excel at both.
As I kid, I was interested in sport and things creative. But for some reason, I came to the conclusion that you just can't do it all. I had to pick and never the 'twain shall meet. Call it a left brain, right brain thing.
Most of us lean in one direction. We're either logical and calculated by nature, or we're whimsical dreamers. We settle on a side and call it a day. But what if we really could excel at both?
My Australian mate Daniel MacPherson is great example of someone who seamlessly traverses back and forth between seemingly unrelated worlds, tightrope walking both hemispheres of the mysterious cranium with facile grace and ease. Not only is he a tremendously talented and gifted athlete – a guy who has competed at the highest levels in triathlon, he is also a quite gifted artist – as an actor, television host and media personality. Not to mention an exceptionally successful and celebrated one at that.
It's by no means a stretch to call Dan the Ryan Secrest of Australia — and I mean that in the most complimentary, non-perjorative sense. Brimming with good looks, endless charm, intelligence, athletic prowess and creativity to boot, quite simply put it's hard to imagine there is anything Dan can't do, and do well.
Dan has qualified for and raced the Ironman World Championships, the Half Ironman 70.3 World Championships, and began his triathlon career at the storied Cronulla Triathlon Club in the suburbs of Sydney, training amidst the sport's greatest athletes – world champions like Craig Alexander & Chris McCormack  (my guest on RRP episode 24 ). This is the same club that produced triathlon legends Greg Welch and Michellie Jones – the biggest names in the more formative years of triathlon.
As a youth, Dan was intent on becoming the best triathlete he could be. Then something totally out of the blue happened. At the conclusion of a local race, he was "discovered."
The rest is history.
Best known for his role on Australia's long running series Neighbours, Dan starred in  City Homicide , the British police drama  The Bill and was the host of Australia's X-Factor. He is the currently co-host of Australia's wildly popular  Dancing with the Stars and is starring in a soon to be released independent sci-fi drama called Infini  (trailer below).
But despite Dan's blinding good looks and impeccable fitness, what is amazing is that it wasn't always this way. You might be surprised to learn that Dan was actually a chubby and somewhat insecure young bloke. A kid who, at a young age, embraced fitness and healthy lifestyle to transcend his situation and transform himself wholesale.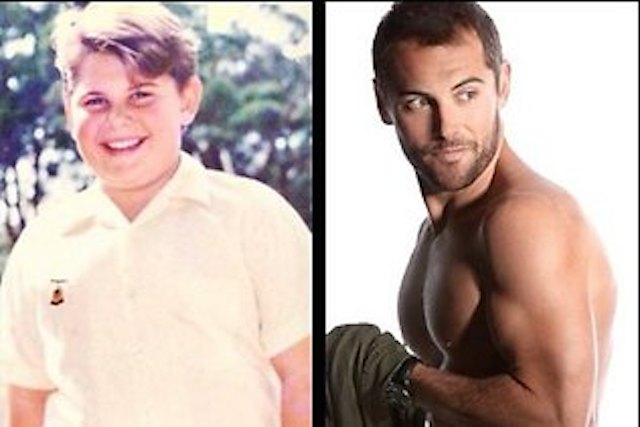 Passionate about service and giving back, Dan now leverages his fame and popularity for the benefit of the Indigenous Marathon Project, a non-profit dedicated to uplifting Australia's Indigenous populations via the transformative power of marathon running. An organization devoted to creating Indigenous role models, inspiring Indigenous people and promoting healthy and active lifestyles throughout Indigenous communities across Australia.
He may not be a full blown professional triathlete, but Dan is beyond pro behind the microphone. Because he is so highly engaging, Dan makes my job easy and this is a really fun conversation. A conversation that traverses triathlon, television, movies, the LA entertainment business, creativity, the quest for athletic prowess and how he successfully balances all of the important aspects of his life to stay on top.
I sincerely hope you enjoy the conversation.
Peace + Plants,

P.S. – Check out the badass trailer for Dan's upcoming sci-fi thriller Infini:
SHOW NOTES 
Connect with Dan: Twitter | Instagram
HOW CAN I SUPPORT THE PODCAST?
1. TELL A FRIEND! (Self-explanatory)
2. SHARE ONLINE! (Also self-explanatory)
3. SUBSCRIBE & REVIEW the show on iTunes, Stitcher and Soundcloud and TuneIn.
4. DONATE: Check out the DONATE button on the right hand margin or click HERE to learn more. We even accept Bitcoin!
5. DOWNLOAD THE NEW MOBILE APP! Now you can access, stream, download and share the entire RRP catalog in the palm of your hand on any iOS mobile device (iPhone, iPad and iPod Touch) with our new mobile app. Never miss an episode, plus special announcements, discounts, giveaways. Already downloaded? Awesome. When you have a minute, and it feels right to you, do us a solid and give the app a review in the iTunes Store.