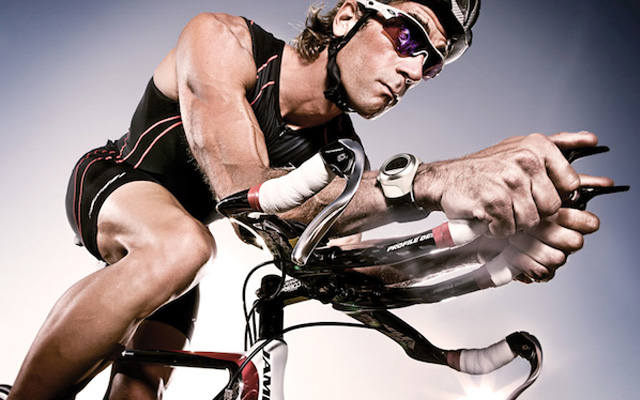 Rich is a man of many hats – a wellness advocate on behalf of plant-based nutrition; an entertainment attorney; a husband and father of 4 children; the #1 bestselling author of Finding Ultra: Rejecting Middle Age, Becoming One of the World's Fittest Men, and Discovering Myself (Crown Archetype, 2012), available in hardcover, digital print & audiobook with the paperback set for release on May 21, 2013; and the creator & host of the recently launched and wildly popular Rich Roll Podcast, currently topping charts on iTunes
But most of all, he is a passionate and inspirational ultra-endurance athlete.
In May 2010, Rich and his ultra-colleague Jason Lester accomplished an unprecedented feat of staggering endurance many said was not possible. Something they call the EPIC5 CHALLENGE – a odyssey that entailed completing 5 ironman-distance triathlons on 5 islands of Hawaii in under a week. Commencing on Kauai, they travelled to Oahu, Molokai and Maui before finishing on the Big Island, following the course of the Ironman World Championships on the Kona coast.
In addition, Rich has been a top finisher at the 2008 and 2009 Ultraman World Championships in Hawaii. Considered by many to be one of world's most daunting and grueling endurance races on the planet, Ultraman is a 3-day / 320 mile double-ironman distance triathlon that circumnavigates the entire Big Island.  Limited to only 35 carefully selected invitation-only participants from all over the world, Day 1 involves a 6.2 mile ocean swim immediately followed by a 90 mile cross-country cycling race.  Day 2 is a 170 mile cycling race.  And the event culminates on Day 3 with a 52 mile double marathon run on the searing hot lava fields of the Kona coast.
In his first time out after a 20-year respite from competitive sports and only 6 months of training, Richard clocked the 2nd fastest swim split, finished 11th overall and was the 3rd fastest American.
Having competed as a competitive swimmer at Stanford University in the late 80's, Richard has an accomplished athletic background.But he literally hung up the suit in 1989 and never looked back.But by age 40, Richard was close to 50 pounds overweight and completely out of shape.It was time for a major life change.To celebrate his 40th natal birthday as well as his 10th anniversary in recovery from drug and alcohol addiction, in 2006 he overhauled his diet, became a dedicated vegan, put on his running shoes and jumped back into the pool.It wasn't long before ambition took hold and his quest to participate in Ultraman slowly began.Two years later and close to 50 pounds lighter, he surprised the triathlon & ultra communities by not only becoming the first vegan to complete the event, but by finishing in the top 10 males, despite never having even previously competed in a single ironman distance event.
In 2009, Richard returned to Ultraman for the 25th Anniversary of the race twice the athlete he was the year prior. Despite a stacked field, Richard took home first day honors with a blistering 2:21 swim victory (6th fastest of all time) and a third fastest bike leg to win the day with a 10 minute lead on the field. On Day 2 Richard suffered a serious bike crash but managed to salvage the day in 6th place overall. With an injured knee and shoulder Richard nonetheless went on to a 7:51 Day 3 double-marathon to hold onto 6th place overall.
In addition, Richard is an active advocate on behalf of plant based nutrition for athletes, a motivational speaker and active social networker and blogger.
Rich lives in Malibu Canyon with his wife Julie Piatt, his two stepsons Tyler and Trapper, his two daughters, Mathis and Jaya and his beloved golden retriever Bodhi.
When he isn't writing, speaking or spending time with his family, you can find him lost on the remote trails of the Santa Monica Mountains.