Welcome to another edition of Roll On—my bi-monthly deep dive into (semi) current events, topics of audience interest, and of course answers to your questions.
Commanding co-host duties as always  is my hype man Adam Skolnick, an activist and veteran journalist perhaps best known as David Goggins' Can't Hurt Me co-author. Adam has written about adventure sports, environmental issues and civil rights for outlets such as The New York Times, Outside, ESPN, BBC, and Men's Health. He is the author of One Breath and is currently hard at work on a novel.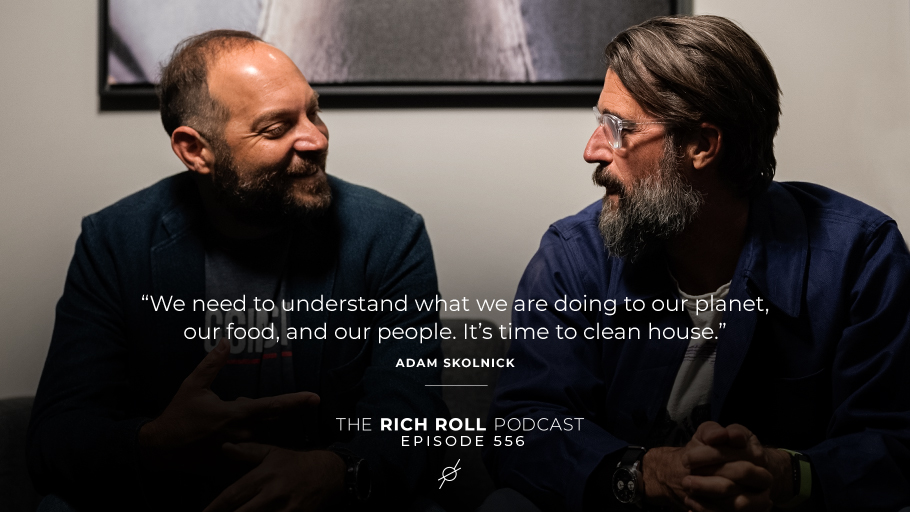 Some of the many topics explored in today's conversation include:
The impending U.S. presidential election;
how the coast of Los Angeles was once a legal dumping ground for DDT, and the implications of this oceanic pollution;
the documentary 'The Perfect Weapon' and the rise of cyber warfare;
Nina Schick and her investigation into the world of Deepfakes;
thoughts on sustainability, stability, and the power of community;
and Rich's newest offering, 'Voicing Change'.
We have to find peace within ourselves over that which we can't control.
– RICH ROLL
In addition, we answer the following listener questions:
How do you manage burnout?
How do you live in alignment with your values?
How do you navigate body dysmorphia and eating disorders as a man?
Thank you to Randall from Nebraska, Robel from Montana, and Evan from Fullerton, CA  for your questions. If you want your query discussed, drop it on our Facebook Page, or better yet leave a voicemail at (424) 235-4626. 
The visually inclined can watch our exchange on YouTube. And as always, the podcast streams wild and free on Apple Podcasts and Spotify. Enjoy!
Peace + Plants,

Listen, Watch, & Subscribe
I'm proud to announce my new book 'Voicing Change'. To learn more & pre-order now, click the button below.
Tell Your Friends & Share Online
Donate: Patreon
Patronize Our Sponsors: For a complete list of all RRP sponsors and their respective vanity URLs and discount codes, click "Sponsors" here.
Thanks to Jason Camiolo for production, audio engineering and show notes; Margo Lubin and Blake Curtis for video, editing and graphics; portraits by Ali Rogers; and theme music by Tyler Piatt. Trapper Piatt & Hari Mathis.
*Disclosure: Books and products denoted with an asterisk are hyperlinked to an affiliate program. We are a participant in the Amazon Services LLC Associates Program, an affiliate advertising program designed to provide a means for us to earn fees by linking to Amazon.com and affiliated sites.