Podcast: Play in new window | Download | Embed
---
"Always focus on how far you've come, not how far you have to go."

 Doug Bopst
---
Admittedly, It's a thrill to converse with renown experts, world-class athletes and celebrities.
But the most rewarding aspect of my job is occasionally turning my spotlight on the everyman — relatable people who have conquered adversity to reinvent themselves wholesale, all in relative civilian anonymity.
These people are a gift. Amplifying their stories isn't just an honor. And it isn't just my joy. I see it as a responsibility.
Through these individuals we are better able to see ourselves. Their weaknesses, struggles and strengths mirror our own. Their relatability uniquely qualifies them to reflect back upon us our shared, collective humanity. In their victories we can connect more viscerally with our own inner power and potential.
Today it's my privilege to share yet another such story. This is the tale of Doug Bopst — an essentially normal kid who, like so many, suffered in silence from depression. To self-medicate he began experimenting with drugs in his teens. Smoking pot quickly evolved into a heavy opioid addiction. A day in the life involved snorting several hundred milligrams of OxyContin, complemented by a pack of cigarettes and the occasional cheesesteak. No exercise. No interest in maintaining relationships with anyone who didn't do drugs. No self-confidence. And no care for tomorrow.
At 21, it all came to a head. High on opiates and on his way to make a drug deal, a cop pulled Doug over for a broken taillight. The officer found $2,000 in cash plus half a pound of marijuana under the spare tire in the trunk. Promptly arrested on a felony drug charge, Doug ultimately served 2 months in jail.
It was hardly the harshest sentence. But it was more than sufficient for Doug to hit bottom. Reflect on his errant path. And commit to an entirely new life. A life redeemed by sobriety, faith, fitness and family.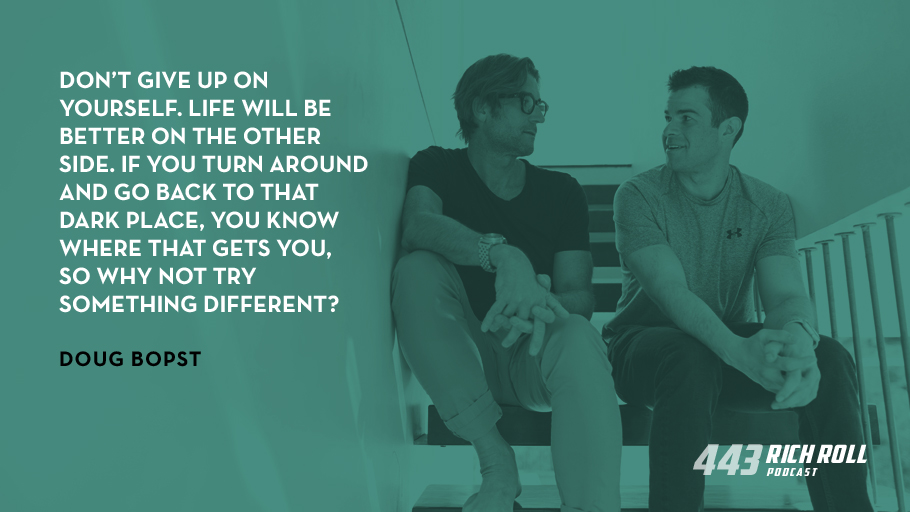 I was initially introduced to Doug through my friend Amy Dresner (another sober warrior you may remember from episode 341) and knew immediately I wanted him on the show.
In fairness to Doug, his story isn't entirely that of the anonymous everyman. Now an award-winning personal trainer, author, and public speaker, his saga has been covered by a variety of media outlets, including The Today Show. But the press intrigue is driven by Doug's innate relatability. And I'm fairly confident this conversation is the most complete chronicle of his life and redemption to date.
This is a conversation about what it was like, what happened and what it's like now. We cover the low lows. Hitting rock bottom. And exactly how he was able to conquer his demons and put the past in the rear view.
It's about the power of sobriety. Leaning on mentors. And how a love of fitness, spirituality, and putting service service first returned him to sanity.
All told, it's a story of redemption full stop — and I'm honored to help tell it.
The visually inclined can watch our entire conversation on YouTube at: bit.ly/dougbopst443 (please subscribe!) and the podcast is of course available on Apple Podcasts and Spotify.
I sincerely hope you enjoy the exchange.
Peace + Plants,

P.S. – I love my job.
Photos courtesy of Ali Rogers
Listen, Watch & Subscribe
Apple Podcasts | YouTube | Spotify | Stitcher | Google Podcasts
Thanks to this week's sponsors
DesignCrowd: Custom graphic, logo and web design from over 550,000 designers around the world. Get the perfect custom design, every time! Visit designcrowd.com/RICHROLL or enter promo code RICHROLL at checkout and receive up to $100 off your design project now!
Squarespace: The easiest way to create a beautiful website, blog, or online store for you and your ideas. Save 10% at checkout when visit squarespace.com/richroll and use the coupon code "RICHROLL" at checkout.
Zip Recruiter: Search for jobs hiring in your area using ZipRecruiter's job search engine – the best way to find a job. To find jobs hiring near you and apply with just 1 click, visit: ziprecruiter.com/richroll
Background, Context & Reference:
Doug's Books
Notable People Discussed:
John McAvoy: Once one of Britain's most notorious criminals, he spent 10 years in prison but transformed his life to be a top Ironman Athlete. He is currently the only Nike sponsored triathlete in the world and one of the most popular podcast guests
David Goggins: Navy SEAL, Endurance Athlete, author of Can't Hurt Me: Master Your Mind and Defy the Odds* and (2x) podcast guest
Gary Vaynerchuk: (Gary Vee) 4x NY Times bestselling author, speaker serial entrepreneur and podcast guest
Dr. Gabor Maté: physician, specializes in neurology, psychiatry, psychology, treatment of addiction and podcast guest

Jon Gordon

: author (

of 18 books

!), speaker on the topics of leadership, culture, sales, and teamwork and

podcast guest

Todd Durkin: motivational speaker personal trainer best selling author and life transformer
Tony Robbins: motivational speaker, personal finance instructor and self-help author
Related Podcasts You Might Enjoy:
Special Thanks to Moby for this week's interstitial track: "Dashed Ambitions". Thanks to Jason Camiolo for audio engineering, production and show notes. Video, editing and graphics by Blake Curtis and Margo Lubin. Theme music by Ana Leimma.
*Disclosure: Books and products denoted with an asterisk are hyperlinked to an affiliate program. We are a participant in the Amazon Services LLC Associates Program, an affiliate advertising program designed to provide a means for us to earn fees by linking to Amazon.com and affiliated sites.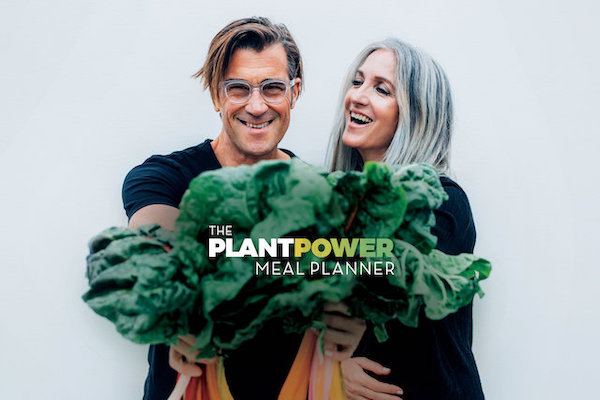 for 1000s of delicious, customized plant-based recipes & so much more, check out our Plantpower Meal Planner
 HOW CAN I SUPPORT THE PODCAST?
Tell Your Friends & Share Online!
Subscribe & Review:  iTunes | Spotify | Stitcher | Soundcloud | Google Podcasts
Donate: Check out our Patreon account
Download Our Free App: Now you can access, stream, download and share the entire RRP catalog in the palm of your hand on any iOS mobile device (iPhone, iPad and iPod Touch) with our mobile app. Never miss an episode, plus special announcements.
Support The Sponsors: One of the best ways to support the podcast is to support our sponsors. For a complete list of all RRP sponsors and their respective vanity url's and discount codes, visit my Resources page and click "Sponsors".