It's Up! FINDING ULTRA Now Available for Pre-Order Everywhere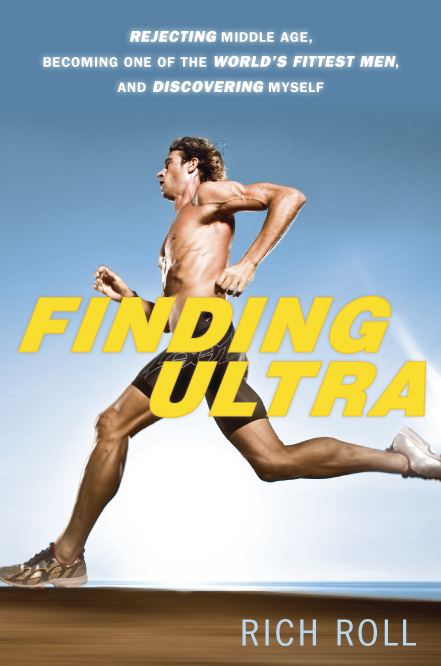 Finally!  It's been a long road up to this point, but I am out-of-my-mind thrilled to reveal the cover artwork for my book FINDING ULTRA and report that it's finally open for pre-order business on all the major online book & e-book retailers worldwide, including Amazon, Barnes & Noble, IndieBound and iTunes, not to mention Random House.  Hardcover, Kindle, Nook, iBooks – it's all there for the choosing.
Truth be told, the book has actually been up on B&N and Amazon for a little while now.  But I didn't want to throw up a blog post about it until the cover art and — most importantly — the book's inside jacket cover description had all been uploaded to the various online pages.  That happened today.  So here we are.
Per a previous blog post, I worked incredibly hard on this book over the course of the entire last year — no small feat as I juggled parenting 4 kids, attending to my marriage, pursuing other work endeavors and of course training balls out for Ultraman.  I wasn't sure it was possible to handle so much, but miraculously I got it done.  And have come out the other side intact.  A solid deadline can work magic like that sometimes.  And I am so proud of the (almost) finished product.  In fact, I am more proud of this than anything I have ever done in my entire professional or athletic life.  
Just after making his second Olympic team in the marathon last week, Ryan Hall remarked, "I accomplished my goal of being fully me out there."  I absolutely love that.  Because becoming a more fully actualized version of who you are is what my book is all about.  And what I'm all about.  And if my book is anything, it's most certainly — and fully — me.
I did my best to be as open and forthright as possible about my journey.  Kept conscious of always propelling the story forward, keeping it as entertaining and emotionally engaging as possible while ensuring that I stay dutiful to the truth — even when it meant I didn't come out looking so good (to put it mildly), which is the case on more than a few occasions throughout the book.  All while balancing the story against the need to provide the reader with what I know and have learned over the years about plant-based nutrition, endurance training and the joys and rigors of life transformation.
Whether or not I succeeded in this, I'll let you be the judge.  
But my editor and the powers that be at Random House and Crown (the Random House imprint under which the book will be published) have all been incredibly praiseworthy.  They all seem genuinely very excited about the book and are wildly optimistic about its prospects for success — at least that's what they say to my face; who knows what goes on behind my back!  Joking aside, Random House is actually making the book a "lead title."  Sounds good to me.  Now if someone could just tell me what that actually means?  The point is that everything appears to be lining up in accordance with my wildest dreams for this project.   
There's what happening in the objective world.  Then there's what's happening in my head.  In all honesty, I'm still waiting for that phone call where they tell me there has been a huge mistake.  The call goes something like this: "  Hi Rich, Random House Grand Poobah here.  Look really sorry pal, but turns out it's a no-go on publishing your, ahem,"book," if you can call it that….I think we can agree you oversold yourself a bit when you told us you knew how to write.  Did you actually think anybody would actually give a crap about this dreck?  Anyway, sorry for the misunderstanding….I'm not sure what we were thinking…..Good luck!  Oh before I forget, it would be great if you could refund us that advance check.  Next week sound cool?"
Old tapes looping.  Yeah, unfortunately that's just how my mind works.
So it's important for me — while I await that call — to keep my mind, body & soul aligned with purpose and engaged in productive pursuits that get me out of results and that dangerous and self-destructive place called my head.  As I have been enjoying a bit of a needed break from training, my focus has been keenly placed on family.  And addressing other areas in my life that could use an overhaul or reboot.
In terms of the book, a few weeks ago I received the "copyedited" version of the manuscript — publishing parlance for the almost final version of the book after it has been thoroughly proofread by a professional.  I had 10 days to review and submit my final changes.  Mission accomplished, as I just sent it all back to my editor last Friday.  Now the book will be formatted and properly typeset — in other words they will input all the final changes, then polish it with Turtle Wax until it glows in the dark.  I've approved the chosen fonts and chapter heading styles, and I have to say it's all looking friggin' amazing.  Wake me up if I'm dreaming, but maybe I actually wrote a real book after all?  
Currently I'm preoccupying myself with sorting through a stack of photographs to be included in an insert and trying to come up with clever pithy captions for each.  Not my specialty as a writer.  I'm thinking I should hire Dave Zabriskie for this job.  If you follow him on Twitter, or read his "Day in the Life" piece in the most recent Velo Magazine (he graces the cover in full Captain America garb & Wolverine chops) then you know he is a master of the clever one-liner and more than adept at turning a colorful phrase.  Sure he is fast as hell on a bike, but I think he may have missed his true calling.  Can't wait until he decides to write a book.
Anyway, I'm just trying to learn as I navigate these unchartered waters.  I'd be lying if I said I wasn't excited — I am.  Of course, this is a huge opportunity for me.  Most importantly, I hope that the book will somehow — in some small way — serve to help and inspire others.  But I'm also, I'm afraid to admit, a little bit scared.  And my fear is realistic.  It's one thing to dump your innermost thoughts into a private journal or confess your intimacies to your therapist.  But it's another thing altogether to peel your skin off and pour your entire soul — with all its weaknesses, dark moments and blemishes — onto the page for the entire world to see.  And judge.  My wife calls it courageous.  But I fear it might be foolish.  It's an understatement to say I'm feeling more than a bit vulnerable and exposed at the moment.  Like that recurring dream where you wake up to find yourself sitting in your high school classroom totally naked.  
Okay, enough of that.  So many people have aided in turning this from dream to reality.  I could not have done it without a tremendous amount of encouragement and support from my family and more friends than I can count.  You know who you are and you'll see yourselves in the book's acknowledgements.  And very importantly, all of you who have has taken the time to visit this blog or follow me through social media.  Without you as my audience, there would be no book.  Period.  So to all of you — thank you.  You more than helped birth this reality.  In fact, you co-created it.  So this is for you.  My greatest reward would be that you find a small sliver of inspiration in what I bled to offer.
As we near the release date, I will keep you posted on related events and appearances.  In the interim, I have a favor to ask.  A big favor.  If you have enjoyed or benefitted from the content I have provided over the years both on this blog and beyond — content I will of course continue to freely provide — it would mean everything to me if you would pre-order either the hardcopy or e-book version of the book.  
Why am I outright asking you to buy now, when the book doesn't actually come out for four more months?  There is a very good answer to this very legitimate question.  Pre-orders are HUGE in paving the way for a successful release.  In many ways, in this digital age they mean everything when it comes to properly launching a book into the marketplace and often dictate ultimate success.  For example, all pre-orders count towards the first week's sales.  And these figures are absolutely KEY when it comes to how the book is positioned in the marketplace.  Oftentimes, pre-sales data is determinative in the compilation of best-seller lists; and crucial in propelling a book towards long-term viability.  Moreover, pre-order data impacts the size and scope of retail bookseller orders like Barnes & Noble.  No small thing in light of ever-shrinking shelf-space.  In other words, early success begets greater opportunities.  Done right, what ensues is a snowball effect.  So I'd like to come out of the gate swinging, creating a solid foundation on which to build come spring.
Forgive me if I'm coming on a little strong with the self-promotion.  I get it.  Admittedly much rides on this for me personally.  But I am also just super excited to share this work with the world.  And for what it's worth, the book isn't just good, it's damn cheap — on Amazon it's just $16.33 for the hardcover and only $12.99 for the Kindle version!  That's like – what – a Starbucks run?
Anyway, give it some thought.  I'll leave you with the jacket copy.  Written by my editor — the eminently talented Rick Horgan and a man who pushed me harder than any coach I've ever had — it's the description of the book that will go on the inside cover flap of the book. 
Finding Ultra is Rich Roll's incredible-but-true account of achieving one of the most awe-inspiring midlife physical transformations ever.
 
One cool evening in October 2006, the night before he was to turn forty, Rich experienced a chilling glimpse of his future. Nearly fifty pounds overweight at the time and unable to climb the stairs without stopping, he could see where his current sedentary lifestyle was taking him.
 
Most of us, when granted such a moment of clarity, look the other way—but not Rich.
 
Plunging into a new way of eating that made processed foods off-limits and that prioritized plant nutrition, and vowing to train daily, Rich morphed—in a matter of mere months—from out-of-shape midlifer to endurance machine. When one morning ninety days into his physical overhaul, Rich left the house to embark on a light jog and found himself running a near marathon, he knew he had to scale up his goals.
 
How many of us take up a sport at age forty and compete for the title of the world's best within two years? Finding Ultra recounts Rich's remarkable journey to the starting line of the elite Ultraman competition, which pits the world's fittest humans against each other in a 320-mile ordeal of swimming, biking, and running. And following that test, Rich conquered an even greater one: the Epic5—five Ironman-distance triathlons, each on a different Hawaiian island, all completed in less than a week.
 
But Finding Ultra is much more than an edge-of-the-seat look at a series of jaw-dropping athletic feats—and much more than a practical training manual for those who would attempt a similar transformation. Yes, Rich's account rivets—and, yes, it instructs, providing information that will be invaluable to anyone who wants to change their physique. But this book is most notable as a powerful testament to human resiliency, for as we learn early on, Rich's childhood posed numerous physical and social challenges, and his early adulthood featured a fierce battle with alcoholism.
 
Ultimately, Finding Ultra is a beautifully written portrait of what willpower can accomplish. It challenges all of us to rethink what we're capable of and urges us, implicitly and explicitly, to "go for it."