NoMeatAthlete :: Marathon Roadmap eBook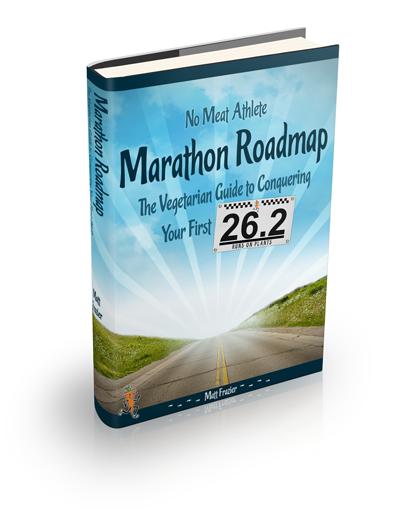 Training for your first marathon? Vegetarian or vegan? Is everyone telling you that you can't run a marathon on plants alone? Rubbish! Here's a great way to prove them wrong. From my friend Matt Frazier at NoMeatAthlete.com comes a fantastic new eBook: No Meat Athlete Marathon Roadmap: The Vegetarian Guide to Conquering Your First 26.2.
At a robust 139 pages, the book takes you deep into everything you will need to know to get it done right – from goal setting, to training to diet/nutrition and all the way through the race, it is an outstanding and very comprehensive primer.
Plus there are hyperlinks to four hours of MP3 audio interviews with six knowledgeable vegan endurance athletes, including me and Brendan Brazier, author of THRIVE FITNESS.
Soup to nuts – its all in there. A must read! The ebook will be available for purchase starting Tuesday February 15, 2011. But follow the link below to pre-order today!