---

"Life is going to catch up to your practice."

Light Watkins
---
We all want to be happy.
So why is it so elusive?
The problem isn't information. We all know our contentedness is linked to eating right, sleeping well and surrounding ourselves with those who elevate. We get the importance of confronting our emotional challenges. We're well aware that life is better when we cultivate gratitude and serve others.
And yes, we know we should meditate.
The science is clear. The evidence is in. And yet for so many, the gap between information and action is an impossibly untraversable canyon.
Perhaps you resist the traditional trappings that swirl around the idea of meditation — the robes and incense a bridge too far. Maybe you can't get your legs to perfectly fold, monk-like, without cramping. You decided you just don't have the time. Or perchance you tried it, only to give up because you just couldn't get your looping mind to shut off, convinced meditation is just not for you.
Relax. You're not alone.
But today's guest poses an important question: What if the problem isn't meditation itself, but your approach? In other words, what if it were easy?
Meet Light Watkins.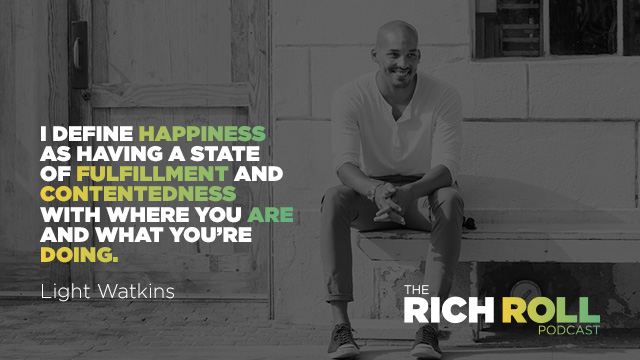 Beyond having the coolest name of all time, I would characterize Light as a generous, highly accessible and contemplative entrepreneur of mindfulness. Always convivial, impressively composed, and quick with a laugh, he has been practicing and teaching Vedic Meditation for twenty years. Among his thousands of students you will find bankers, artists, politicians, CEOs, care takers, educators, comedians, rock stars, soccer moms and seekers of all kinds.
An active blogger and in demand public speaker (check out his TEDx Talk), he's also the founder of The Shine — a volunteer-based, pop-up traveling variety show that leverages music, film, philanthropy and storytelling to inspire people to do more, give more, and be more.
In addition, Light recently penned a new book entitled, Bliss More — an accessible primer that does a bang-up job of dispelling the many myths and misunderstandings that swirl around meditation with a very grounded approach and practical tools that will inspire you to finally adopt that daily practice that has to date, eluded you.
So let's put all those myths and misunderstandings to bed, once and for all.
Because we can all use a little more bliss in our lives.
And we all deserve to be happy.
I sincerely hope you enjoy this exchange with one of my very favorite people.
One final note — for more on Light and his background, check out our first conversation, RRP #172 back in August 2015.
Peace + Plants,

Images of Light courtesy of Lila Seely
Listen & Subscribe on Apple Podcasts | Soundcloud | Stitcher
Watch & Subscribe on YouTube: http://bit.ly/lightwatkinsrrp
Filmed by Michael Gibson & edited by Blake Curtis
Thanks to this week's sponsors
22 Days Nutrition: the 100% plant-based, 100% USDA certified organic nutrition products and meal delivery platform designed to meet the needs of your healthy, active life. For 10% off all products (including the meal delivery) and free shipping, visit 22daysnutrition.com/richroll and use promo code RICHROLL at checkout.
Boll & Branch: The first honest and transparent bedding company that only uses sustainable and responsible methods of sourcing and manufacturing. Go to BollandBranch.com today for $50 off your first set of sheets by typing in promo code RICHROLL at checkout
Note: One of the best ways to support the podcast is to support the sponsors. For a complete list of all RRP sponsors and their respective vanity url's and discount codes, visit my Resources page and click "Sponsors".
Notable People Discussed In Today's Podcast
Related Podcasts You Might Enjoy
Thanks to Jason Camiolo for production, audio engineering and show notes; Blake Curtis for videography and  graphics. Theme music by Ana Leimma and Special Thanks to Lila Seely for her images of Light!
*Disclosure: Books and products denoted with an asterisk are hyperlinked to an affiliate program. We are a participant in the Amazon Services LLC Associates Program, an affiliate advertising program designed to provide a means for us to earn fees by linking to Amazon.com and affiliated sites.

The revised and updated version of Finding Ultra is now available!
Are you a company interested in sponsoring the podcast? Click here to learn more & take our sponsor survey.
HOW CAN I SUPPORT THE PODCAST?
Tell Your Friends & Share Online!
Subscribe & Review:  iTunes | Stitcher | Soundcloud | TuneIn
Donate: Check out our Patreon account!
Download Our Free App! Now you can access, stream, download and share the entire RRP catalog in the palm of your hand on any iOS mobile device (iPhone, iPad and iPod Touch) with our mobile app. Never miss an episode, plus special announcements, discounts, giveaways. Already downloaded? Awesome. When you have a minute, and it feels right to you, do us a solid and give the app a review in the iTunes Store.
Support The Sponsors: One of the best ways to support the podcast is to support our sponsors. For a complete list of all RRP sponsors and their respective vanity url's and discount codes, visit my Resources page and click "Sponsors".
---